Unilever Makes An Effort To Stop Killing Male Baby Chickens
Consumer goods giant Unilever will stop utilizing maceration, the process of grinding up baby male chickens they cannot use. Instead, the company is creating a technology to determine sex before the chicks hatch.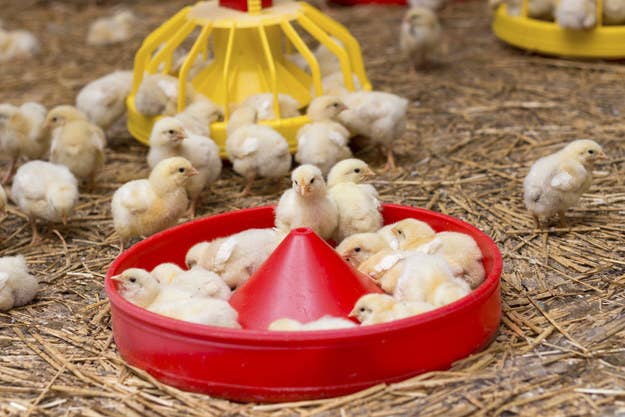 On Wednesday, the world's third largest consumer good company, Unilever, announced that it would plan to seek alternatives to the widespread practice of maceration, or grinding up day-old male chicks that egg buyer companies have no use for.
Unilever purchases more than 350 million eggs a year for brands such as Best Foods, Hellmann's mayo, Ben & Jerry's, and Slim-Fast, and is now the first and only major egg buyer to take a public stance against maceration.
The statement the company made today is vague, and there is no indication that they will stop buying eggs from factories that kill newborn male chicks. Unilever has, however, committed to work with industry leaders to finance a technology that determines the sex of a chicken embryo long before it hatches.
"We are committed to providing financial support to research and market introduction of in-ovo gender identification (sexing) of eggs, a new technology that has the potential to eliminate the hatching and culling of male chicks in the poultry-breeding industry," the Unilever statement says.
The Humane Society of the United States, along with Farm Forward, The Humane League, and Compassion in World Farming, have shown support for the company's decision.
Paul Shapiro, the vice president for farm animal protection at the Humane Society, spoke to BuzzFeed and said that although Unilever cannot stop maceration immediately, their announcement is a good first step.
"This is really significant, because Unilver is the first major egg buyer to announce their opposition to this practice," said Shapiro. "They're way ahead of their competitors on this issue, but there's still a lot more work to be done."
Unilver already requires their eggs to be cage free. Shapiro says that after this technology is released, he believes the company would require their users to use it as well.
Farm Forward, a nonprofit advocacy and consulting group, also supports the alternative technology.
"By determining the gender of embryos long before they hatch, in-ovo sexing will eliminate the need to incubate and hatch male chicks, sparing millions of baby birds each year from the stressful process of manual sexing and killing," the company said in a press release.
Ben Goldsmith, the executive director of Farm Forward, said that the egg industry "has a terrible track record when it comes to animal welfare, and grinding millions of animals while still fully conscious is just one example."
"We applaud Unilever's announcement as well as the leadership it continues to show in listening to consumer calls for humane treatment of animals."
An earlier version of the post attributed a quote from Farm Forward to Unilever.
This post has been updated to include a quote from Paul Shapiro of the Humane Society.