U.N. Security Council Unanimously Demands Humanitarian Aid For All Of Syria
Russia and China had previously vetoed three resolutions that pressed President Bashar Assad to end the conflict in Syria. But on Saturday the two countries joined the rest of the U.N. Security Council to send a message to Assad.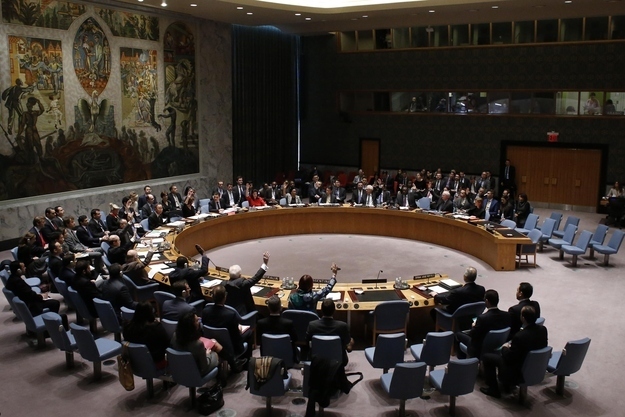 The U.N. Security Council united on a resolution demanding President Bashar Assad's government and the opposition parties provide immediate humanitarian aid to all parts of Syria, the Associated Press reports.
The bill's fate rested on Russia, Syria's closest ally, and China; the two countries have previously vetoed three bills that put pressure on Assad to end the conflict that has killed over 136,000 people. But rather than vetoing or abstaining from voting on Saturday, both Russia and China joined the Security Council to demand Assad provide immediate access everywhere in the country to deliver aid to millions of civilians caught in the ongoing conflict.
U.N. Secretary-General Ban Ki-moon released a statement on Saturday in which he said "this resolution should not have been necessary. Humanitarian assistance is not something to be negotiated; it is something to be allowed by virtue of international law."
He added, "The humanitarian situation in Syria continues to deteriorate. Half the country's people need urgent assistance. Host countries need support in caring for more than 2.5 million refugees."
The U.N. chief went on to say it is "profoundly shocking ... that both sides are besieging civilians as a tactic of war."
Valerie Amos, the U.N. humanitarian chief, issued a statement Saturday expressing hope that the resolution "will facilitate the delivery of aid to people in desperate need in Syria."
"It is also vital that ordinary people, who have been bearing the brunt of the violence, are protected," Amos said. "More than anything the conflict needs to end so that people can begin to rebuild their lives. Syria is in danger of losing a generation of its children. Children are the future. We must protect them."
The U.N. released an Instagram video showing the Security Council passing the resolution.