Two Illinois Men Arrested For Conspiring To Help ISIS
The Department of Justice announced the arrests of U.S. Army National Guard Soldier Hasan Edmonds, 22, and his cousin Jonas Edmonds, 29, on Thursday.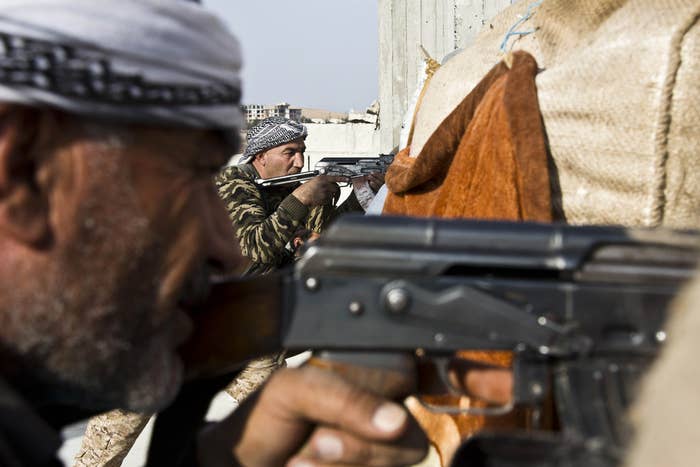 On Wednesday night, FBI officers in Chicago arrested two men from Aurora, Illinois — one of whom was a US National Guard Soldier — for allegedly conspiring to help ISIS by providing material support, the Department of Justice announced on Thursday.
Army National Guard Specialist Hasan Edmonds, 22, was arrested at the Chicago Midway International Airport without incident. He was planning to fly to Cairo, Egypt. officials said. The man's cousin, Jonas Edmonds, 29, was arrested at his home in Aurora, Illinois.
The men, both of whom are U.S. citizens, were arrested on charges of conspiring to provide material support and resources to a foreign terrorist organization.
In late 2013, the FBI began investigating Hasan Edmond. They said that he and his cousin had devised a plan for Hasan to fight for ISIS abroad, while Jonas would stay in the U.S. and carry out a terrorist attack at a military facility in Illinois, where Hasan had been training.
Jonas allegedly asked an undercover FBI agent to help with the armed attack on the Illinois military base.
"The arrests today are the culmination of a successful investigation that involved a great deal of coordination and communication with our law enforcement and military partners," said Special Agent in Charge of the FBI's Chicago Division, Robert Holley.
"Throughout the course of this investigation, the defendants were closely and carefully monitored to ensure the safety of the public and our service men and women."
Jonas and Hasan Edmond will appear before U.S. Magistrate Judge Sheila Finnegan on Thursday afternoon. Conspiring to provide material support to a foreign terrorist organization comes with a maximum sentence of 15 years in prison and a $250,000 fine.
Last week, a U.S. Air Force veteran Tairod Nathan Webster Pugh was charged with attempting to travel to Syria to provide material support to ISIS.