This Soldier's Offensive Instagram Sparked A Social Media Firestorm
Angry comments and death threats flooded the Wisconsin National Guard's Facebook page after two "inappropriate" photographs were found on a soldier's Instagram. Other veterans aren't perturbed by the pictures.
This photograph caused an uproar after it was posted to Instagram by a soldier with the caption: "We put the FUN in funeral."
In another picture, the soldier took a selfie and wrote: "It's so damn cold out....WHY have a funeral outside !? Somebody's getting a jacked up flag."
On Monday, the Wisconsin National Guard said that they were aware of the images and "looking into the matter."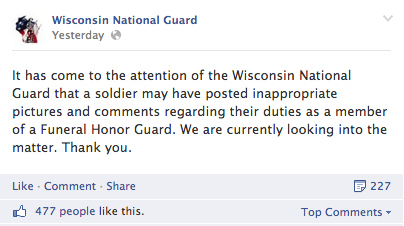 And today The Guard released an official press statement.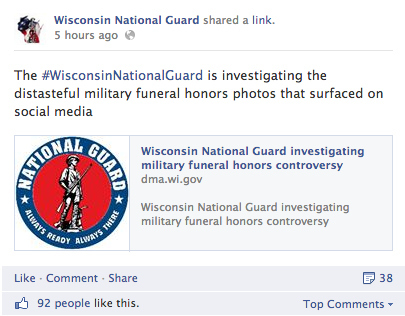 The statement said that the photos do not align with The Guard's values, and identified the soldier as Spc. Terry Harrison.
While the photos and comments do not portray any misconduct during the performance of actual military funeral honors, Maj. Paul Rickert, the Wisconsin National Guard's director of public affairs, said he understands that their content is upsetting to many. The Wisconsin National Guard expects all Soldiers who carry out this sacred detail to handle it with professionalism and honor, he said.

"A military funeral is the final show of respect for our veterans and their families, and we take that solemn duty very seriously," Rickert said. "The very name 'military funeral honors' underscores the importance we ascribe - both as the military and society at large - to such solemn occasions. These photos and comments do not appear to align with those values.
Hundreds of angry comments have emerged on the National Guard's Facebook page.
Harrison told the National Guard that she has been receiving death threats, and has deleted her social media accounts, WISN reports.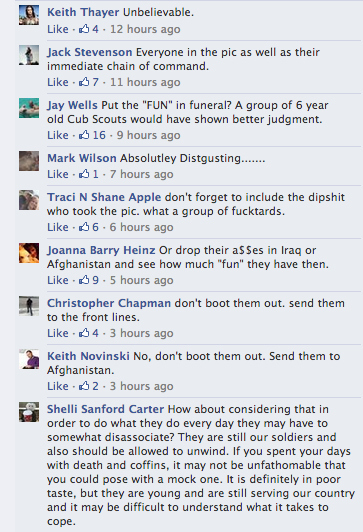 But some veterans didn't think it was that bad.
One local veteran told Fox, "if they had a chance to have a lighthearted moment I have no problem with it. Because when you watch these veterans here who are going to play the bugle and pull the flag, they're 110% serious."
Harrison has been suspended with pay for the incident. The Wisconsin National Guard is investigating her social media accounts.