At 10:19 a.m. ET on Friday, Justine Sacco, a PR director at InterActiveCorp (IAC), posted this tweet shortly before an 11-hour flight from London to Cape Town, South Africa.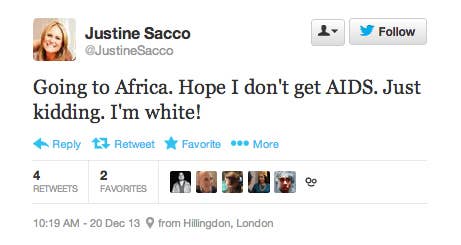 She had only about 200 followers, but someone emailed it to Valleywag editor Sam Biddle, who told BuzzFeed. He published a brief item about three hours after it was sent.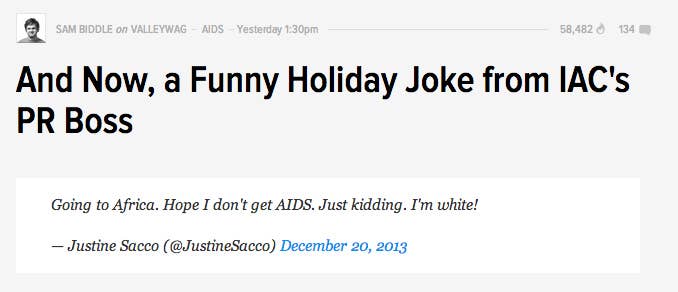 He tweeted it at 1:30, to immediate notice of other reporters on a slow Friday afternoon. (The Duck Dynasty story had quieted down.)


Other members of the media (including BuzzFeed staffers) took notice, and began interacting with Sacco's Twitter account directly.

As the story began to circulate, many Twitter users were at first flummoxed.


And it didn't take long before confusion turned to anger.



Some people thought her account was hacked, a theory that lost ground after other insensitive tweets were found, and IAC made a public comment.

More sites picked up the Twitterstorm, including Business Insider and BuzzFeed.
Justine Sacco began trending in Johannesburg, South Africa.

Just before 5:30, a woman in Miami started the hashtag #HasJustineLandedYet.

Soon it was trending worldwide.

The whole world waited for one person's plane to land so she could get back online and respond to her critics.
The firestorm was fueled in part by the fact that Sacco, who was on a flight without Wi-Fi, couldn't get online to apologize or delete her tweet. Comedian Steve Martin shared an offensive tweet the same evening — but quickly deleted and apologized.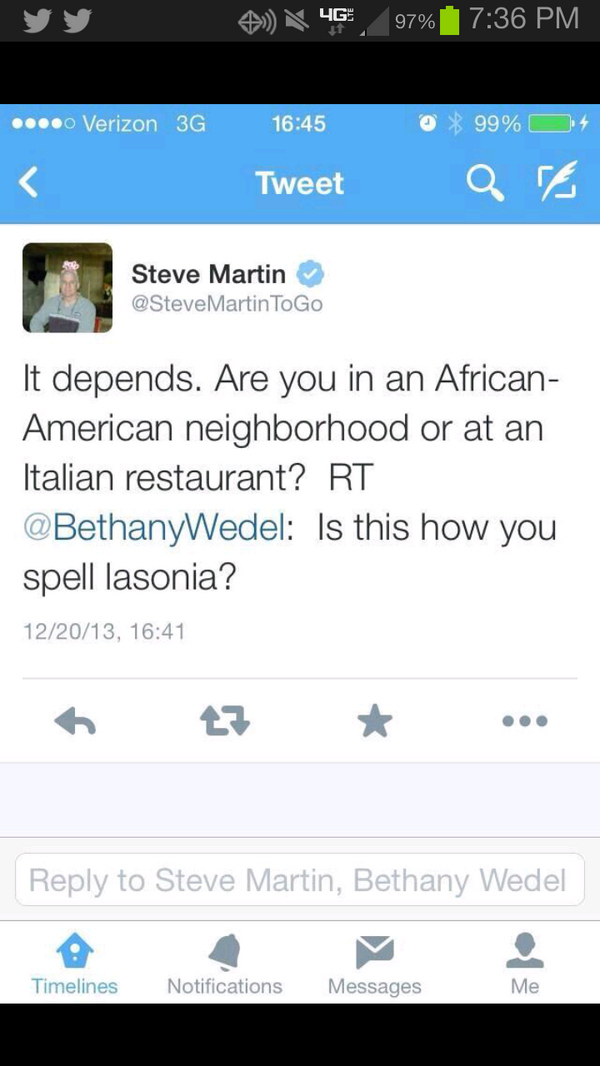 But Sacco was still in the air and offline — and unable to delete the tiny piece of media that had become Twitter's obsession.



Famous Twitter users and brands started tweeting about it...


Including Gogo, a company that supplies wireless internet on flights. They later apologized for the tweet.
While everyone waited for Sacco to respond, plenty of Photoshopped jokes began to pop up.

AIDS organizations used the opportunity to plug their work.


AID for Africa even bought www.justinesacco.com and redirected it to fundraising page.

Scores of fake Twitter and Facebook accounts were created under Justine Sacco's name.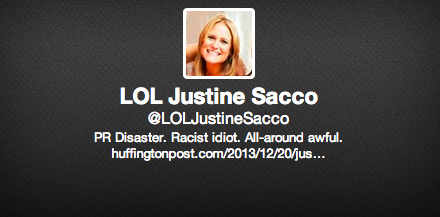 When Sacco's plane landed about 11:20 p.m. ET, she deleted the tweet and her Twitter, Facebook, and Instagram accounts without offering an apology.
The story dominated the media, and was covered by The New York Times, CNN, ABC, BCC, and more.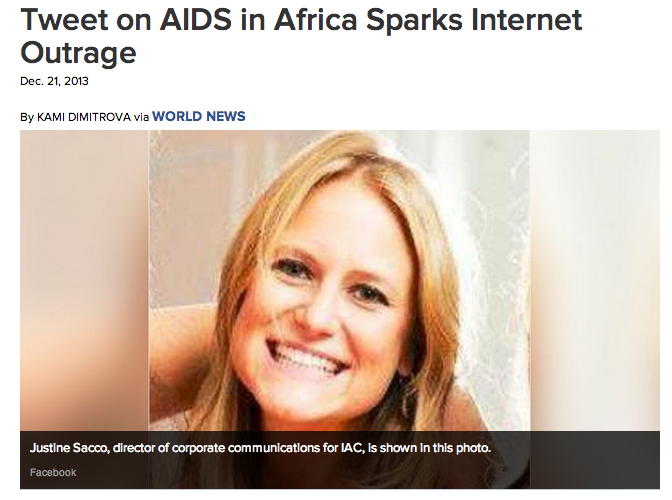 Sacco was getting more attention than a major celebrity.
But while no one person could claim responsibility for turning Biddle's blog item into a storm, Twitter users began to express discomfort with how quickly the situation escalated. Wi-Fi provider GoGo"offered Sacco a direct apology.
Biddle was not among those wringing their hands.

The conservative backlash got underway.



The story also spread to pilots.

#HasJustineLandedYet was still trending Saturday afternoon.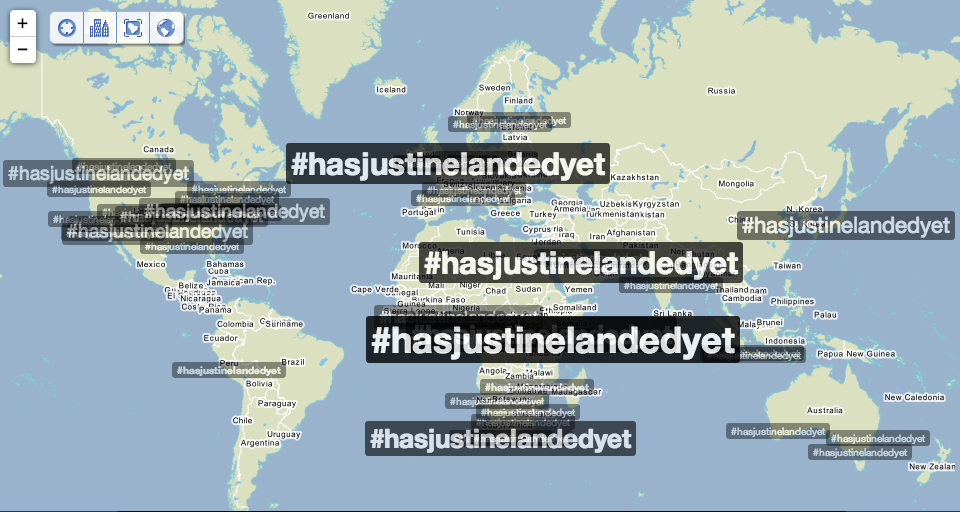 Since her tweet blew up, her name was tweeted more than 30,000 times, and the hashtag almost 100,000.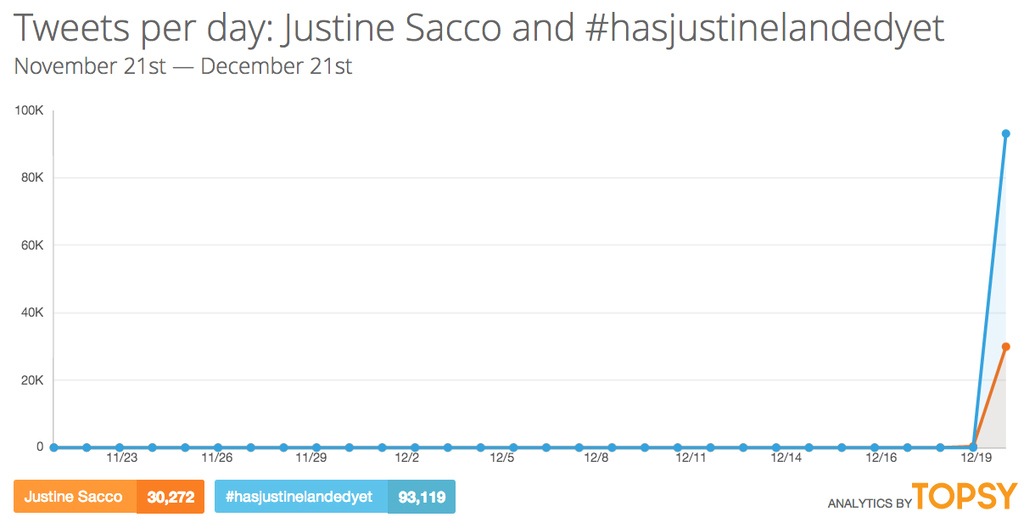 On Saturday, IAC announced that it had "parted ways" with Sacco, but asked that she herself not be condemned.
The company wrote in a statement:
The offensive comment does not reflect the views and values of IAC. We take this issue very seriously, and we have parted ways with the employee in question.

There is no excuse for the hateful statements that have been made and we condemn them unequivocally. We hope, however, that time and action, and the forgiving human spirit, will not result in the wholesale condemnation of an individual who we have otherwise known to be a decent person at core.
UPDATE - Dec. 22, 8:51 a.m., ET: Justine Sacco issued an apology, first to a South African newspaper and then to ABC News.
"My greatest concern was this statement reach South Africa first," Sacco said, after sending her statement to South African newspaper The Star, Sacco shared the follow apology with ABC:
Words cannot express how sorry I am, and how necessary it is for me to apologize to the people of South Africa, who I have offended due to a needless and careless tweet. There is an AIDS crisis taking place in this country, that we read about in America, but do not live with or face on a continuous basis. Unfortunately, it is terribly easy to be cavalier about an epidemic that one has never witnessed firsthand.

For being insensitive to this crisis -- which does not discriminate by race, gender or sexual orientation, but which terrifies us all uniformly -- and to the millions of people living with the virus, I am ashamed.

This is my father's country, and I was born here. I cherish my ties to South Africa and my frequent visits, but I am in anguish knowing that my remarks have caused pain to so many people here; my family, friends and fellow South Africans. I am very sorry for the pain I caused.