The World's Most-Wanted Drug Lord Has Been Captured By Mexican Authorities
Joaquin "El Chapo" Guzman, who eluded the Mexican police for 13 years, was captured in Mazatlan and sent directly to jail.
Joaquin "El Chapo" Guzman, one of the world's biggest drug lords who avoided capture for 13 years, was arrested early Saturday morning and taken directly to prison, the Associated Press reports.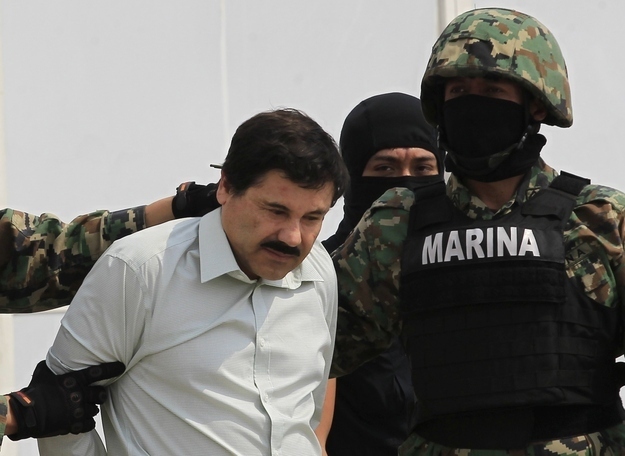 Mexican President Enrique Peña Nieto confirmed the arrest via Twitter this afternoon.
A U.S. official told CNN that Guzman, 56, was captured along with an unidentified woman in a joint operation with Mexican marines and U.S. Drug Enforcement Administration agents at a hotel in the beach resort of Mazatlan. The operation had taken four or five weeks to plan and execute, and no shots were fired.
Guzman was previously arrested and spent time in a Mexican jail, but he escaped in a laundry truck in 2001. Because insiders aided his escape, rumors circulated for years that he was helped and protected by former Mexican President Felipe Calderon's government, according to the Associated Press.
Calderon tweeted a congratulatory message to President Nieto shortly after the arrest was made public.
Guzman's cartel reportedly extends as far as Australia thanks to a sophisticated international distribution system for cocaine and methamphetamine — a system he set up despite having a $7 million bounty on his head, all while evading thousands of law enforcement officials.
He had been indicted in the United States several times since 1996 under allegations he smuggled "multi-ton quantities" of cocaine in the the U.S. and used violence, murder, kidnapping, and torture to keep his operation running smoothly.
In 2013, Guzman was named "Public Enemy No. 1" by the Chicago Crime Commission. He's only the second person to receive that distinction -- the last was the U.S. prohibition-era crime boss Al Capone.
In New York, Guzman has been charged with drug trafficking, murder, kidnapping, and other crimes.
"There's no drug-trafficking organization in Mexico with the scope, the savvy, the operational ability, expertise, and knowledge as the Sinaloa cartel," one former U.S. law enforcement official, who couldn't be quoted by name for security reasons, told the AP. "You've kind of lined yourself up the New York Yankees of the drug trafficking world."
Mexican Attorney General Jesus Murillo Karam said that Mexican security agencies located seven homes Guzman was known to stay in, and found tunnels connecting them all to the city's sewer system, presumably for easy escape. The doors were reinforced with steel, which delayed law enforcement and allowed Guzman to flee several times in the past.
In the few months prior to Guzman's arrest, the DEA took down several of Guzman's operatives and at least 10 mid-level cartel members. Information about Guzman was gathered from those arrested, said Michael S. Vigil, a former senior DEA official.
As more people were arrested, more homes were raided, and the information gathered led authorities to believe that Guzman had fled to Mazatlan.
Guzman was finally arrested at the Miramar condominiums, a 10-story hotel overlooking the Pacific.
"He got tired of living up in the mountains and not being able to enjoy the comforts of his wealth. He became complacent and starting coming into the city of Culiacan and Mazatlan. That was a fatal error," said Vigil, adding that Guzman was arrested with a few of his bodyguards nearby.
There were rumors circulating for months that a major operation was under way to take down the Sinaloa cartel, but experts predict that as long as Guzman's partner, Ismael "El Mayo" Zambada is at large, the cartel will continue business as usual.
"The take-down of Joaquin 'El Chapo' Guzman Loera is a thorn in the side of the Sinaloa Cartel, but not a dagger in its heart," said College of William and Mary government professor George Grayson, who studies Mexico's cartels.
"Zambada ... will step into El Chapo's boots. He is also allied with Juan Jose `El Azul' Esparragoza Moreno, one of most astute lords in Mexico's underworld and, by far, its best negotiator."