The Other Maryville Rape Survivor Speaks Out
Paige Parkhurst, who was just 13 at the time of the attack in Maryville, Mo., is now speaking out about her sexual assault.
On the night of Jan. 7, 2012, when Daisy Coleman was allegedly raped by Matthew Barnett, another girl was there too: 13-year-old Paige Parkhurst, who is now speaking out about the night's events.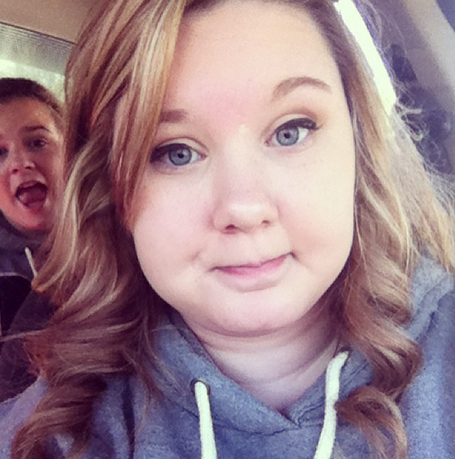 "We [Daisy and Paige] were just having a fun time, catching up, and Daisy had been texting with this guy Matt Barnett," Paige told Al Jazeera America, appearing beside her mother.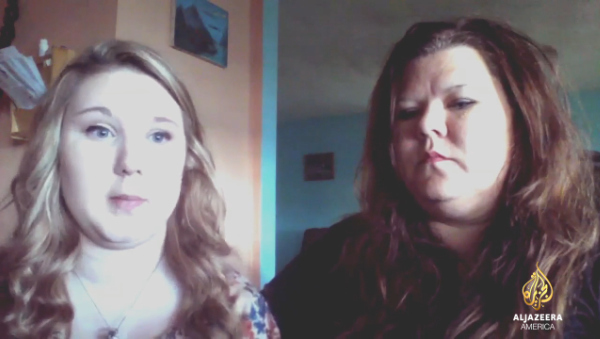 The girls then snuck out to meet up with the 17-year-old boys, who allegedly separated Daisy and Paige into two rooms, where they were both sexually assaulted.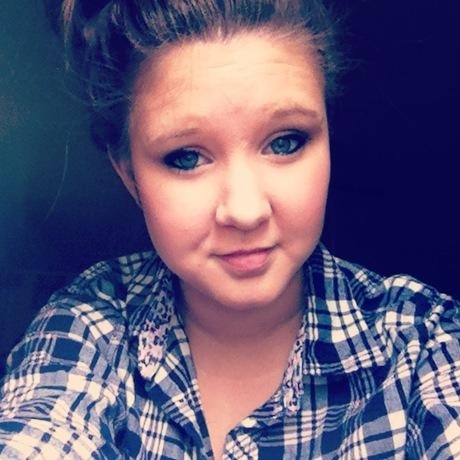 We got there, and they just started handing her drink after drink after drink. And they had separated us as soon as we got there.

And another boy that was there with me, had taken me into another room, and had sexually assaulted me, after me telling him no, pushing him away. And after he was done, he made me go back out into the living room with him, and we sat and waited until Matt was done with Daisy. And I had walked into Matt's room, and she was incoherent. She couldn't walk, couldn't talk, and just was talking like a baby pretty much...

It was very scary. I was really confused and didn't understand what was fully going on. I was in shock and really worried about my friend. It was freezing out. I don't know. There was just a lot of things going through my mind.
Paige's attacker was a 15-year-old football player and a friend of Matt Barnett. He admitted to sexually assaulting 13-year-old Paige and was sentenced in juvenile court.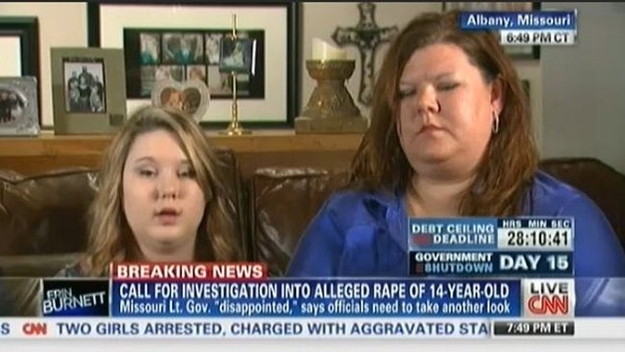 After the assualt, Paige said people were "constantly putting us down," and "working really hard" to try to get the two victims angry at each other.
They were constantly putting us down. They were telling a lot of people a lot of things that weren't true. They were telling Daisy that I was throwing her under the bus, and then telling me that Daisy was throwing me under the buss. I mean they were working really hard to try to get us angry at each other.

I was very angered. I didn't see how someone could drop those charges when they had all of the evidence they needed, and at the beginning said that they had a very strong case, but then they dropped the charges, and I felt like they were getting off on something that they shouldn't have been able to get off of.
"The main message is to stop sexual assault and to stop cyber bullying and yes, I do love everyone who has been supporting us, but you also have to be civil with them, and bullying them isn't going to do anything out of this." said Paige.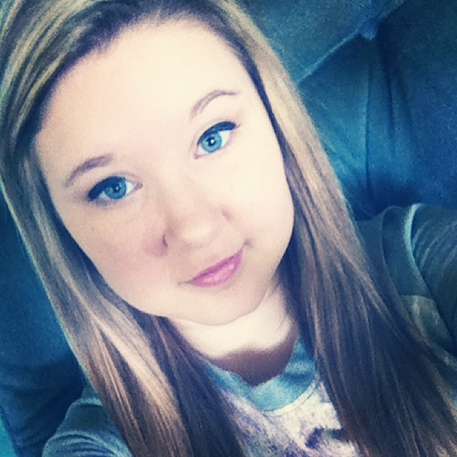 Paige says she's decided to speak out because she finally feels supported. "We do have a lot of support and we do have people listening, it's a miracle," she said. "We've waited for this day for a very long time."
"It is a very big epidemic in the world, and I just hope that other people can be brave enough to speak up when this happened to them," she told Al Jazeera.
"I want other women and girls and men and boys not to be afraid to speak out against sexual assault."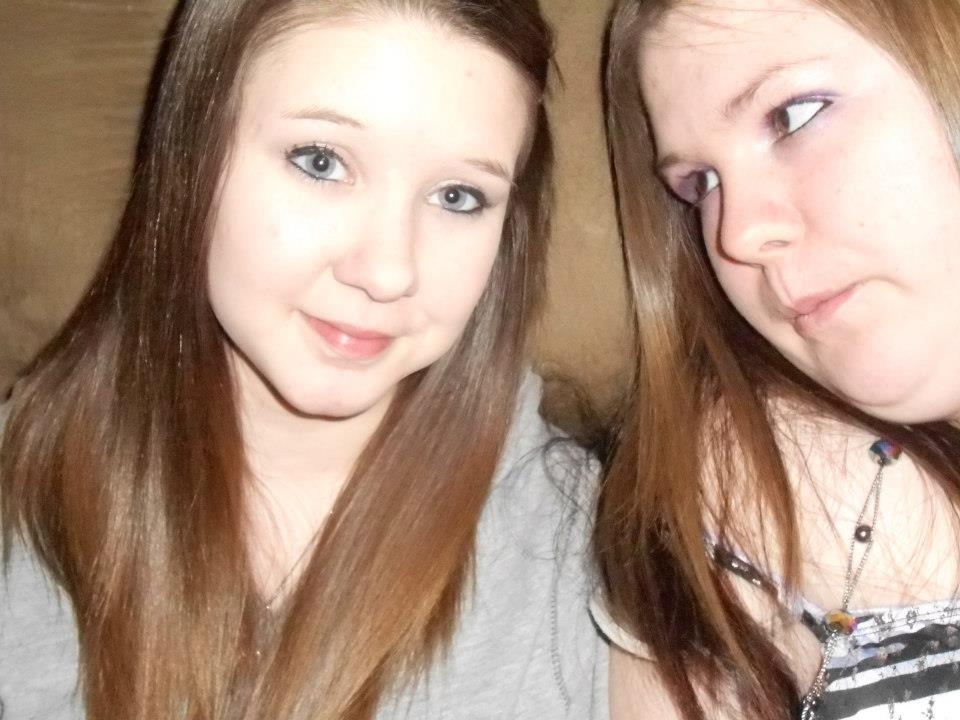 A #JusticeForPaige hashtag has already spread across twitter.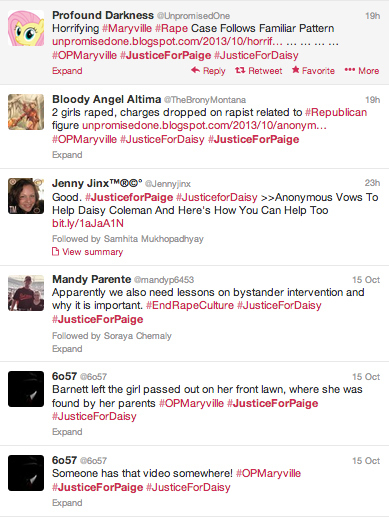 Paige's mother told an Anonymous group that the decision to come forward was Paige's choice.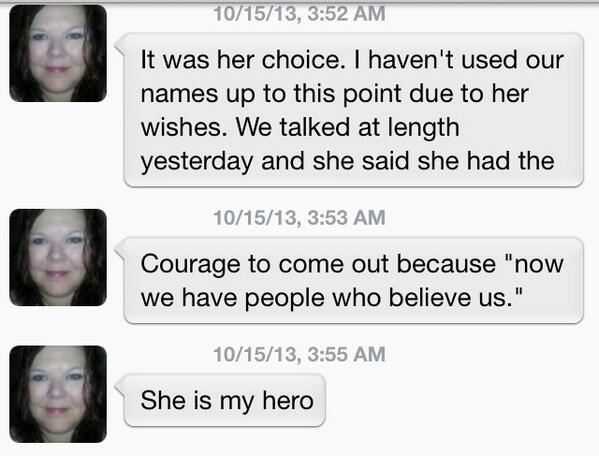 The anonymous group continues to speak out for the Maryville rape survivors.
"Please know this is for every person sexually assaulted who is afraid to speak out," Paige's mother Robin tweeted.
Although the Maryville county sheriff maintains the case was handled "flawlessly," two Republican leaders are calling for the state's attorney general to revisit the alleged rape of Daisy Coleman.
"I call on Attorney General [Chris] Koster and Prosecutor Rice to join me in asking that the Circuit Court convene a grand jury to review all the evidence, hear all witnesses, and issue a decision as to whether charges should ensue," Missouri Lieutenant Governor Peter Kinder said in a statement released late on Tuesday.