Couple Screams Of "Revolution" In Las Vegas Shooting Spree, Kill Three
A pair of shooters identified as Jerad and Amanda Miller, a married couple, fatally shot two police officers and another victim.

Updated — June 9, 3:23 p.m. ET
Two police officers and a civilian were shot to death in Las Vegas on Sunday during a rampage that began in a CiCi's Pizza restaurant, Las Vegas Metropolitan Police Department said.
Police said the officers killed were Alyn Beck, 41, and Igor Soldo, 31. The third victim was Joseph Wilcox, 31, of Las Vegas.
The attackers — a man and a woman — were identified on Monday as Jerad and Amanda Miller, a married couple.
The Millers walked into the CiCi's and opened fire around 11:30 a.m., local time, as Beck and Soldo were eating lunch, according to police.
Second Assistant Sheriff Kevin McMahill told reporters on Monday that the couple placed a "Don't Tread on Me" flag and a Nazi swastika on one of the police officers they ambushed.
Police and FBI investigators cordoned a small apartment complex at 110 S. Bruce St. where they believed the shooters lived and were searching an apartment inside. Several neighbors of the apartment being searched described the couple whose unit was being searched to the Las Vegas Review Journal as 'militant' people who spoke of white supremacy. Several neighbors said they often heard the couple spouting racist, anti-government views, according to NBC News.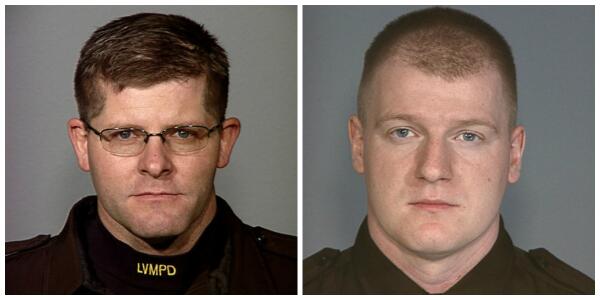 One neighbor at the apartment complex, Brandon Moore, told the Las Vegas Sun that the couple talked about doing the "next Columbine."
"It's a tragic day, it's a very, very difficult day," Gillespie said on Sunday. "We still have a community to protect. But we will do it with our heads held high. It is truly a tragic day."
Witnesses told police that before shooting at the police officers, the man yelled: "This is the start of a revolution."
The shooters then reportedly took the officer's weapons and ammunition and headed into the Walmart, police said.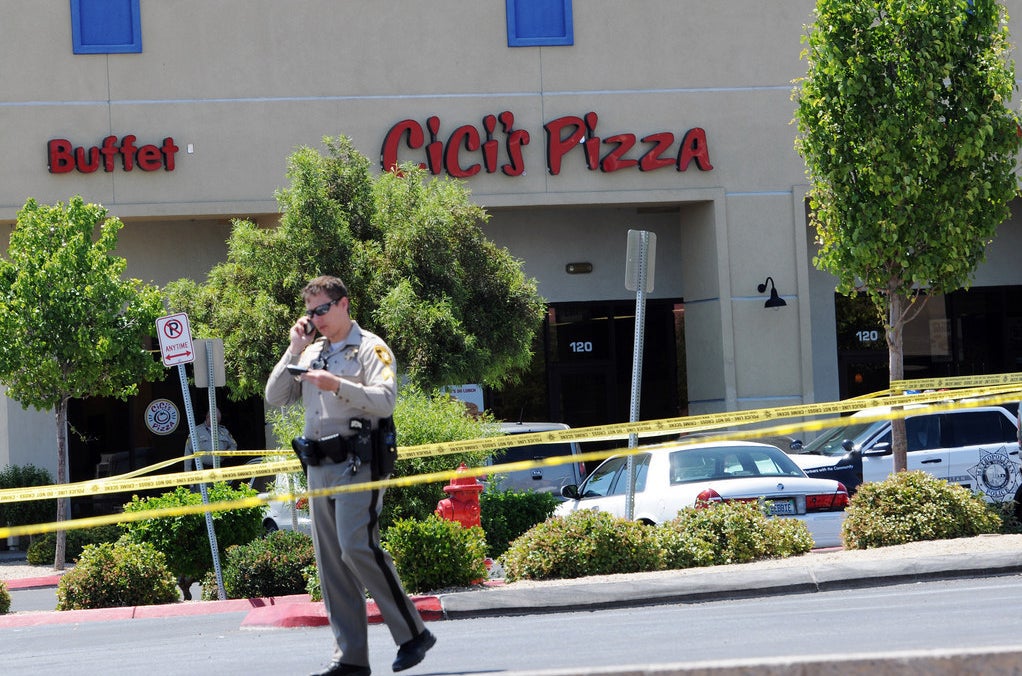 The restaurant where two police officers were reportedly killed, and the Walmart where the shooters killed themselves.
Once inside the store, the male shooter yelled, "Everyone get out!" and then started shooting, Assistant Sheriff Kevin McMahill said in a news conference. Police said a shopper armed with a concealed weapon, Joseph Wilcox, 31, was fatally shot by Amanda Miller when he tried to confront the couple.
Following a brief firefight, Amanda Miller shot her husband and then turned the gun on herself, McMahill said.
"There was some sort of suicide pact," McMahill said.
According to a report in the Las Vegas Review Journal, police are looking into the couple's links to the white supremacy movement and found swastika symbols during their initial investigation.
Walmart released a statement on Sunday afternoon saying, "We express our deepest condolences to everyone who has been affected by this senseless act of violence. Our store is currently closed. This is still an active investigation and we are working with local police."
CiCi's Pizza said in a statement the company was deeply saddened by the shooting and would keep the location closed until further notice.
Nevada Gov. Brian Sandoval issued a statement following the shootings. "I am devastated by the news today of two officers and an innocent bystander who were murdered in an act of senseless violence. My thoughts and prayers go out to the victims and their families."
Police said the incident is still under investigation and ask that anyone with any information about this incident is urged to contact the LVMPD homicide section at 702-828-3521, or to remain anonymous contact Crime Stoppers by phone at 702-385-5555 or at crimestoppersofnv.com.