Students Send Heartbreaking Texts As Ferry Sinks Off South Korean Coast
UPDATE: South Korean police say the texts are likely hoaxes, as there no records of SMS or app activity coming from the ferry. It took approximately two hours for the ferry to sink, giving ample time for kids trapped on the ship to reach out to their parents.
Update — April 17, 11:55 a.m. ET: The texts are most likely hoaxes.
South Korean police have said that there are no records of SMS or app activity coming from the ferry at the time of the sinking, according to the Wall Street Journal. They also say that the names associated with the texts do not match the names of the ship's passengers. A suspect is being investigated for perpetrating the hoax.
As a ferry carrying 475 people sank Wednesday off South Korea, many students on board sent messages to their parents indicating that they feared they would not make it out alive.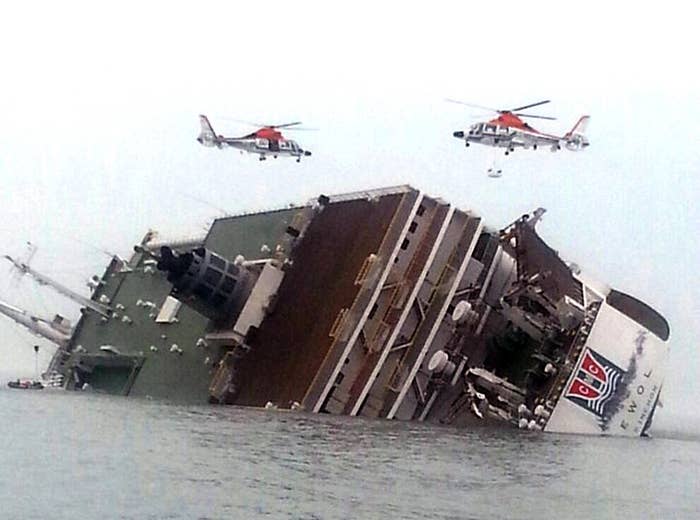 "Mom, this might be my last chance to tell you I love you," one boy reportedly said. "I love you too, why are you saying that?" the mother replied, but received no response.
Another student texted her father, "Dad I can't get out, the ship is slanted too much." He replied, "Well try, try to get out."
"I can't get out, there are no children in the corridors," she said.
According to reports, the ferry tilted suddenly, but then took about two hours to capsize, giving those on board ample time to get off the ship.
The main issue was that the slanted ferry trapped some students in the ship, and there was an order given not to move, CNN reported.
Many parents went to the school their children attended because the school mistakingly sent a message saying that the students had been picked up, CNN reports. In fact, most of the students were not picked up and many are among the 290 missing.