A college student traveling from Dallas to Chicago was kicked off a Southwest Airlines flight for wearing a "Broad Fucking City" T-shirt, which the airline officials found offensive.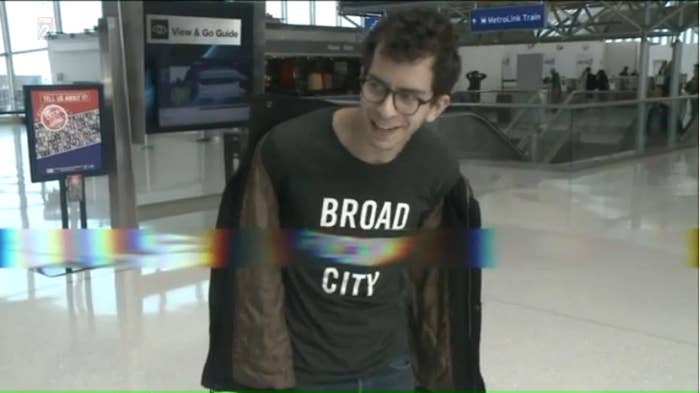 The confrontation happened when Daniel Podolsk, 22, was flying back from film and music festival South by Southwest, where Comedy Central gave out hundreds of the shirts to promote Broad City.
His flight made a pit stop at Lambert Airport in St. Louis due to bad weather in Chicago, and Podolsky got up to use the bathroom. He told BuzzFeed News that he was wearing a jacket for a large portion of the flight, but took it off once the plane landed in St. Louis since it was hot. That's when a gate attendant confronted him, saying that his shirt was offensive and he needed to take it off or cover it up.
In a video Podolsky posted on Facebook, an agent tells him that he is not allowed to fly while wearing a shirt with profanity. The agent said the airline doesn't allow offensive language to be visible while on board.
The agent gave him the option to remove the shirt or put something over it, noting the company's Contract of Carriage. Podolsky refused to, citing freedom of speech:
Southwest: "Can you change the shirt?"

Podolsky: "Nope."

Southwest: "Can you put the jacket on and leave it on through the flight?"

Podolsky: (Inaudible)

Southwest: "Can you put the shirt on inside out?"

Podolsky: "Nope."

Southwest: "Is there anything you can do not to display the shirt because at this point we can't allow you to go."

Podolsky: "I have freedom of speech."

Southwest: "I know you do."

Podolsky: "Really, it's not bothering anyone."

Southwest: "I can show you in our contract of carriage that you can't wear any shirts that says offensive."
In a statement provided to BuzzFeed News, Southwest Airlines said that they "count on our Customers to use good judgment and exercise discretion when traveling."
"While Southwest does not have a 'dress code,' our Contract of Carriage allows us to refuse to transport a Customer whose clothing is lewd, obscene, or patently offensive," said Southwest.
"The Customer was not allowed to travel after being given several options, including putting his jacket back on or replacing the shirt."
"Contrary to my statement on video, this is not about the First Amendment," Podolsky later told BuzzFeed News. "I just wanted to mind my own business and be comfortable in my own clothing. Who doesn't?"
"'Offensive' is a subjective term and there are cultural and generational gaps in what people find offensive," he said. "It saddens me to know people can't be tolerant of others' self-expression, regardless of the opinions they might make of that expression."
Podolsky also uploaded a video of another man who he claims originally complained about the shirt.
"I have respect for the airline and the institution, and I respect the difficult job they have on a daily basis," Podolsky said. "I only hope that in the future, they can connect with their customers before alienating them."
Southwest Airlines told BuzzFeed News that Podolsky was accommodated on a Southwest flight to Chicago later that same evening.