UN: Potentially Hundreds Of Boys Abducted From A South Sudan School
Approximately 11,000 young boys have been recruited to fight as child soldiers in the nation's ongoing civil war.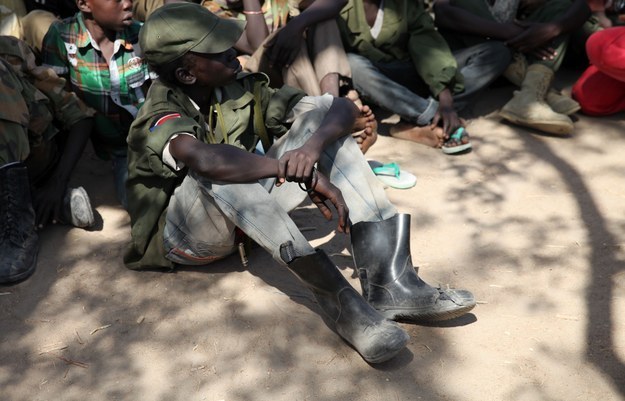 Potentially hundreds of boys were abducted from a school in South Sudan by a group of armed men last month and forced to become child soldiers, according to the U.N.'s children's agency UNICEF.
The group initially said last month that at least 89 children were taken from the school in Malakal, but it now believes the number is much higher.
In addition, the group said that the fighters also forcibly recruited adult men.
The community of Wau Shilluk in Upper Nile State, where the incident took place, is home to thousands refugees who have been displaced by ongoing fighting in South Sudan's civil war. Armed soldiers allegedly searched each house in the community, taking away boys over the age of 12 by force.
The United Nations strongly condemned the attack. A UNICEF Representative stationed in South Sudan, Jonathan Veitch, called on the group to immediately release the children.
"The recruitment and use of children by armed forces destroys families and communities," Veitch said. "Children are exposed to incomprehensible levels of violence, they lose their families and their chance to go to school."
In a statement, UNICEF added that "the recruitment and use of children in armed forces and groups is a grave violation of international law."
Throughout South Sudan's civil war, there have been reports of hundreds of boys being kidnapped from various villages for the purpose of recruiting and training them as child soldiers.
The United Nations estimates that 11,000 children in South Sudan have been forced to fight in the civil war as part of both the rebel and government armies.
South Sudan — the world's youngest nation — formed in 2011 following decades of war.
However, violent clashes have plagued the country since at least December 2013, after President Salva Kiir claimed that Riek Machar, his former deputy, was attempting to overthrow the government in a coup. Militants loyal to both parties have fought since, with reports of mass killings and starvation throughout the country.