South Korea Lowers Survivor Count In Ferry Disaster To 172
Coast guard chief Kim Suk-kyoon originally said 174 survived the April 16 disaster. The is the most recent of many government mishaps that families of victims have criticized.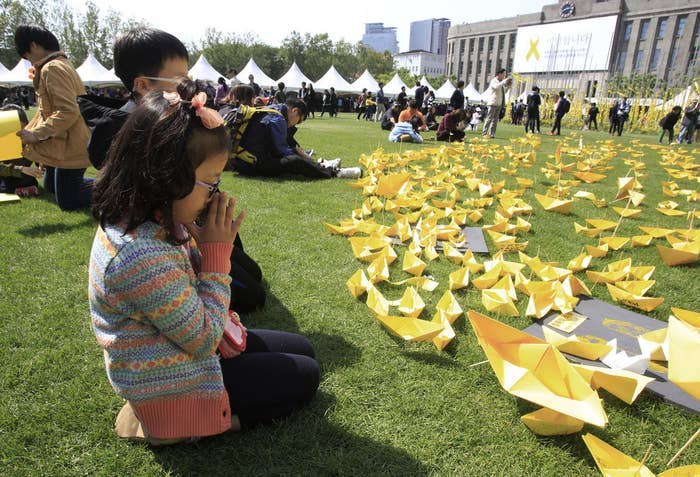 Three weeks after the April 16 sinking of a ferry off the coast of South Korea, the government has said it miscounted the number of survivors, adding to a list of mishaps in how the government has handled the tragedy, The Associated Press reports.
On Wednesday, coast guard chief Kim Suk-kyoon said there were 172 survivors of the ferry tragedy — not 174, which is what the government has maintained since April 18. Suk-kyoon blamed the mistake on two errors: One of the survivors was listed twice, and he believes the other person was inaccurately reported by a passenger as a survivor.
The government's new report raises the number feared dead to 304. So far 269 bodies have been recovered, and divers continue to search for others. About 80 percent of the dead are high school students who were on a trip to southern Jeju island.
Shortly after the sinking, government officials announced that 368 people had been saved, which gave families false hope. Evidence shows that the ship was overloaded with cargo, and that the agency responsible for passenger safety had wrong information about how much the ferry could safely hold.
Last week, Chung Hong-won, the country's No. 2 ranking official, resigned and apologized for the government's handling of the rescue effort after the ferry disaster. Families of the victims and other South Koreans have criticized the government's response to the tragedy, and the regulatory failures that could have led to the ferry disaster.
There were 15 surviving crew members involved in the ferry's navigation, all of whom have been arrested and are accused of negligence and failing to protect passengers. Four employees who handled cargo on the ferry have also been arrested, as improper storage and overloading of cargo is suspected as a possible reason the ferry sank.