House Intelligence Chair Calls For Sanctions Against North Korea In Response To "Cybervandalism"
On Sunday morning, President Obama called the alleged North Korean hacking an act of "cybervandalism," but Rep. Mike Rogers thinks the White House needs to do more.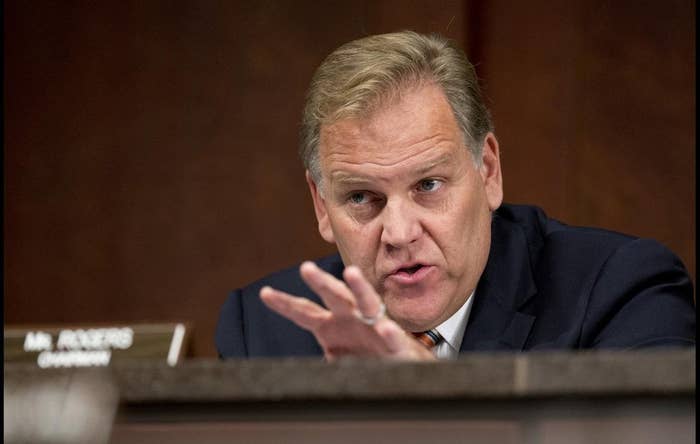 U.S. House Intelligence Committee Chairman Mike Rogers called Sunday for a "very serious" U.S. reaction to the alleged hacking of Sony by North Korea, including sanctions against the repressive nation.
Rogers told Fox News Sunday that the Obama administration had been "too weak" in its response to the cyber attacks of Sony Pictures, which the FBI has blamed on North Korea.
"The problem here was not that the fact that we didn't have the capability to do something nearly in immediate time. We just didn't get a decision from the president," Rogers said.
"I would argue you're going to have to ramp up sanctions. It needs to be very serious. Remember: a nation-state was threatening violence."
Rogers said the United States has the ability to make it very difficult for North Korean to launch another hack or threat of terrorism.
Earlier on Sunday morning on CNN, President Obama said that North Korea's hack was not an act of war, but an act of "cybervandalism."
The president also said that the U.S. will review whether North Korea should be added to the list of states that sponsor terrorism, which would trigger sanctions and limit U.S. aid, exports, and other financial transactions. Currently, the only countries on the list are Iran, Sudan, Syria, and Cuba. The U.S. already has trade penalties in place with North Korea, the Associated Press reported.
Rogers told Fox on Sunday that he still doesn't think Obama's plan is enough.
"This was a nation-state who attacked an American company and then threatened violence," he said. "Just calling North Korea out isn't going to be enough."
"Saying 'aloha' and getting on the plane to Hawaii is not the answer," Rogers said.
The FBI believes North Korea hacked Sony Pictures in retaliation against the film The Interview, which features a fictional attempt to assassinate Kim Jung Un. The hackers released dozens of private emails and personal employee information and threatened terrorist attacks against theaters showing the film, which ultimately led Sony to cancel the release of the The Interview — a decision that Obama called "a mistake."