Somali Militant Leader, One Of America's Most Wanted, Surrenders
Al-Shabab leader Zakariya Ismail Ahmed Hersi had a $3 million bounty on his head.
A top member of the Somali Islamist group al-Shabab surrendered on Saturday, Somali officials have told the Associated Press and the BBC.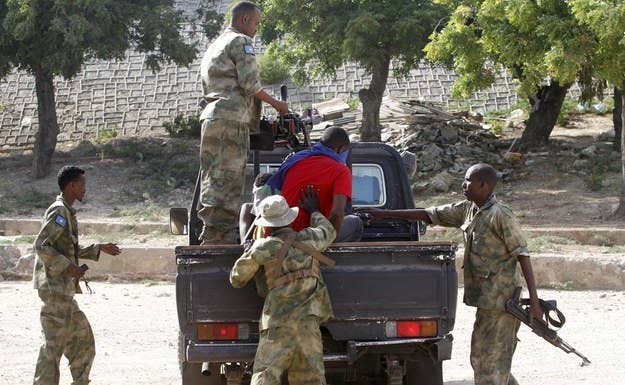 Zakariya Ismail Ahmed Hersi was a leading intelligence officer for the militant group with a $3 million bounty on his head from the U.S. State Department.
Al-Shabab — the terrorist group that took credit for last year's mall attack in Kenya, and which is responsible for many other attacks within Somalia and the East African region — has suffered losses throughout the past months.
Hersi's arrest comes three months after another al-Shabab leader, Ahmed Abdi Godane, was killed in a US drone strike.
On Christmas, al-Shabab launched an attack at the African Union base in Mogadishu, which they said was in retaliation for Godane's murder. At least nine people, including three African Union soldiers, were killed in the attack.
Hersi may have surrendered because he fell out with Godane's men. He had been on the run ever since, hiding in a small town on the Somalia-Kenyan border, the BBC reported.
Al-Shabab has been waging an insurgency against Somalia's government for years. In 2012, the Obama administration offered a total of $33 million in return for information about Hersi and seven other high ranking al-Shabab leaders.