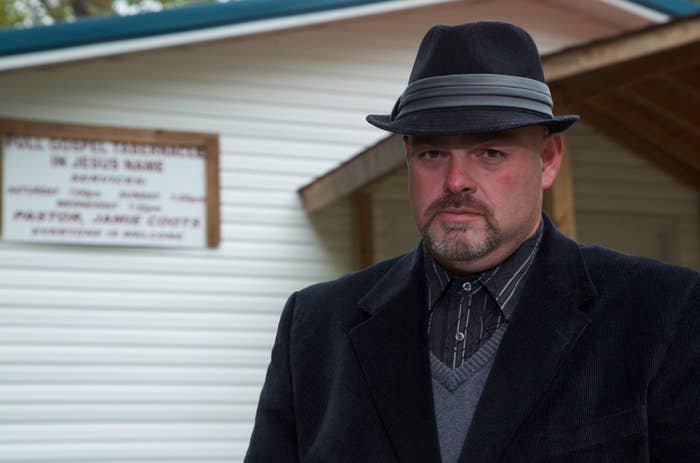 Jamie Coots, star of National Geographic's canceled reality show Snake Salvation, which profiled Pentecostal snake-handling pastors, died Saturday night after being bitten by a snake at his church in Middlesboro, Ky.
Middlesboro Police Chief Jeff Sharpe said Coots was found dead in his home at about 10 p.m. Saturday after a snake bit him while he was handling the animal in his church, Full Gospel Tabernacle in Jesus Name, according to WBIR.
Officials urged Coots to get medical care, but he refused. About an hour later he succumbed to his injuries.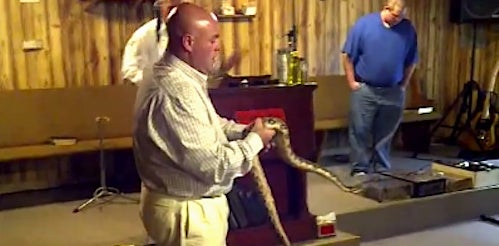 Snake Salvation largely followed Coots and his mentee, Andrew Hamblin, while they hunted for snakes, although church services and interviews with snake handlers were also shown. The show also showed the duo trafficking snakes across state lines.
Last year, Coots pleaded guilty to violating Tennessee's exotic animals law and surrendered his snakes as part of a plea deal.
In an interview with BuzzFeed earlier this year, Hamblin said "When you feel the anointing and God moves on you to take up serpents, even if one of 'em lays fangs into you, you shall not be harmed."
The longform piece explained exactly what it means to "handle a serpent":
Congregants "take up" serpents (which can mean anything from holding them in their bare hands to whirling, or even juggling them) in one of two ways: by faith — saying a prayer and hoping for the best, essentially — or when they feel what they call "the anointing." By most accounts, the anointing is a bulletproof vest with a get-out-of-jail-free card pinned to its front — a palpable blessing from the Holy Spirit, God's tangible, protective hand.
Update — 3:10 p.m. ET: National Geographic released a statement on the passing of Pastor Jamie Coots:
National Geographic joins his family, friends and community in mourning the loss of Pastor Jamie Coots. In following Pastor Coots for our series Snake Salvation, we were constantly struck by his devout religious convictions despite the health and legal peril he often faced. Those risks were always worth it to him and his congregants as a means to demonstrate their unwavering faith. We were honored to be allowed such unique access to Pastor Jamie and his congregation during the course of our show, and give context to his method of worship. Our thoughts are with his family at this difficult time.