At 1 p.m. ET Monday, marriage equality came to Virginia, and couples immediately lined up at the Richmond courthouse to get marriage licenses.
The U.S. Supreme Court's decision to deny cases challenging marriage bans on Monday, also cleared the way for marriage equality in Oklahoma, Utah, Wisconsin, and Indiana.
The first couple get a license was Nicole Pries, 42, and Lindsey Oliver, 30, the Times Dispatch reports.
The Circuit Court Clerk Edward F. Jewett told the couple that they were "the first in line for Richmond."
The couple got married just shortly after 1 p.m. outside of the John Marshall Courts Building, with plenty of media, cameras, and onlookers as witness.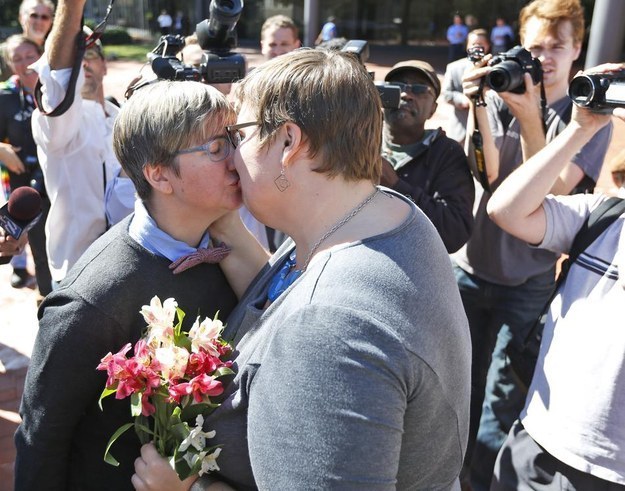 Rev. Robin Gorsline wed the couple, and declared married "by authority vested in me, first by God, now by the Commonwealth of Virginia."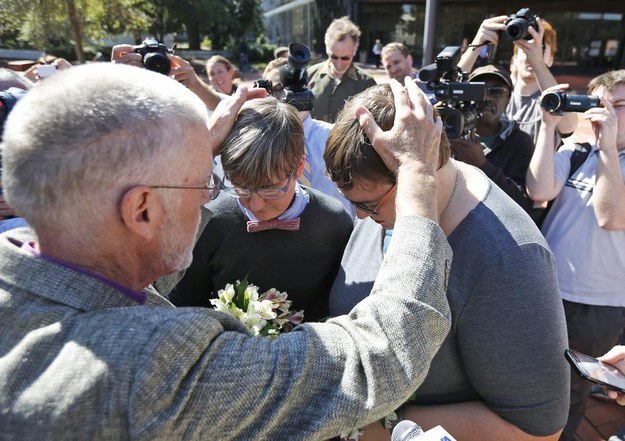 Monday was even their anniversary, according to a reporter for local ABC affiliate WRIC TV.
The second couple to acquire paperwork in Virginia told a Times Dispatch reporter that they ran to the courthouse as soon as they heard the news, and "didn't even change clothes." They've been together for eight years.
Around 2 p.m., other towns in Virginia including Norfolk began issuing licenses as well.
This couple, Tony London, right, and Tim Bostic, said their license from the Norfolk Circuit Court cost $30 but was "worth everything."
Some came to show support for marriage equality, like these people who brought flowers to give to newlyweds.
And this woman who offered free wedding photography.
"What a momentous and joyous day for thousands of Virginians," Virginia Attorney General Mark Herring said while speaking outside of the Arlington County Courthouse.
Virginia Gov. Terry McAuliffe then added: "This is a historic and long overdue moment for our Commonwealth and our country."
"Virginia is already well-prepared to implement this historic decision. Going forward we will act quickly to continue to bring all of our policies and practices into compliance so that we can give marriages between same-sex partners the full faith and credit they deserve."