Ruth Bader Ginsburg Made This Woman's Life By Responding To Her Wedding Invitation
The Supreme Court Justice isn't able to attend, but still responded to the invitation. What a lady.
When Staci Zaretsky was planning her wedding, she and her fiancé thought carefully about who to invite. They decided to send an invitation to "everyone who had ever made an impact on our lives, big or small."
Among those included Supreme Court Justice Ruth Bader Ginsburg.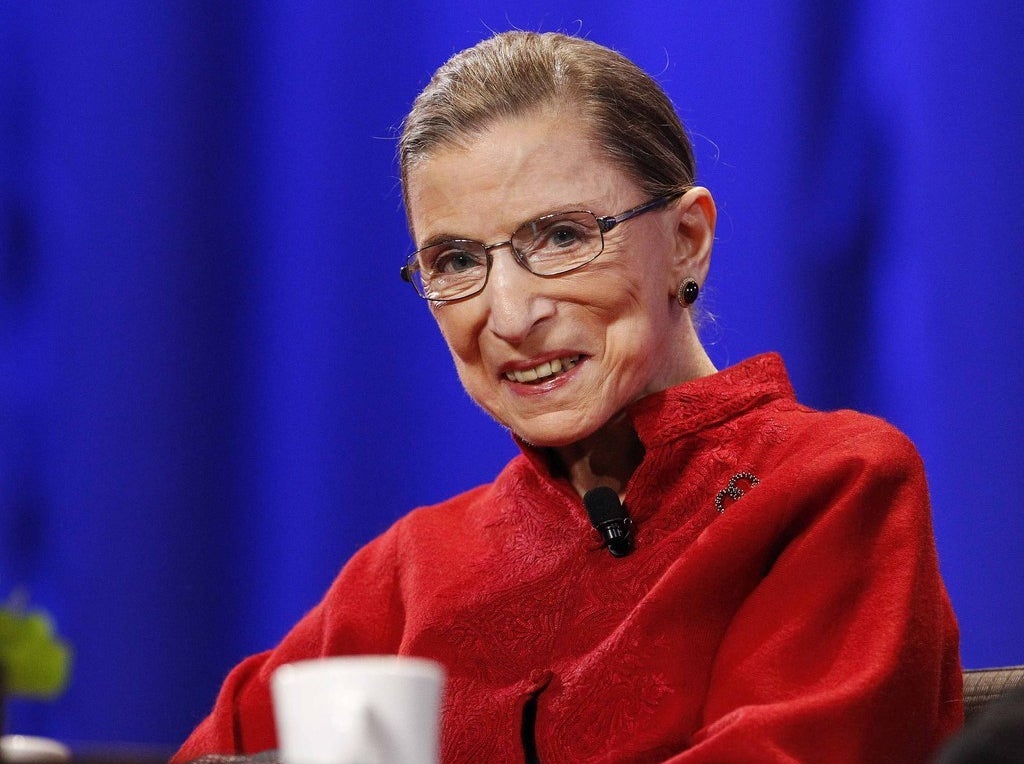 Staci (left) and Ruth Bader Ginsburg.
In an email to BuzzFeed, Zaretsky said she decided to invite just Ruth Bader Ginsburg, and no other public figures or celebrities.
"I'm a huge law geek," said Zaretsky. "I decided to send our very last invitation to Justice Ginsburg because of what a special person she is in the legal profession, and because all of the amazing things she's accomplished in her life. As demonstrated by her letter, she really is the best."
The bride-to-be was nervous when she first sent the invitation, and wanted it to look just right. On the website she writes for, Above The Law, Zaretsky explained:
I sent an invitation to Justice Ruth Bader Ginsburg, and painstakingly sealed it with a rhinestone heart... Inside of the invitation's envelopment, I enclosed a handwritten note, telling Justice Ginsburg what an inspirational woman she was and praising her for what she's done for women's rights in the United States.
Then, one week before RSVPs were due, Zaretsky received this letter in the mail: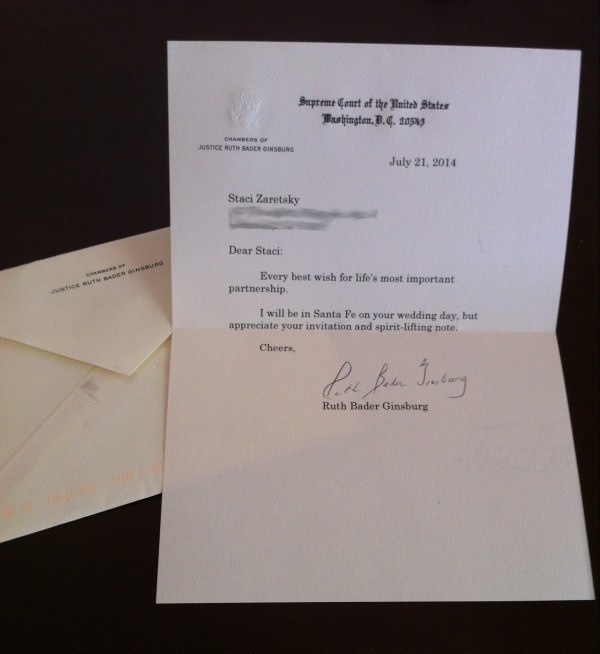 Naturally, Zaretsky was thrilled to hear back from her hero!
Zaretsky told BuzzFeed that when she read the letter, she was so happy she cried.
When I opened the letter from Justice Ginsburg, I was so happy. We hadn't received an RSVP to the wedding in a few days, and I couldn't believe that she took the time to write to me. I won't lie — I cried, but they were definitely happy tears. Justice Ginsburg made my day.
She also thanked Ruth Bader Ginsburg on Above The Law:
"Thank you so very much for making me smile, and thank you again for all of the good that you do in the world," Zaretsky wrote, before joking:
"P.S. A Supreme Court justice took the time to respond to our wedding invitation, and yet we still have 50+ outstanding RSVPs. I hope you have a really good excuse for keeping us waiting, friends."
She does have a point.
Way to go, RBG!