Polish Newsweek Cover Calls Putin Evil
On Newsweek's Polish cover, Russian President Vladimir Putin is pictured in a straight jacket over the words "Evil Empire."
On Sunday, Newsweek released its Polish cover, which pictures Russian President Vladimir Putin in a straight jacket over the words "Evil Empire."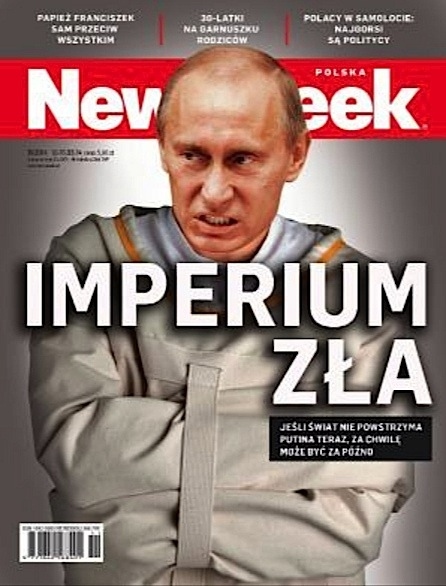 It's safe to say that Poland is not pleased with Putin's recent actions in Ukraine.
Last week, Poland — a former communist nation that was invaded by the Soviet Union in the 1930s — released a statement saying that it felt threatened by Russia's recent actions in the Eastern European region.
"Russian military activity is not limited to blatant provocations and unlawful intervention in Crimea, or the threat of massive invasion on the territory of sovereign Ukraine," the statement said.
It also noted that 150,000 Russian troops recently held military drills near the Polish border, and that was "more than enough reason" for Polish concerns.
Polish President Bronislaw Komorowski also expressed his concerns to President Obama, who said Komorowski felt the invasion of Crimea was a "clear violation of Ukrainian sovereignty and territorial integrity, which is a breach of international law and a threat to international peace and security."