Patient At New York City Hospital Does Not Have Ebola
A man tested at Mount Sinai Hospital "has tested negative for Ebola," the hospital said Wednesday.
Updated — Aug. 6, 5:46 p.m. ET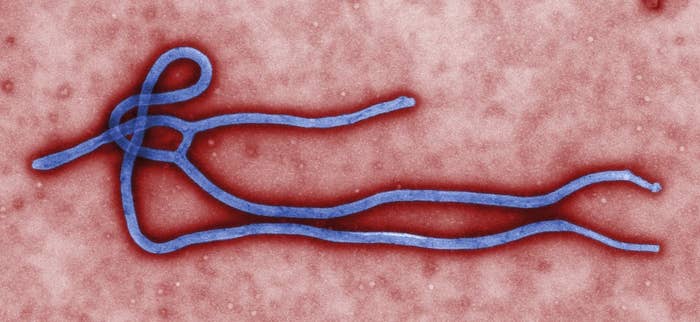 A man being held in isolation at a New York City hospital since Monday while he was tested for the Ebola virus, is not infected with the deadly disease.
Mount Sinai Hospital officials released the following statement on Wednesday: "We would like to report that the Centers for Disease Control and Prevention have determined that the patient kept in isolation since Monday, August 4, 2014 at The Mount Sinai Hospital has tested negative for Ebola Virus Disease (EVD). The patient is in stable condition, is improving, and remains in the care of our physicians and nurses."
On Monday, an internal email from the hospital confirmed a man is undergoing testing for Ebola after returning from one of the West African countries where the virus has been reported.
In a press conference on late Monday afternoon, a spokesperson for Mount Sinai Hospital said that "odds are it's not Ebola."
The patient, whose name has not been released, came to the hospital with a high fever and gastrointestinal symptoms, according to the hospital. He since "has been placed in strict isolation," according to hospital officials.
"All necessary steps are being taken to ensure the safety of all patients, visitors and staff," the hospital said in a statement, obtained by ABC News.
"We will continue to work closely with federal, state and city health officials to address and monitor this case, keep the community informed and provide the best quality care to all of our patients."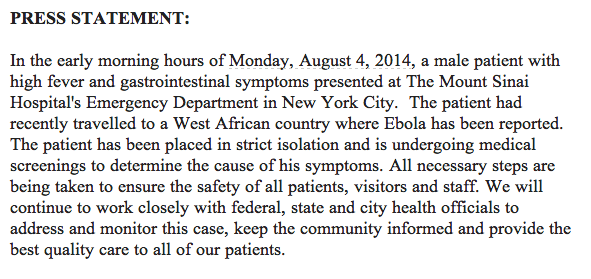 In a Twitter Q&A, Dr. Tom Frieden, the director of the Centers for Disease Control, said that infection-control procedures implemented in U.S. hospitals will make the spread of Ebola unlikely.
The virus spreads through bodily fluids.