Money To Address Rape Kit Backlog In Congressional Spending Bill
Advocates praised the inclusion of $41 million to handle thousands of untested rape kits.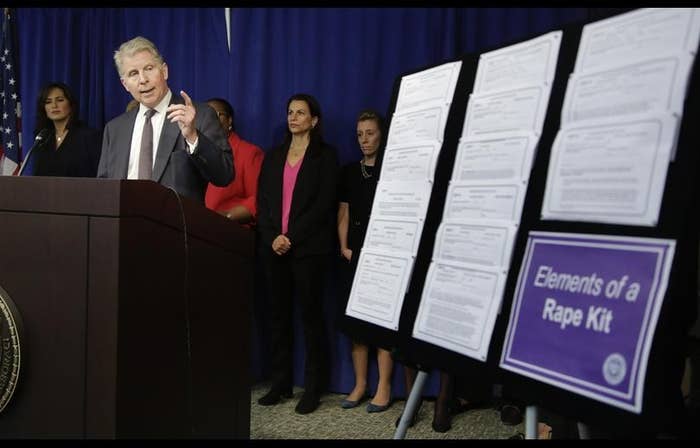 The $1.1 trillion spending bill released on Tuesday includes $41 million to address the nation's thousands of untested rape kits that contain DNA evidence, and to provide communities and police departments across the U.S. with resources to test backlogged kits, and investigate and prosecute cases connected to them.
The evidence stored in rape kits can help identify assailants or confirm multiple victims of one known rapist, as well as help to exonerate innocent suspects. An estimated 400,000 untested rape kits remain in police evidence rooms nationwide, the Associated Press reported. In Detroit alone, an estimated 11,341 rape kits are collecting dust in storage units, and in Texas, there are at least 20,000 untested kits.
Earlier this year, the Obama administration pushed for $35 million to help end the backlog of rape kits.
"We cannot allow and will not allow budget cuts to come at the dispense of survivors of sexual assault," Attorney General Eric Holder said on a call with reporters.
"Studies show that law enforcement officials don't prioritize testing rape victims because they don't realize how valuable they can be," Vice President Joe Biden added. "You might have a guy pleading guilty on one case, and then you look at his DNA and it turns out he's raped five other women."
Last month, the Manhattan District Attorney Cyrus R. Vance, Jr. promised an additional $35 million to help cities throughout the United States fund the cost of testing evidence in sexual assault and rape cases.
The Joyful Heart Foundation, which advocates for ending the rape kit backlog, said in a press release that congressional leaders had "given hope" to the "countless sexual assault survivors whose rape kits sit untested on shelves in police storage facilities across the country."
Sarah Tofte, the organization's Vice President of Policy and Advocacy, added that this "is the funding they [police departments] need to uphold their commitment to pursue every lead from testing rape kits, reform their criminal justice response to rape, engage survivors in the process and bring offenders to justice."
Mariska Hargitay, star of Law And Order: SVU, and the president of the Joyful Foundation, tweeted about the measure: