Two University Of Miami Football Players Arrested After Admitting They Raped A 17-Year-Old
Two University of Miami linebackers were arrested on charges of sexual battery, kicked off the football team, and suspended from school after they admitted raping a 17-year-old girl in a campus dorm room.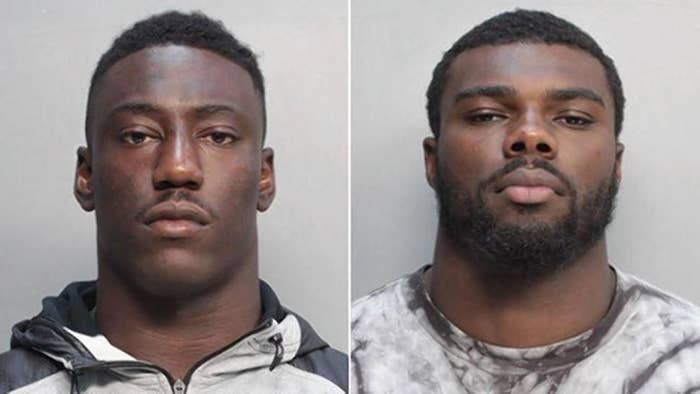 Two University of Miami football players, Alexander Figueroa and Jawand Blue, were arrested Tuesday and charged with sexual battery after they allegedly drugged and sexually assaulted an underage girl.
According to the affidavit, Figueroa and Blue, both 20, gave a 17-year-old girl "a narcotic, anesthetic, or other intoxicating substance that mentally or physically incapacitated" her without her knowledge on July 5. They then performed sex acts on the teen, who is described as being "physically helpless to resist."
The teen reported the crime to University of Miami Police, who then contacted the local police department.
A spokesperson for the Coral Gables police department told BuzzFeed that on Tuesday Figueroa and Blue went to the police station and admitted to "buying and administering several alcoholic beverages for the victim" and taking her back to Figueroa's dorm room, where they "performed sexual acts on the her without her consent."
At that point they were arrested.
The University of Miami Director of Athletics Blake James issued a statement Tuesday saying that both Figueroa and Blue — both linebackers — had been kicked off the team:
Earlier today, I permanently dismissed Jawand Blue and Alexander Figueroa from the UM football team. The University has also suspended the students from school and barred them from all campus facilities while the University conducts an internal investigation and continues to cooperate with local law enforcement.

Any allegation of a sexual assault is extremely serious, and the University will not tolerate conduct that threatens the sanctity and safety of our students and our campus. We hold all of our students – especially student athletes – to the highest standards of moral conduct.
On Tuesday afternoon, University of Miami President Donna Shalala also released a statement regarding the incident:
The safety and welfare of our students is fundamental to our mission as a university. We have zero tolerance for sexual assault and gender-based violence.

There is no confusion about our responsibility as a university: We will fully and compassionately support the victim of sexual assault. I have spoken to her myself and reassured her of our full support.

We have suspended the men involved, and they have been barred from campus.

We have notified the individuals involved that the university is beginning an investigation immediately, which we expect to conclude quickly and fairly.

We will also continue to cooperate with the police in their ongoing criminal investigation.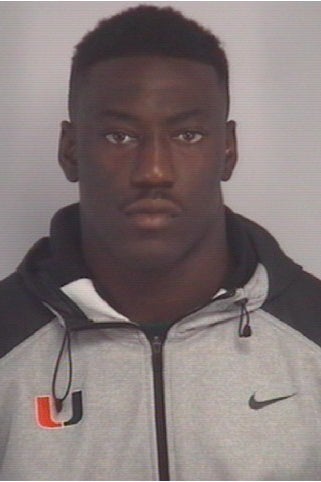 Read the full affidavit here:
Download PDF
An earlier version of this article mis-identified Alexander Figueroa as Jawand Blue in the first photo spread. The photo caption has been updated to accurately reflect the men's identity.