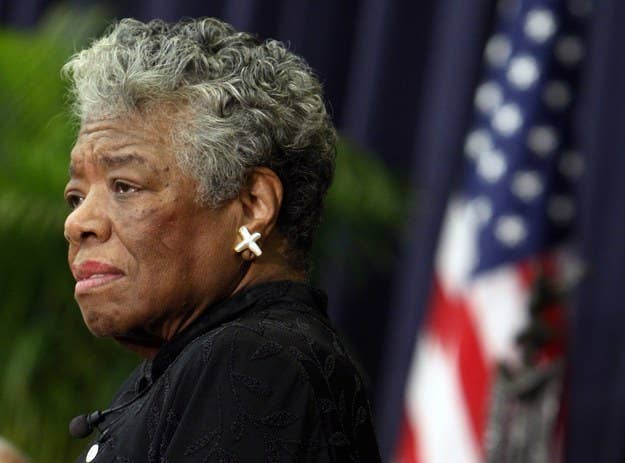 Award-winning American poet Dr. Maya Angelou, writer of the classic autobiography I Know Why the Caged Bird Sings, has died in her home in Winston-Salem, N.C. She was 86 years old.
Her family released a statement on Wednesday saying that Angelou passed in her home before 8:00 a.m. ET. She was found by her caretaker, Fox reported. In their statement, Angelou's family expressed gratitude that "her ascension was not belabored by a loss of acuity or comprehension," and said:
She lived a life as a teacher, activist, artist, and human being. She was a warrior for equality, tolerance and peace. The family is extremely appreciative of the time we had with her and we know that she is looking upon us with love.
Angelou reportedly had health problems for several months. Earlier this week she canceled a scheduled appearance at the Major League Baseball Beacon Awards luncheon, where she was to be honored. Last month, Angelou canceled another event at the Fayetteville Public Library in Arkansas, and sent a heartwarming letter explaining why she could not attend:
An unexpected ailment put me into the hospital. I will be getting better and the time will come when I can receive another invitation from my state and you will recognize me for I shall be the tall Black lady smiling. I ask you to please keep me in your thoughts, in your conversation and in your prayers.
The prolific writer was known not only as a renowned poet, but also as a historian, civil rights advocate, actress, and screenwriter. She wrote the screenplay and composed the score for the 1972 film Georgia, Georgia, which was the first movie made that was written by an African-American woman. The script was nominated for a Pulitzer Prize.
Angelou received over 50 honorary degrees in her lifetime, and was a professor of American studies at Wake Forest University.
Angelou, who inspired thousands with her words, is famous for saying, "I've learned that people will forget what you said, people will forget what you did, but people will never forget how you made them feel."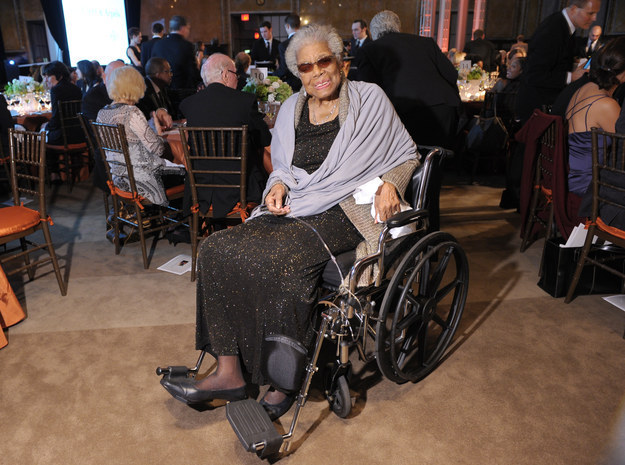 President Obama released the following statement:
When her friend Nelson Mandela passed away last year, Maya Angelou wrote that "No sun outlasts its sunset, but will rise again, and bring the dawn."

Today, Michelle and I join millions around the world in remembering one of the brightest lights of our time – a brilliant writer, a fierce friend, and a truly phenomenal woman. Over the course of her remarkable life, Maya was many things – an author, poet, civil rights activist, playwright, actress, director, composer, singer and dancer. But above all, she was a storyteller – and her greatest stories were true. A childhood of suffering and abuse actually drove her to stop speaking – but the voice she found helped generations of Americans find their rainbow amidst the clouds, and inspired the rest of us to be our best selves. In fact, she inspired my own mother to name my sister Maya.

Like so many others, Michelle and I will always cherish the time we were privileged to spend with Maya. With a kind word and a strong embrace, she had the ability to remind us that we are all God's children; that we all have something to offer. And while Maya's day may be done, we take comfort in knowing that her song will continue, "flung up to heaven" – and we celebrate the dawn that Maya Angelou helped bring.