Man Sues Red Lobster, Waitress For $1 Million After Waitress Says He Wrote The N-Word On A Receipt
Devin Barnes denies the use of the racial slur.
Last September, Toni Christina Jenkins, a waitress at a Tennessee Red Lobster, accused a customer of not leaving a tip, and instead writing a racial slur on the receipt.
"This is what I got as a tip last night…so happy to live in the proud southern states…God Bless America, land of the free and home of the low class racists of Tennessee," Jenkins wrote underneath the picture.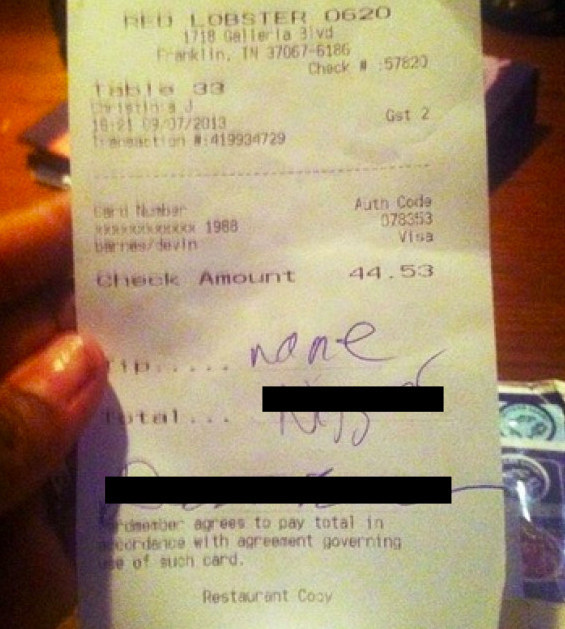 But now Devin Barnes — the man accused of leaving the receipt — has filed a $1 million lawsuit against Red Lobster and Jenkins, claiming that Jenkins slandered his name and misused his personal information.
Barnes additionally claims that his reputation has suffered lasting damage because Red Lobster let Jenkins publicize his name and information, The Tennessean reports.
Barnes denies writing the n-word, and says he didn't leave a tip because he had placed a takeout order.
Barnes' pastor and attorney, Richard Dugger, who filed the suit, said the incident has caused his client to receive "threats from all over the world," and he believes Barnes has suffered "great harm and mental anguish."
"The plaintiff is not now, nor has he ever been, a 'racist;' but now as a result of the defendant's acts and omissions to act, your plaintiff has been tagged a 'racist' world wide," the suit says.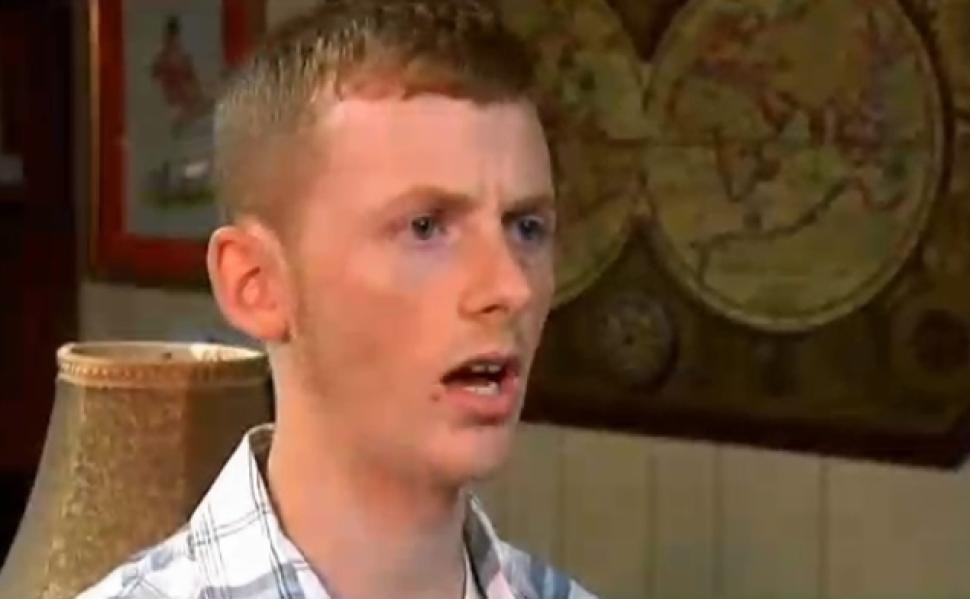 Barnes has also hired a handwriting expert who says that the handwriting on the receipt is not his.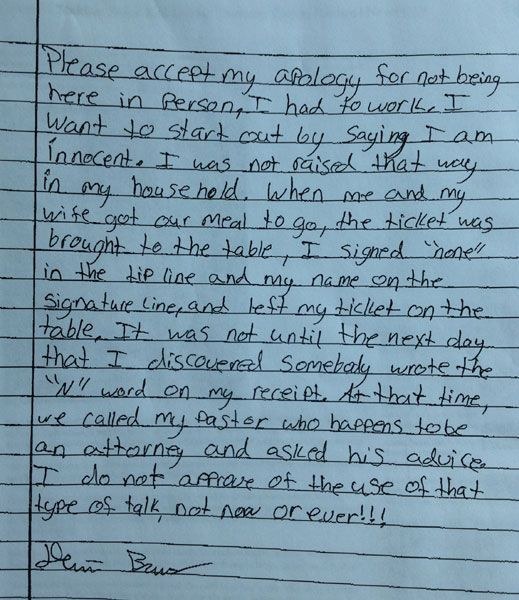 Jenkins told The Tennessean that she wasn't trying to bring negative attention to the customer, but rather to draw attention to racism.
"I was not trying to get back at him or bring any attention to him at all," Jenkins said. "I have nothing against him. I can only imagine what he is going through. I was trying to bring attention to racism."
In an interview with The Daily Mail, she insisted the receipt was real:
"They were extremely rude, but I introduced myself to them and they didn't respond. When I came to take their order they simply told me they wanted their food and to put everything in a to-go box. I offered them dessert but they told me abruptly that they just wanted the check."

"When I went back to the table they had gone and left the receipt and had written the comments."