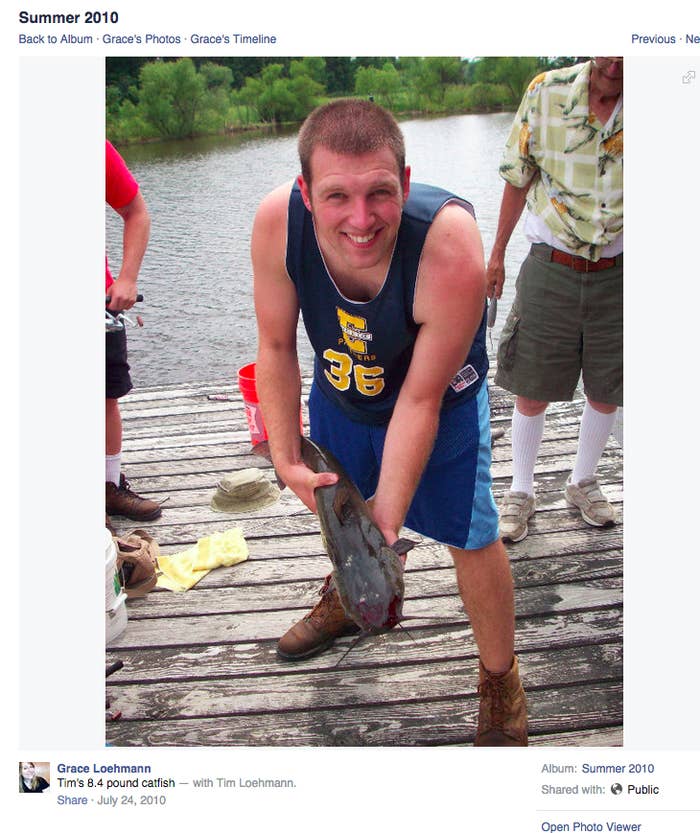 The police officer who shot and killed 12-year-old Tamir Rice is described as emotionally unstable and unable to properly use a firearm, according to documents from the city of Independence, Ohio, obtained by BuzzFeed News. The Cleveland Police Department confirmed to BuzzFeed News that during Officer Loehmann's background check "Cleveland Police detectives did not review his Independence Police Department personnel file."
Timothy Loehmann, 26, worked as a patrolman in Independence for less than one year prior to joining the Cleveland Police Department in 2014. He was ultimately asked to resign from his job or be fired, according to the documents. This contradicts the information he provided in his job application to the Cleveland Police Department two years later.
Loehmann shot Rice on Nov. 23, after reports that a boy was waving a gun — which later proved to be an airsoft toy pistol — in a public park.
The Independence documents offer a damning and troubling account of Loehmann's emotional state and ability to follow directions.
In a November 2012 letter to the Independence Police Department's human relations director recommending Loehmann's termination, Independence Deputy Chief Jim Polak explained that for much of his time on the force, Loehmann "was distracted and weepy." He could not "follow simple directions, could not communicate clear thoughts nor recollections, and his handgun performance was dismal."
Polak then provided a specific example of an emotional breakdown Loehmann had while working with another officer, Field Training Officer Sgt. Tinnirello.
During this drive, Sgt. Tinnirello continued to speak with Tim about his problems, and Ptl. Loehmann continued with his emotional meltdown to a point where Sgt. Tinnirello could not take him into the store, so they went to get something to eat and he continued to try and calm Ptl. Loehmann. Sgt. Tinnirello describes the recruit as being very downtrodden, melancholy with some light crying. ... Some of the comments made by Ptl. Loehmann during this discourse were to the effect of, "I should have gone to NY," "maybe I should quit," "I have no friends," "I only hang out with 73 yr old priests," "I have cried every day for 4 months about this girl."
According to Tinnirello, Loehmann told him his behavior was due to a bad breakup with his on-again, off-again girlfriend.
In the personnel file, Sgt. Tinnirello reported three other incidents in which he was concerned about Loehmann's behavior.
"Individually these events would not be considered major situations," Polak wrote. "But when taken together they show a pattern of a lack of maturity, indiscretion and not following instructions."
The other reported incidents include one case in which Loehmann left his gun unsecured in his locker overnight after he was specifically told that was unacceptable. In another instance, he took off a bulletproof vest he was supposed to be wearing because he said he felt "too warm."
Polak says that he thought Loehmann was "genuine in his explanations, and takes criticism well. It just appears that he is not mature enough in his accepting of responsibility or his understanding in the severity of his loss of control on the range."
It appears from the pattern developing within our short time frame with Ptl. Loehmann that he often feels that when told to do something, that those instructions are optional, and that he can manipulate them if he so feels it can better serve him. I do not say he is doing this for some benefit, or in an insubordinate way, but he just appears to have the mind set that if he thinks he knows better, than that is the course he follows. ...

Unfortunately in law enforcement there are times when instructions need be followed to the letter, and I am under the impression Ptl. Loehmann, under certain circumstances, will not react in the way instructed. ...

For these reasons, I am recommending he be released from the employment of the City of Independence. I do not believe time, nor training, will be able to change or correct these deficiencies.
Rather than firing Loehmann, Polak met with Loehmann and Tinnirello on Dec. 3, 2012, and gave Loehmann the opportunity to resign.
Loehmann agreed to leave, and Independence accepted his written resignation.
Cleveland police told BuzzFeed News that while there was no review of Loehmann's file, there is no "written policy mandating a review of an applicant's previous employer personnel file." They will now change that.
"While our policy does not require obtaining a personnel file prior to employment, the Cleveland Division of Police has amended our policies to request a personnel file from previous employers," a Cleveland police spokesperson said.
Reached for comment, Joseph Lubin, the former director of human resources for the City of Independence, said he does not recall whether or not the city of Cleveland requested the file on Loehmann.
"I recall several phone calls and several folks coming in during that time. I can't recall what agencies they worked for," Lubin said.
A personnel file on Loehmann released this week by the Cleveland Police Department only shows that the city requested Loehmann's start date, termination date, and sick hours from Independence.
Loehmann's woes in Independence becoming public call into question several details that were reported this week.
In an interview posted to Cleveland.com, his father, Fred Loehmann, said his son left Independence because he "grew tired of the slow pace of suburban policing."
In his application to become a Cleveland police officer, Loehmann made no mention of his troublesome employment in Independence. Instead, he said that he "resigned for personal reasons" from the department, and wrote that he faced no disciplinary actions.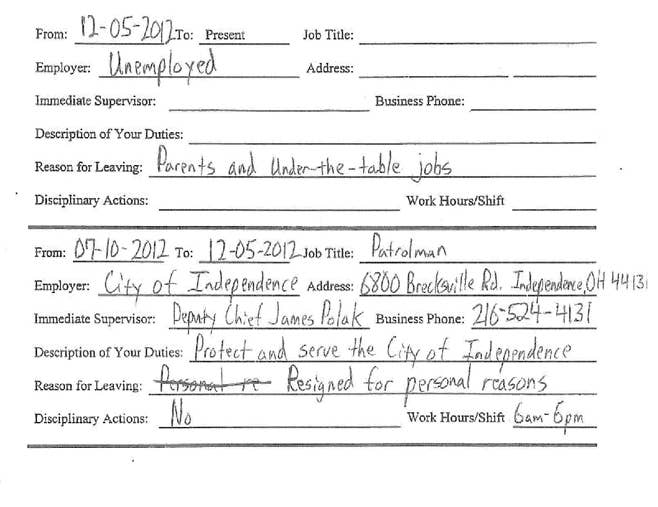 Jeffry Follman, the President of the Cleveland Police Patrolman's Union, did not immediately respond to BuzzFeed News' request regarding if Polak's description of Loehmann was consistent with his behavior as a Cleveland police officer.
Additional reporting from Ellie Hall.
This post has been updated to include additional comment from the Cleveland Police Department.