Kenyan Rhinos To Get Microchips Implanted In Horns
In an attempt to fight off poachers, conservationists in Kenya are putting microchips in the county's rhino population.
As African poachers get more sophisticated, local conservationists are fighting to keep up with them -- and succeeding.
The Kenya Wildlife Service (KWS) will begin to use chips — along with DNA records — to track the country's diminishing population of rhinoceros, reports NBC News. The technology is meant to protect the estimated 1,000 rhinos alive in Kenya now, and also to provide evidence against illegal poachers.
So how does it work?
One chip will be implanted in the rhino's horn, and another in their body. If a horn is removed, investigators will be able to track it and match it to the body. Unless, of course, poachers are able to remove the chip from the horn after attacking an animal. The equipment is expected to cost about $15,000, but additional costs, such as tranquilizing the rhinos and fitting the technology, will drive costs considerably higher.
"This is the first time have used technology or done anything like this to try to preserve the rhino population," said Robert Magori, Kenya's spokesman for the World Wildlife Fund (WWF) who provided the microchips to the KWS. "It is a unique way of tackling our increasing problem with poachers."
Hundreds of rhinos are killed for their horns each year in Africa. In South Africa, where the rhino population is approximately 22,000, poaching has skyrocketed. A thousand rhinos are expected to be killed for their horns in 2014.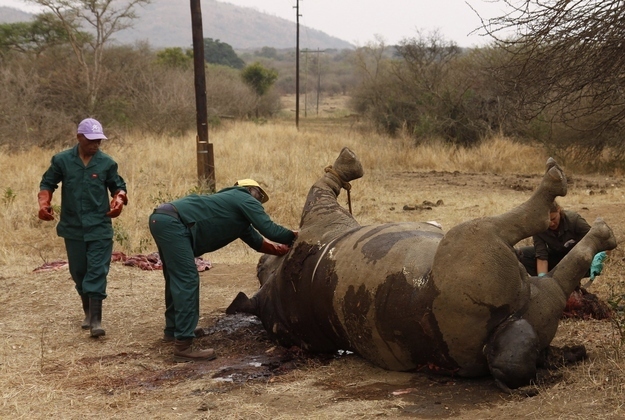 Conservationists estimate that rhino horns can sell for up to $65,000 per kilogram, which is even more expensive than gold.