Janet Yellen Nominated For Federal Reserve Chair, Would Be First Woman In History To Hold The Position
President Obama has named her to replace the departing Ben Bernanke.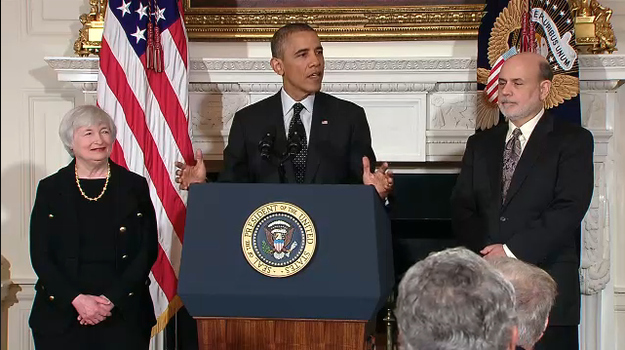 On Wednesday afternoon, President Obama named Janet Yellen as his choice for Federal Reserve chair, making her the first woman in U.S. history to lead the Fed. Yellen would replace Ben Bernanke, who has held the position since 2006, on Jan. 31.
"Today I want to take a minute to pay tribute to Ben for his tremendous service to the nation, but I also want to announce my choice for the new chair: Janet Yellen," said President Obama, calling Yellen one of the "foremost economists and policymakers" in the United States.
"This is one of the important decisions a president will make," said Obama. "Janet Yellen is a proven leader, and she's tough. And not just because she's from Brooklyn."
Obama also said Yellen "calls it like she sees it," knows how to build consensus, and listens to competing views.
"America's workers and their families will have a champion in Janet Yellen," said the president. "I urge the Senate to confirm [Yellen] without delay."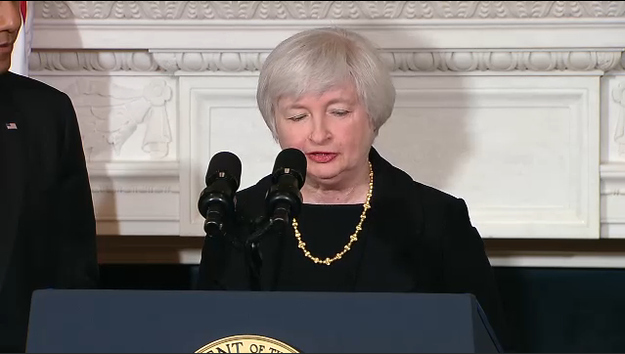 During a short speech, Yellen said she was honored and humbled by the faith President Obama placed in her, and if confirmed by the Senate, she promised to promote maximum employment and work to strengthen the U.S. economy.
"The mandate of the Federal Reserve is to serve all the American people," Yellen said. "More needs to be done to strengthen the recovery, particularly for those hardest hit by the Great Recession."
Current Federal Reserve vice chair, Yellen is an experienced economist and Democratic policymaker. She was nominated as vice chair of the Federal Reserve in 2010 with a 17-6 vote from the Banking Committee, and has held the position ever since. Previously, Yellen taught economics at the University of California, Berkeley, was the head of the San Francisco Federal Reserve, the head of the Council of Economic Advisors for two years under Bill Clinton, and a member of the Federal Reserve Board of Governors.
Yellen looked very happy throughout the appointment.