Two inches of snowfall in Atlanta yesterday basically shut down the city.
Schools and offices closed around 1:30 p.m., sending hundreds of thousands of people on the roads at the same time.
After snow began to fall around noon, schools and offices shut down and thousands of people hit the roads at the same time, causing intense traffic. Salt and sand trucks could not be deployed because of the gridlock, causing even worse conditions and icy roads. Some apparently left their cars on the interstate to walk home or to nearby shelters.
Atlanta Mayor Kasim Reed said Wednesday that he's "not going to play the blame game," but admits his greatest error in managing the storm response was letting everybody out at the same time, creating gridlock in the city. Reed said at a press conference Wednesday if he had to do it over, he would have let schools go first, then private sector workers, and then government employees, rather than all at once.
There were reports of 791 accidents.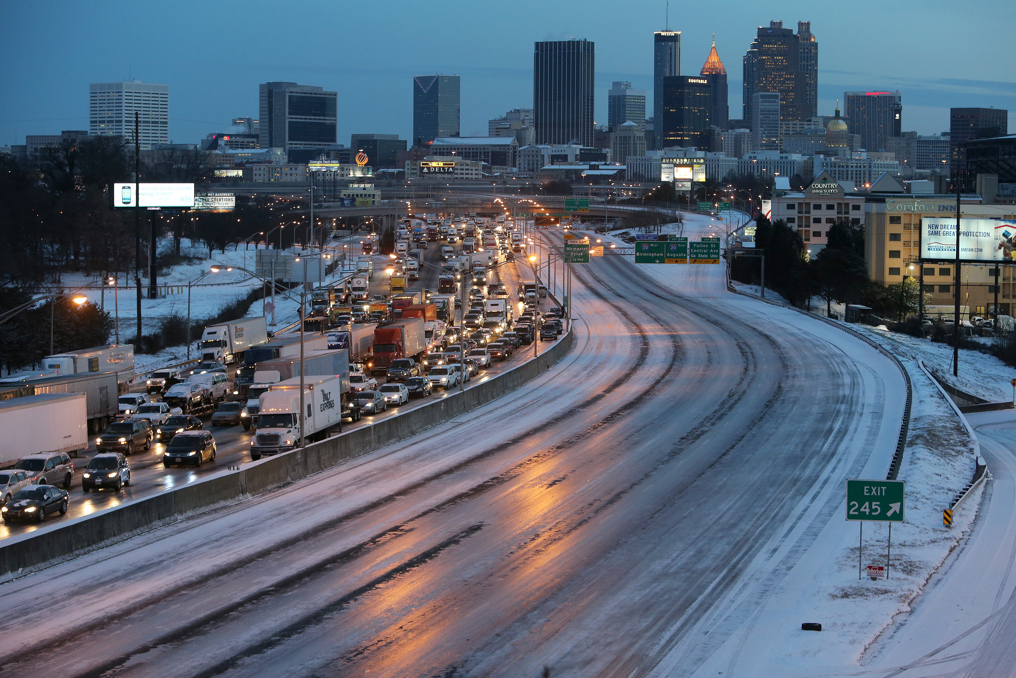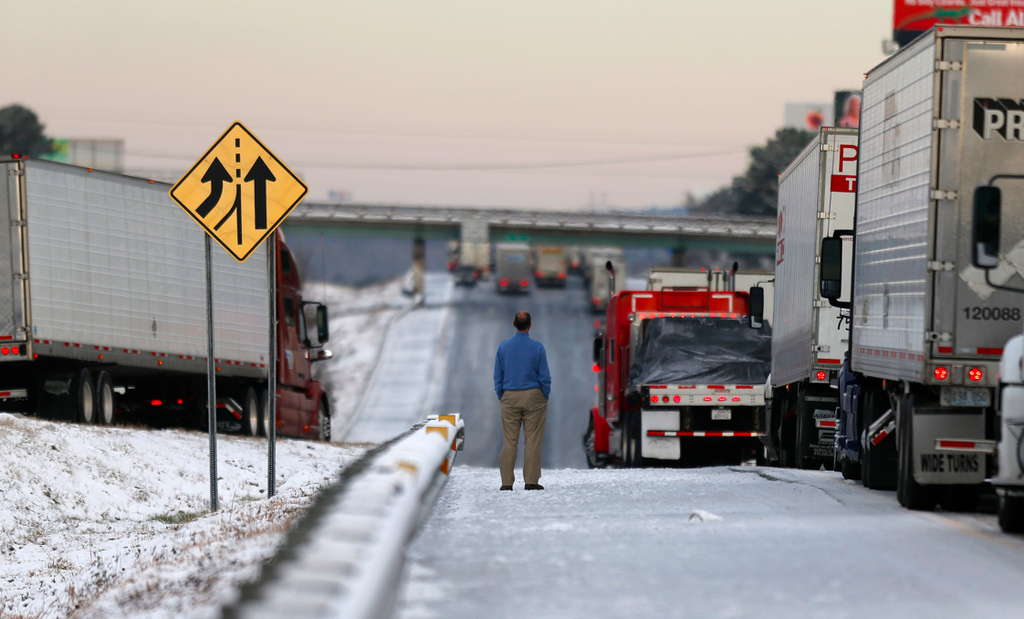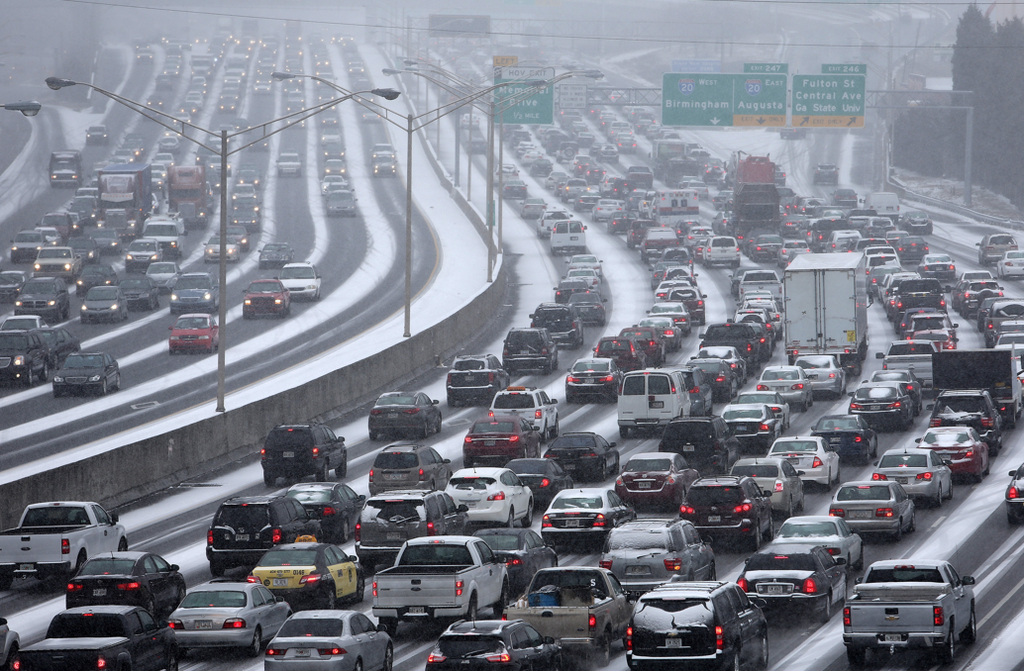 A woman even gave birth to a baby girl in her car on the side of the road.
Police officer Tim Sheffield was responding to an accident Tuesday when he spotted a car on the side of the highway and stopped to check on it, NBC reports. Inside he found a couple with their two daughters.
"I asked the dad, 'Are you all broke down?'" Sheffield told TODAY's Savannah Guthrie on Wednesday. "He goes, 'No, we're having a baby.'"
The birth was completely natural. "It was beautiful," Sheffield said.
The girl was born at about 5:20 p.m. An ambulance arrived shortly after the birth, and took the family to a hospital.
The situation was so dire that thousands of stranded motorists took refuge in stores on the side of the highway. This Atlanta-area Home Depot opened its doors to stragglers.
There were photographs of people sleeping in Publix, CVS, and more.
Schools originally said they would have students home by 8:00 p.m., but by 8:30 p.m., it because clear that schools in the northern part of the state could not get buses safely to the schools.
One bus that picked up 200 students from the Hoover CIty School District was stranded on the interstate, and students were sent to shelters for the night, WVTV reports.
A state of emergency "shelter in place" was issued by the Atlanta school system Tuesday night for all students and staff to stay in schools.
Eight Atlanta schools had students spend the night. At E. Rivers Elementary school, about 100 students aged 5–11 slept in the school's gymnasium.
Teachers and parents alike were critical of how schools handled the snow and ice storm.
One brave dad trekked 6 miles through the snow to sleep with his daughter who was stranded at her school after the storm.
A lot of the kids were understandably scared.
But by Wednesday morning, some kids seemed perfectly happy, and played in the snow together.
At Keheley Elementary School on Kemp Road in east Cobb County, all students have left except for two, whose parents haven't been able to reach the school, Access Atlanta reports.
Principal Liz Jackson alone stayed behind to care for them.
"We've done movies, we've done games, we've done snacks," she said. "The cafeteria manager called and told us where to find food."
Hundreds of cars are still abandoned.
Mayor Reed said the next priority is to get people out of their stranded cars and to clear the roads. At least one person is dead and over 100 hurt from car accidents.
Updated — 5:20 p.m. ET: All Atlanta school children made it home, and schools announced they would be closed Thursday.