Here's What Happened When One Soldier Reported Sexual Harassment In The Military
Katie Rapp, a soldier who reported sexual harassment while she was deployed in Afghanistan in 2011-2012, recorded her four-hour interview with a sexual assault investigator and provided it exclusively to BuzzFeed News.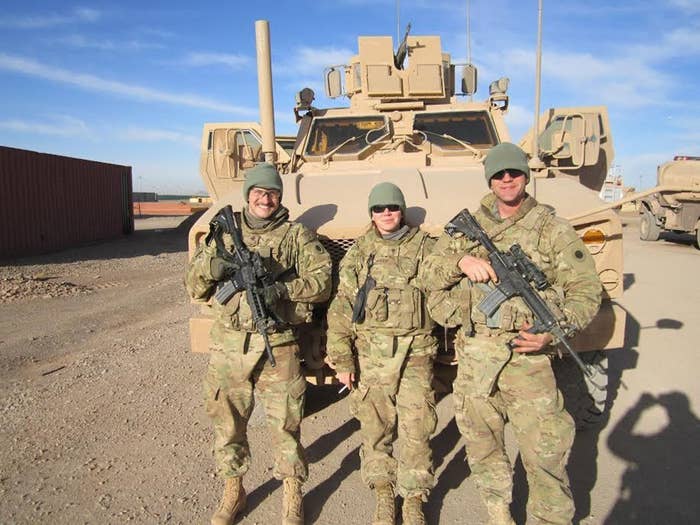 Katie Rapp was surprised when she was told to go to a Perkins restaurant outside Cincinnati to discuss the investigation into her claims of sexual harassment.
Rapp, a member of the Ohio National Guard, sat in a corner booth trying to fend off a panic attack as she described her experience in Afghanistan. A Beyoncé song blasted in the background.
"Everything I went through in [the] country was hard. It really sucked," Rapp told BuzzFeed News. "But my investigation was the hardest four hours of my life."
It's been over two years since Rapp was sent home from Afghanistan and 19 months since her investigation interview in March 2013. In about 30 days she will learn if she will get her wish to receive an honorable medical discharge from the military, or be required to stay until her contract ends in 2018. She had been distracting herself from thinking about the case by attending classes in biochemistry at the University of Cincinnati, but has since taken some time off due to the medical board evaluation process.
Rapp's case was assigned to Lt. Col. Lisa Gammon. The National Guard and Gammon would not comment on how many previous military sexual assault cases Gammon had investigated, but, according to her LinkedIn profile, she had been working with the Ohio National Guard since 2008.
Rapp had already become disillusioned with the National Guard by the time she met with Gammon. Rapp claims that she was repeatedly sexually harassed by men on her unit, both while deployed in Afghanistan and also during basic training in South Carolina. She said that after reporting the incidents, her captain transferred her to a different platoon, rather than punishing her alleged harassers. She was sent to a mandatory psychological evaluation, diagnosed with an "adjustment disorder," and sent home.
"I learned that nobody believes you unless you can prove it," said Rapp. So she decided to record her interview with Gammon, just in case the meeting didn't go well.
In her words, "It was four straight hours of victim-blaming."
While Rapp's investigation is only one example of more than 5,000 annual reported sexual misconduct cases in the military, the audio recording she took and provided exclusively to BuzzFeed News gives the public a glimpse into exactly what happens during that process.
At the restaurant, Rapp and Gammon were joined by Kori Cioca, a survivor of military sexual assault whom Rapp had met just days before at a screening of the documentary The Invisible War. Cioca, who is one of the film's subjects, attended the event and stayed for a Q&A after the film.
"I knew I had to stay there and talk to her," said Rapp. "I wanted to know when people would start taking what I said seriously, if it would get any better. I told her I had an investigation hearing in the next couple days, and she said she'd come with me. She said I didn't need to go alone."
The Perkins wasn't too crowded that morning. After getting their coffees, Gammon and Rapp sat in a corner booth, away from the hordes of people ordering food and chatting with friends in line. (Although the noise from the restaurant makes the recording difficult to hear at times). Cioca remembered a family sitting just a few tables away. A waiter only interrupted them once or twice during the lengthy interview.
"Katie's investigation really reminded me of my own," Cioca, who was raped seven years ago and given an honorable misconduct discharge, told BuzzFeed News. "That's why I knew she needed a tape recorder. She didn't have one when I got to the restaurant, so I downloaded one on my phone and I recorded the whole thing."
At the start of the recording, Gammon is criticizing the Sexual Assault Resource Center (SARC)'s involvement with the case.
"We already have a problem with the investigation," Gammon told Rapp during the first two minutes of the interview. When she first opened up a sexual harassment case with the Ohio National Guard, Rapp sought the help of a member of SARC, Lieutenant Karista Myers. According to Cioca, Myers "wanted to make real changes within the military."
In the recording, Gammon said she had problems with Myers' report and that she wanted to "start from scratch."
On Myers' efforts, Gammon says, "She has really overstepped her boundaries. She's a first lieutenant who hasn't got a clue how to do her job." She continues to make a racially charged comment about Myers' qualifications, which is audible about 30 seconds into the recording below.
Since the March 2013 interview, Myers has been promoted to Captain, Rapp said.
Myers declined BuzzFeed News' request for comment. Numerous emails and phone calls to Gammon were not returned.
Gammon's first question regarding Rapp's case was about whether she took any medication and how it affected her memory.
"Are some details foggy?" Gammon asked.
"It's not that I don't remember," said Rapp. "It's just that I've retold the story so many times. I've pushed and pushed. … My therapists call it PTSD."
Several minutes into the interview, Gammon asked Cioca about her own experience with sexual assault. All three of the women then discussed the double standard of women in the military. Gammon pointed out that women in the military need to work twice as hard as men. "If you can understand that concept, you'll understand what you're up against," she stated matter-of-factly.
Gammon cracked a joke that about 80% of women in the military are "sluts." Rapp also called a woman on her unit a "slut" during the interview, saying, "One specialist asked me why I didn't like her, and I told her it's because she's a slut and her actions were going to get me hurt. I was one in 12 women going over [to Afghanistan] with over 300 guys and no female leadership, and don't you realize, to them we're all just females?"
Around an hour and 20 minutes into the interview, Rapp described the harassment she says she experienced. She described one instance where a soldier cornered her in the dark "in between her legs" and made sexual comments about her.
At 1:18, Gammon defended the men on Rapp's unit:
You have to understand, this is an all-male unit; they don't know how to deal with women. ... He's a guy, he's thinking from a guy's perspective.
Rapp continued describing being sexually harassed, detailing lewd comments the soldier made to her, and at 1:28, Gammon asked: "Why didn't you push him?"
Rapp told Gammon that it was because of his ranking. "He was my first sergeant," she said.
Seemingly defending Rapp, Gammon replied, "By virtue of his ranking, he created this situation. He might not have realized it, but it was inappropriate." Then Gammon described what Rapp could have done differently to prevent the harassment. "Did you ever talk to him about the way you felt when he behaved like that?" she asked.
Later, Gammon brought this up once more, asking, "[When he was harassing you] why didn't you tell him this was inappropriate or uncomfortable?" (2:50)
During the investigation, Rapp told investigators that her squad leader, SSG Stephen Ritchey, was one of her only friends in her unit.
"Be honest with me, did you sleep with him?" Gammon asked Rapp during the investigation.
"No," said Rapp, who was engaged at the time. She said he was the "one person looking out for me."
Both Ritchey and Rapp said they have repeatedly been forced to defend their friendship to the National Guard. Ritchey, who was also interviewed by Gammon for Rapp's investigation, told BuzzFeed News that he was asked if he had sexual relations with Rapp.
"Even if we did have an inappropriate relationship," Ritchey said, "it would not have changed anything about people sexually harassing Katie. I think Gammon had just been in it for a long time and came into the investigation like, 'I've seen all this crap before.'"
He added that because Rapp did not claim she was raped or physically assaulted, her case was harder to prove.
"People who have legitimate complaints about sexual harassment have been hurt by a system that doesn't believe harassment claims are consistently legitimate," Ritchey said.
There are other moments of the investigation Rapp felt were inappropriate. Gammon asked Rapp whether she had sex with her husband while she was staying at basic training in South Carolina. At one point later in the interview, Gammon questioned her about being a dancer at a strip club years before ever joining the military. "Did they [your harassers] know you were a dancer?" Gammon asked.
When Rapp — holding back tears — asked to take a break, Gammon denied the request. About an hour later, Gammon suggested they "take a breather" and the women stop the conversation for several minutes.
Three hours into the interview, Gammon suggested that Rapp wanted to leave the military after having only "one bad experience."
I'm seeing somebody who really wanted something, and had one terrible experience, and the system for whatever reason is stacked against you. … This is a business, no more different than a car business. You have one bad experience, and then you tell everybody what a bad experience it was. If it was a positive experience, maybe you'll tell one or two people, but if it's a negative experience, then you're going to tell a lot more people. So can we do something to make this a more positive experience for you?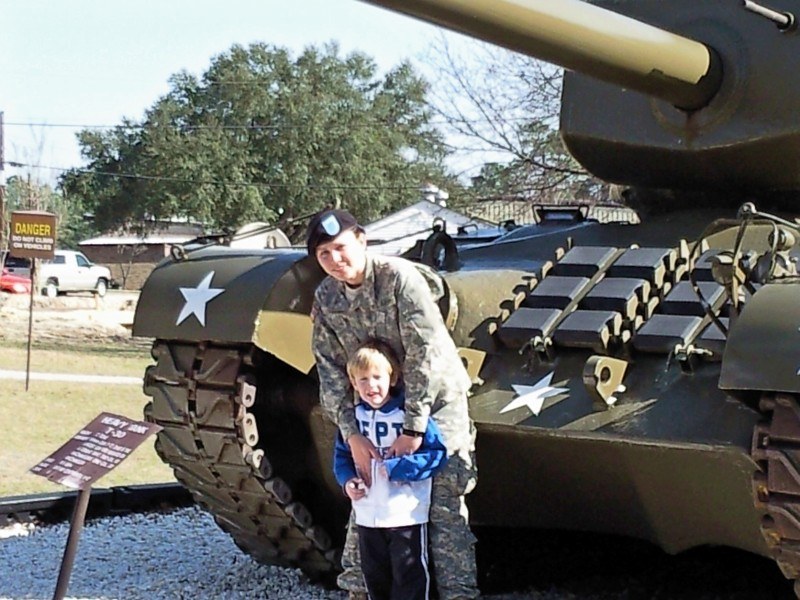 Rapp grew up dreaming of a career in the military. She was eager for deployment. She joined the National Guard in 2008, but was injured during training the following year and was told she could get out on a medical discharge.
"I didn't see the military as a short-term thing for me. I wanted it so badly," Rapp said. So she went back to training and finished in 2011. When she first volunteered for deployment, she was disappointed she wasn't selected. A few months later, however, a commander called her and said she was being deployed to Afghanistan.
The harassment started during pre-mobilization at Camp Shelby in Mississippi, Rapp said. Her husband lived nearby, a detail that Rapp's harassers allegedly noticed. The alleged harassers would ask her details about having sex with her husband, often while making sexual advances toward her.
Sitting in a plane months later headed to Afghanistan, she was terrified — not only of entering a war zone, but also because the men who had been taunting her were part of her unit.
"I was hoping the women would band together," Rapp told BuzzFeed News. "But it didn't happen."
Rapp endured the alleged harassment for weeks before reporting it to her captain, Todd Keyser.
"Capt. Keyser told me that if I didn't cut the crap he would charge me with disobeying a direct order in a war zone," she explained. "He went on to make sure I fully understood that the penalties were as high as being punishable by death."
Ritchey elaborated that had it "been handled differently by Capt. Keyser, it never would have gotten so out of hand." After reporting the harassment, Rapp was reassigned to a different platoon. Her harassers were given a "stern talking to," Ritchey said.
When Ritchey asked Keyser why he moved Rapp instead of her harassers, Keyser denied that it was about the sexual misconduct reports. He allegedly told Ritchey she was transferred because he had heard that there was an inappropriate relationship between Rapp and Ritchey, he recalled.
"I said I would welcome that investigation and he should open an investigation about that if he was worried about it," Ritchey said. "But instead he moved her."
After moving platoons, Rapp was sent to see a military doctor who diagnosed her with an "adjustment disorder."
One woman on Rapp's unit, Shannon Kinney, said that Rapp never had psychological issues. "She's a smart lady," Kinney told BuzzFeed News. Rapp said that her only psychological problem is PTSD from her harassment and the way she was treated by the military leadership. After her medical diagnosis, Rapp was ordered her to return home and was accompanied out of the country by Kinney.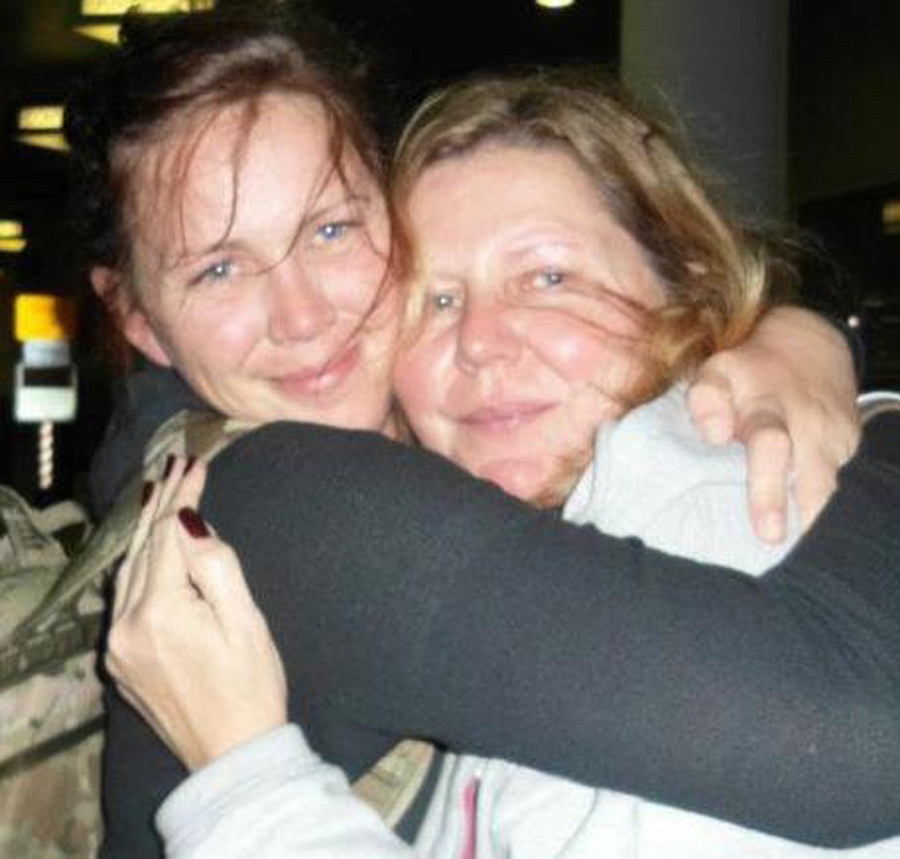 After the meeting with Gammon, Cioca and Rapp took the recording "right to the commanders," said Cioca. "And it started a fire."
"Everybody was scared of me when they found out I recorded the investigation," Rapp said. "I finally had proof that my claims weren't being taken seriously."
Later, Rapp played the recording for her commanders and generals, including Lieutenant Colonel Thomas Moore, the battalion commander, who Rapp said was supportive of her and helped her bring the case to the attention of the Ohio National Guard chief of staff.
"LTC Moore told me that he was proud of me," Rapp recalled. "He said recording the interview was the smartest thing I've ever done."
Rapp's alleged sexual harassers are still active in the military, Ritchey said. He also said Keyser has since been promoted to major.
Numerous emails and phone calls to the Ohio National Guard and Moore were not returned. An Ohio National Guard captain who wished to remain anonymous told BuzzFeed News that Rapp's investigation was not "typical," but the source also admitted no previous involvement with military sexual assault investigations.
Gammon left the National Guard in April 2014, the Ohio National Guard confirmed to BuzzFeed News. The reason for her departure is unclear.
Rapp is now waiting to hear if she will be able to leave the military. Gammon had suggested that Rapp be deployed again but with a mostly female unit, so that she could have a more positive experience. Instead, Rapp hopes she can receive an honorable discharge.
"I don't want to wear the military's uniform anymore," Rapp said. "It makes me sick."
Contact the reporter: alison.vingiano@buzzfeed.com.
Rapp was engaged during her deployment in Afghanistan, not married. The first alleged instance of harassment was at pre-mobilization in Mississippi, not during basic combat-training in South Carolina.