Gwen Ifill And Judy Woodruff Will Be First All-Female Anchor Team In Network Broadcast History
The two were just named the Managing Editors and Co-Anchors of the PBS Newshour.
Judy Woodruff and Gwen Ifill have been named co-anchors of PBS NewsHour, marking the first all female co-anchor team in network broadcast history.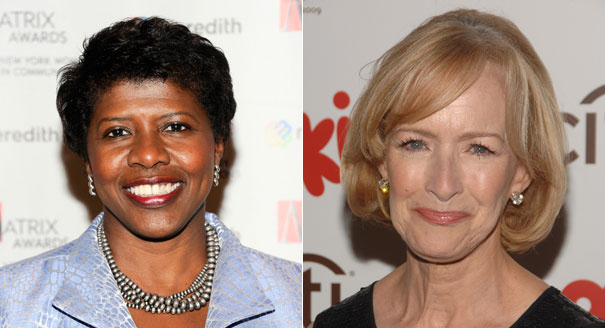 The two have worked together extensively, co-anchoring all PBS NewsHour special election coverage during the 2012 season.
Ifill and Woodruff will anchor NewsHour together Monday through Thursday each week. On Fridays, Woodruff with anchor NewsHours solo, and Ifill will continue to host PBS's Washington Week, which she has hosted since 1999.
The two seem to be genuine friends, referring to each other as "friend" and "pal" in tweets.
Today PBS also announced four new correspondents for the program: Hari Sreenivasan will serve as Senior Correspondent; Ray Suarez as Chief National Correspondent; Margaret Warner as Chief Foreign Correspondent, and Jeffrey Brown as Chief Correspondent for Arts, Culture, and Society.
Both women are veteran hosts who have spent years at PBS. Woodruff joined the station in 1983 and worked for "The MacNeil/Lehrer NewsHour," "Frontline with Judy Woodruff" and "Generation Next" before returning to "The NewHour With Jim Lehrer" in 2007. Ifill began at PBS in 1999 as the moderator of the program "Washington Week in Review," and also worked as a senior correspondent for the "PBS NewsHour."
They will begin as NewsHour co-anchors in September, 2013.
You can read PBS' full press release below: