Yale Campus Safe, No Gunman Found After Suspected Hoax
Updated: Police say no gunman was found after a room-by-room search at the New Haven, Conn., campus after a report of a person with a long gun.
Update - Nov. 25, 6:55 p.m. ET:
"New Haven is safe. The Yale campus is safe," New Haven Police Chief Dean Esserman said.
No gunman was found after a room-by-room search on campus, he said, and no one was injured in the suspected hoax.
"Though it is starting to tilt in the direction of an innocent mistake, it started with a purposeful and malicious call," Esserman told reporters.
Update - Nov. 25., 4:00 p.m. ET:
The lockdown on the Yale campus has been lifted with the exception of Old Campus and Calhoun College, and officials suspect that 911 call was unsubstantiated.
New Haven police received a phone call at 9:48 a.m. Monday from an anonymous man who said his roommate was heading toward the Yale campus with a gun, and intended to shoot people, Courant reports.
The call was made from a phone booth on Columbus Avenue, between Howard Avenue and Hallock Street.
The caller did not identify himself and only stayed on the phone with dispatchers for a few seconds, NBC Connecticut reports.
Police have not yet identified the caller. At a press conference, Esserman said, "The new haven police are going to find ... and we're going to put handcuffs on the person who made that call."
New Haven Police spokesperson David Harman said that two witnesses on Yale campus told officers that they saw a person holding a "long gun," but it's possible the witnesses saw a police official holding the gun instead.
The search was still underway at 3:30 p.m., and the possible gunman had not been identified. Roads surrounding the campus remain closed.
This afternoon, police searched all residential colleges.
SWAT team officers, border patrol, the Department of Homeland Secuirty, and the New Haven police were all brought in to find the possible gunman.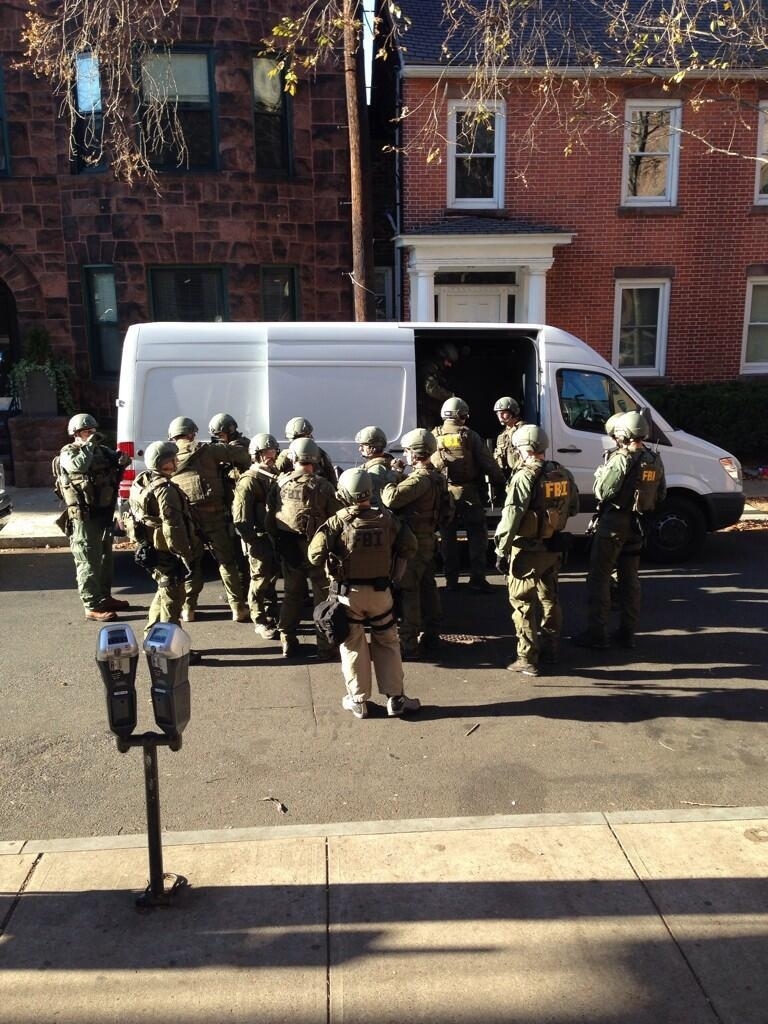 The Yale PD conducted room-to-room searches.



Earlier this morning, Yale University posted the following message on its website and sent a campus-wide text message confirming "reports of a person with a gun on/near Old Campus."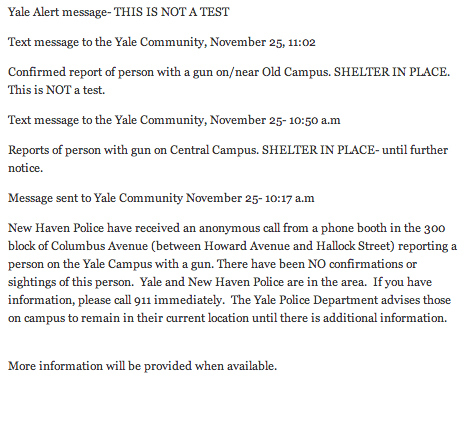 A loudspeaker announcement advised students to take shelter.

Yale confirmed sighting of the gunman on or near "Old Campus" at 11:06 a.m.
SWAT team officers were reported on campus around 11:15 a.m.

Roads around the school are closed.


Maria Bouffard, director of emergency management, confirmed that the New Haven Police Department and university police officers are at the scene.
Bouffard said that updates will continue to be posted on the university's official emergency services website as they are received.

One officer told an NBC reporter that the gunman was "somewhere in this vicinity," and told her to "get out."
Police officers confirmed that as of 11:39 a.m., no shots were fired.
The lockdown was on effect most of the day, but lifted around 3:10 p.m.