Ferguson Police Admit No-Fly Zone Was Put In Place To Keep Media Out
Recorded telephone calls obtained by the Associated Press show that Ferguson, Missouri police privately admitted the no-fly zone was intended to keep media from covering the August protests for Michael Brown. This contradicts earlier statements by the police.
Updated — Monday, Nov. 3, 5:20 p.m. ET: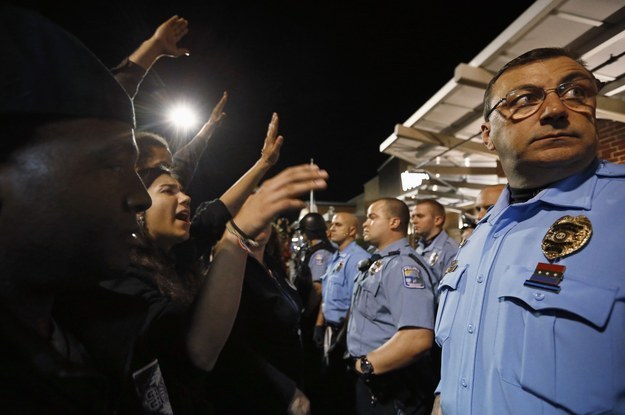 In August, a no-fly zone was put in place above Ferguson, Missouri, which police said was for safety, but new audio recordings obtained by the Associated Press show that the no fly zone was meant to restrict news helicopters from covering street protests.
On Aug. 12, days after 18-year-old Michael Brown was shot and killed by police officer Darren Wilson, the Federal Aviation Administration imposed a flight restriction over Ferguson, Missouri. The U.S. government agreed to a police request from local officials. FAA let commercial flights from the Lambert-St. Louis International Airport and police helicopters pass by, but banned all others.
A recently released audio recording shows that local police officials privately admitted the no-fly zone was put in place to keep cable crews from accessing the protests, some of which turned violent as police used rubber bullets and tear gas against demonstrators.
On Monday, the White House said that the no-fly zone should not have restricted media helicopters.
The Justice Department was not involved in the FAA ruling, according to Attorney General Eric Holder.
"Anything that would artificially inhibit the ability of newsgatherers to do what they do is something I think needs to be avoided," Holder said Monday.
In the telephone call recordings obtained by the AP, one FAA manager says, "They finally admitted it really was to keep the media out," referencing the St. Louis County Police. "But they were a little concerned of, obviously, anything else that could be going on."
At another point in the call, a manager at the FAA said that police "did not care if you ran commercial traffic through this TFR (temporary flight restriction) all day long. They didn't want media in there."
"There is really ... no option for a TFR that says, you know, 'OK, everybody but the media is OK,'" he said.
According to the AP, the managers on the phone call then discussed how to word a flight restriction that would keep news helicopters away without disrupting other air traffic.
The information in the conversations contradict earlier claims from the St. Louis County Police Department, who said that the no-fly-zone was only for safety. Police had previously said it had nothing to do with keeping media from covering the protests, citing a strike on a police helicopter on Aug. 19. The police said that the flight restrictions were in response to the shots fired at their helicopter, and that the no-fly zone was meant to "provide a safe environment for law enforcement activities."
Police confirmed to the AP that there was no damage to the helicopter.
If the police were actively attempting to prevent aerial images of the protests and restrict media coverage, it would violate constitutional rights.
Lee Rowland, an attorney with the American Civil Liberties Union who specializes in First Amendment issues, noted, "Any evidence that a no-fly zone was put in place as a pretext to exclude the media from covering events in Ferguson is extraordinarily troubling and a blatant violation of the press's First Amendment rights."
BuzzFeed News has reached out to the Governor's office for comment.