Everything You Need To Know About The Other Steubenville Rape Case
As Newsweek first reported, in late November, months after two Steubenville High School football stars were convicted of rape, a grand jury indicted four school officials for failing to report another rape, allegedly of a 14-year-old girl. Here's what you need to know about the case.
After Steubenville High School football stars Ma'lik Richmond and Trent Mays were convicted in March of raping a 16-year-old West Virginia girl, Ohio Attorney General Mike DeWine assembled a grand jury to investigate if additional crimes were committed.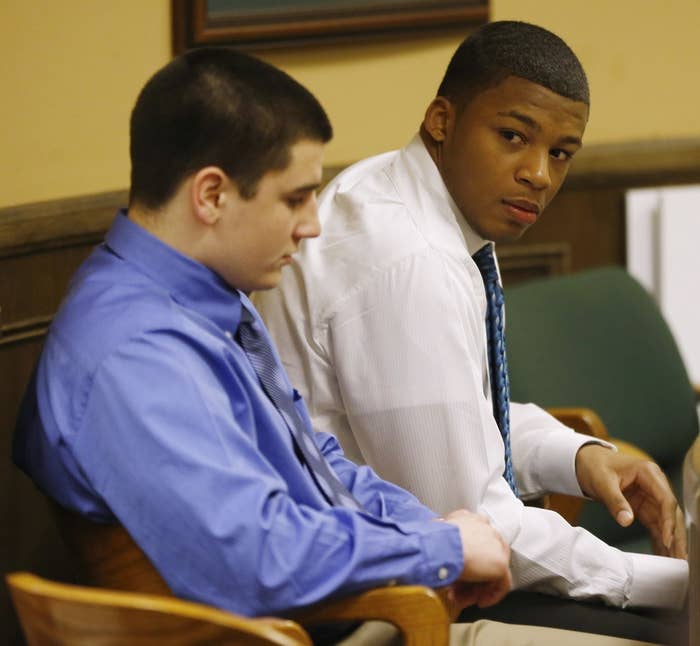 The jury met 18 times and heard from 123 witnesses. Four school officials were indicted.
About half of the charges, however, are related to another rape case: the reported assault of a 14-year-old girl in April 2012, four months before the nationally publicized Steubenville case.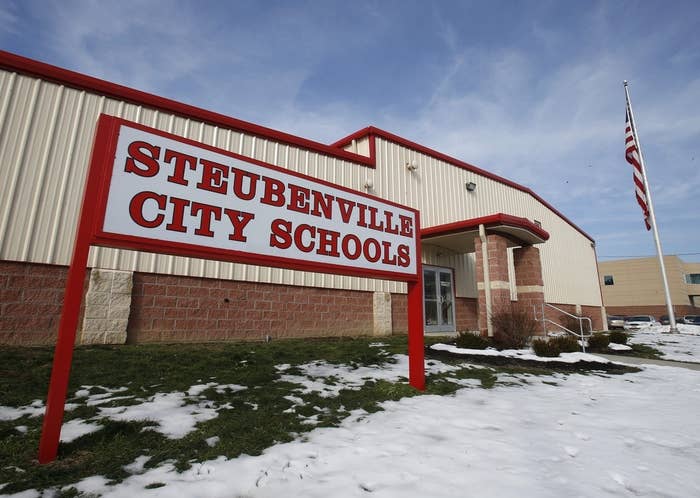 So what happened in April, why haven't we heard about it, and are the two Steubenville rape cases related?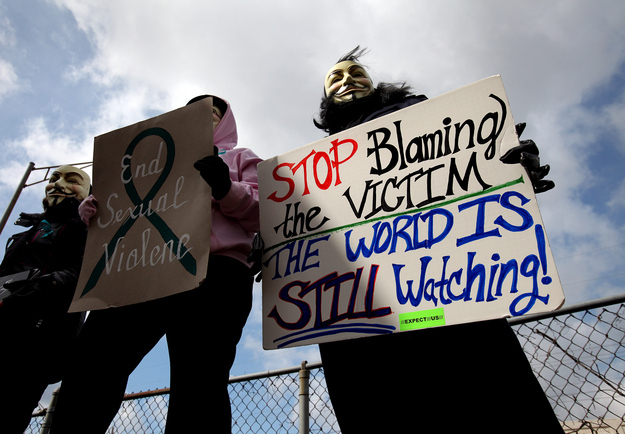 The April rape allegedly involved the same athletes who have come to be known as the "Rape Crew," and took place at a team coach's house.
Steubenville athlete Michael C. Nodianos recorded a video after the infamous August rape in which he alleged to the earlier incident.
"You thought it was bad when that girl got raped at Palooza," he said. "This is worse. This is a dead body."
Palooza is the local nickname for Coach Joe Pierro's house, the Daily Mail reports. The coach was away when the April party was held.
Michael Nodianos, part of the "Rape Crew."

When looking for information regarding the August attack on the 16-year-old girl, officials found Twitter conversations between the Steubenville "Rape Crew" from April, mocking a 14-year-old "victim" whose life they "ruined."
After those conversations were revealed, the second victim came forward with her mother to make a report, The Plain Dealer reports.
She filed a report with Steubenville City Police last September and the case was handed over to federal agents, the Daily Mail first reported.
She said that she drank from a red Solo cup and became so intoxicated that she could not protect herself from the alleged assault.
One law enforcement official told the Daily Mail that her description of the rape was "strikingly similar" to the high-profile Steubenville rape. The investigation remains open.
Below are some of the tweets found by school officials:
Baseball player John Linn, left, tweeted: "Glad I wasn't involved in all that sick s***." He also retweeted Jake Howarth, left, a wrestler, who wrote: "That one girl's life might be ruined after all that!"
The other athletes who tweeted about it were Kai "Lucky" McClure (left) and Evan Westlake (right) who wrote, "if this were the 70s no one would care how many people were involved."
And Charlie Keenan (left) accused other guys of "lying so bad" about what happened while Matt Petrella (right) dismissed the reports of rape as "fake stuff."
"If my name gets dragged into [this] I'll be so pissed."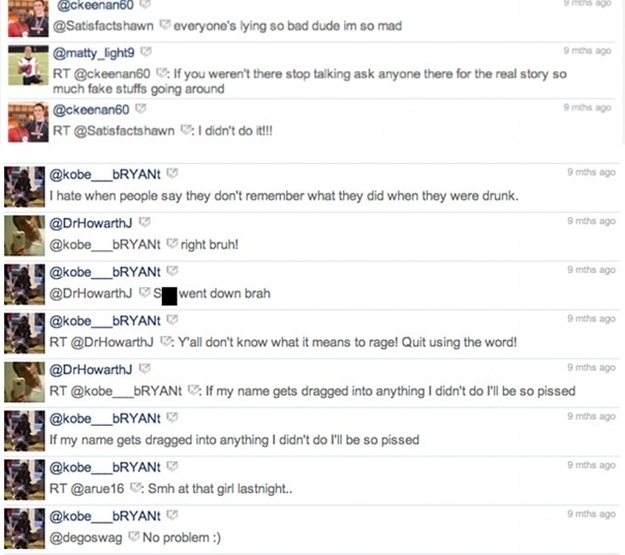 "If you weren't there stop talking..."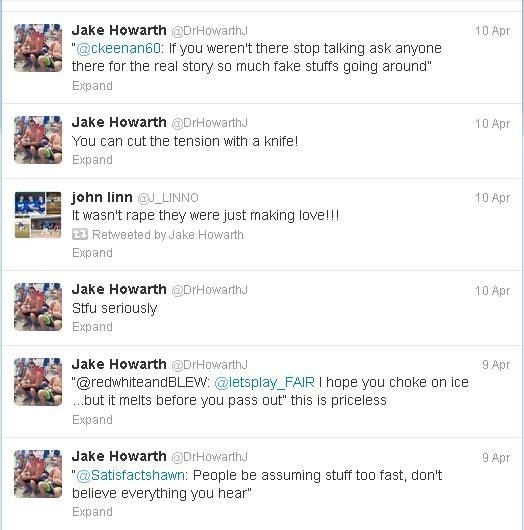 Not everyone believes the 14-year-old girl:
The April case is being handled by the Ohio Attorney General's office because of conflicts of interest for the local prosecutor, who has a son on the football and wrestling teams.
While the statewide Ohio Alliance to End Sexual Violence sent out an email to residents urging them to support all victims of assault, some are doubtful of the 14-year-old victim.
On one recent program, popular morning radio host David Bloomquist said he thinks the 14-year-old is lying, Newsweek reports. He said:
"I guess the best way to sum up what I'm saying is this. It's easier to tell your parents you were raped then, 'Hey mom or dad, I got drunk and decided to let three guys have their way with me.'"
Although others ask why there has not been more attention given to the case:
Alexandria Goddard, the legal consultant who helped bring the August 2012 case to light, has written about the 14-year-old on her blog, Prinniefied.
Take this for what it's worth. I'm not law enforcement, but they should be looking into this [the tweets] as well. All of this is in the public domain and why hasn't the school addressed this problem? I don't understand how a town of 18,000 people can be discussing a gang rape and no one at the school has done anything to investigate it. Why?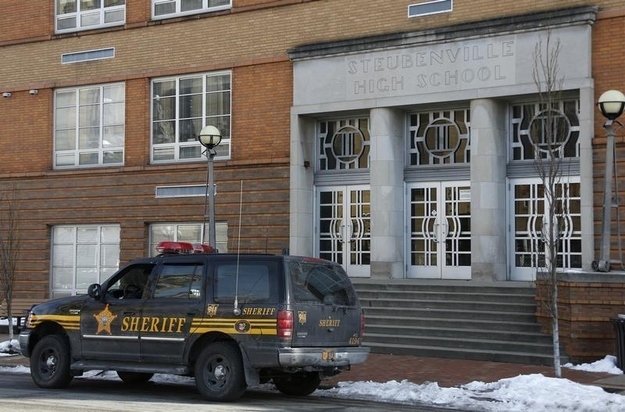 This week, the grand jury indicted four school officials, some on charges linked to the April rape case:
Mike McVey, Steubenville City Schools superintendent, was charged with multiple felonies for obstructing justice.
The others indicted include a strength coach, an elementary school principal, and a volunteer football coach who received several misdemeanor charges, including providing alcohol to minors. The former two were both charged with one count of Reporting Child Abuse or Neglect, a fourth-degree misdemeanor.
One of McVey's misdemeanor charges alleged he made a false statement in April 2012. Gorman's charge of failing to report possible child abuse is also from April.
The attorney general's office confirmed that both charges were related to the alleged April rape.