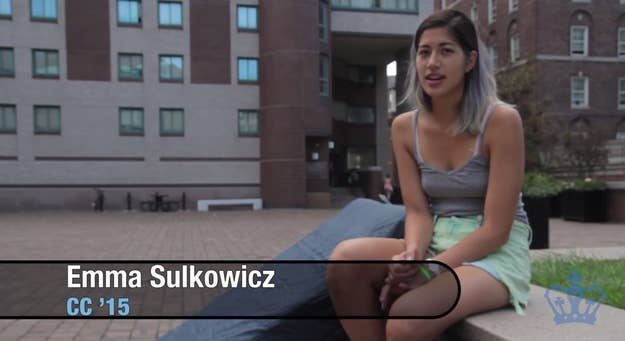 Emma Sulkowicz's senior thesis has started a movement.
The Columbia University senior gained national attention in September when she began carrying her mattress around campus everywhere she went. The project was both an academic performance project and an attempt to protest the fact that Columbia dismissed a case against her alleged rapist, who still attends the university.
The project inspired a number of student-based organizations, including No Red Tape, (NRT), Carry That Weight (CTW), and Student-Worker Solidarity (SWS), all of which work to raise awareness about sexual assault.
Last week, CTW and NRT came together to organize a National Day of Action. Students on 130 campuses, from Stanford University to Central European University in Budapest, carried mattresses for the day in solidarity with Sulkowicz.
At the end of the day, 28 Columbia students left their mattresses on the street outside the president's house. Now they are paying the price, quite literally.
The University is charging the organizations $471 to pay for the cost of removing the mattresses from the street.
At the end of the protest, the students held mattresses outside the house of President Lee Bollinger (known on campus as "PresBo") and chanted, "PresBo, PresBo, you can't hide ... Be the leader on our side."
They then dumped the mattresses on the street.
The students knew going into the event they would be charged, the university told BuzzFeed News. But the students wanted to send a message anyway, according to Becca Breslaw, a Columbia student involved with the anti-rape groups.
"We did know we would be charged, but we did not know it would be for this large a number," said Breslaw. "We decided to leave them there because we were putting all the balls in PresBo's court, literally. We wanted the mattresses to be symbolic of how many students care deeply about this issue, are angry about it — we wanted the end of the action to be powerful. We wanted to see how the administration would respond."
In a statement to BuzzFeed News, Columbia wrote:
Student sponsors understood in advance that such costs could be incurred. As our earlier statement notes, the University chose to underwrite the costs of the campus cleanup, but only assess the costs for additional cleanup for materials left on a public sidewalk, which total $471. These are entirely typical matters in apportioning direct costs for facilitating student events and, given our longstanding commitment to robust free speech, there is never such thing as a fine for any group because of its views.
While Sulkowicz did not organize the protest, she thinks the charges are unnecessary.
"Rather than charging the protesters money, PresBo should work on getting our rapists off campus," said Sulkowicz.
The feminist organization Ultraviolet has agreed to pay the fee, Breslaw confirmed to BuzzFeed News.