Brown University Confirms That A Student Tested Positive For Date-Rape Drug
On Saturday, Brown University announced in a campus-wide email obtained by BuzzFeed News that a student who reported a sexual assault in October has tested positive for a common date-rape drug.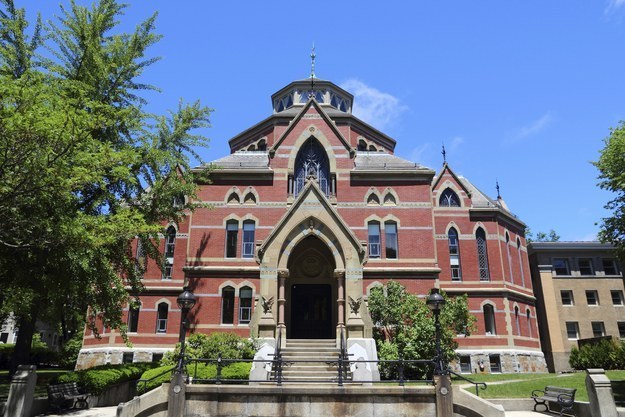 In a campus-wide email sent on Saturday and obtained by BuzzFeed News, Brown University administrators announced that one of two students who drank a punch at a fraternity party on Oct. 17 has tested positive for the common date-rape drug GHB (gamma hydroxybutrate).
The email announcing the test results came from Margaret Klawunn, vice president for Campus Life and Student Services at Brown, and Russell Carey, Executive Vice President for Planning and Policy. The email says that the test result is still pending for the second student who suspects that she was also exposed to the drug.
GHB was a popular club drug in the '90s, and later became known as a date-rape drug.
"GHB is a colorless, odorless drug that can be hard to detect in a drink," the email states, "but has a strong sedative effect that is incapacitating.''
The Brown student who tested positive said that she was sexually assaulted after she drank an alcoholic punch at a party in Sears House hosted by the Brown University chapter of the Phi Kappa Psi frat. She reported a "a rapid onset of intoxication," far beyond what she typically experienced from drinking the same amount, as well as a "memory loss for a significant period of time," the Providence Journal reported.
Brown has suspended the fraternity that hosted the Oct. 17 party, according to the Providence Journal.
Brown University and members of the Phi Kappa Psi fraternity did not immediately return BuzzFeed News' request for comment.
Here is the full text of the email:
From: Russell Carey
Date: Sat, Nov 8, 2014 at 3:31 PM
Subject: Safety Information: Use of Date Rape Drugs Investigations Update

Dear Brown Students,

We are writing to follow up on the October 24, 2014 timely warning notification to the community. In that notice, we indicated that we had credible reports that two students might have been served a drink mixed with a date rape drug at a fraternity party held in Sears House on October 17.

Since those reports were received, there has been an active and ongoing investigation into these allegations conducted jointly by the Department of Public Safety and the Office of Student Life. These processes are being pursued in parallel to investigate criminal activity under Rhode Island state law as well as potential violations of Brown University's Code of Student Conduct.

Our update today is to provide information that one of the two students tested positive for GHB (gamma hydroxybutyrate), a common date rape drug. A test for the second student is pending. GHB is a colorless, odorless drug that can be hard to detect in a drink but has a strong sedative effect that is incapacitating. It is a dangerous drug used as a predatory tool by those seeking to commit sexual violence. Under Rhode Island state law, it is illegal to possess, use, or distribute GHB. For more information about date rape drugs and steps you can take to protect yourselves and members of the Brown community, please see the Health Promotion website. As always, keep in mind that alcohol is the most common date rape drug.

For students who would like to know more about Brown's support resources and policies regarding sexual misconduct, the Undergraduate Council of Students and the Coalition for Sexual Assault and Relationship Abuse (CASARA) sponsored a panel discussion on this topic earlier this week, and a video of the event is available to Brown community members online. The Health Promotion website has a full listing of all of Brown's resources and services for sexual assault.

We expect to have more information to report to the community about these investigations soon. One of the two students also reported being sexually assaulted on October 17, 2014, as a result of her incapacitation, and this matter is still under investigation. We strongly encourage any individuals with relevant information to report what they know to Sergeant John Carvalho, Department of Public Safety, (401) 863-3322.

Sincerely,

Margaret Klawunn, Vice President for Campus Life and Student Services

Russell Carey, Executive Vice President for Planning and Policy
Katie Baker contributed to this story.