No Bombs Found On Planes In Atlanta After Threats Were Made On Twitter
Two passenger planes escorted by fighter jets landed at Atlanta's Hartsfield-Jackson International Airport on Saturday and were searched by bomb disposal and canine units. No bombs were found on the planes.
The FBI confirmed to local media in Atlanta that the planes have been given the "all clear," after being checked for bombs.
FBI spokesman Stephen Emmett told the Associated Press that no suspicious cargo was found.
The FBI additionally plans to "sweep online feeds and WiFi from the planes to track down who made the threats," and said that all passengers on both flights will be interviewed and searched before given clearance to leave the airport.
Two passenger planes escorted by F-16 fighter jets landed at Atlanta's Hartsfield-Jackson International Airport on Saturday after bomb threats made on Twitter, military officials told CNN.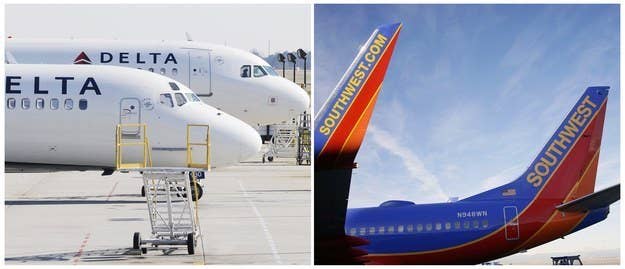 The two planes, Southwest Airlines Flight 2492 and Delta Flight 1156, were searched by bomb and canine units after landing at the international airport.
Delta spokesman Morgan Durant told CNN, "It was a Portland, Oregon, to Atlanta, Georgia, flight. Delta is supporting the sweeping process carried out by authorities."
Southwest spokesman Dan Landson confirmed to CBS News that the planes had landed.
"Due a security situation, the aircraft operating Flight 2492 was taken to a remote area of the airport where customers and the aircraft are being rescreened," Landson said. "Our number one priority is the safety of our customers and people. We cannot comment on the nature of the security situation."
On Twitter, threats were made by a single user to both Delta and Southwest Airlines.
Neither Southwest nor Delta Airlines could immediately confirm to BuzzFeed News that the threats made by this user caused the planes to land in Atlanta. NORAD spokesman Preston Schlachter confirmed to the AP the threats in question came from somebody on Twitter.
More than five hours later, the threatening Tweets were still not deleted. The user wrote that he or she was "going to get raided," before challenging the FBI and CIA to "actually get off their ass."
The user also tweeted an address in Chicago and wrote "come and get me."