Saudi Writer Who Opposed Ban On Female Drivers Is Being Detained
Saudi authorities have detained a columnist who supported ending Saudi Arabia's ban on female driving.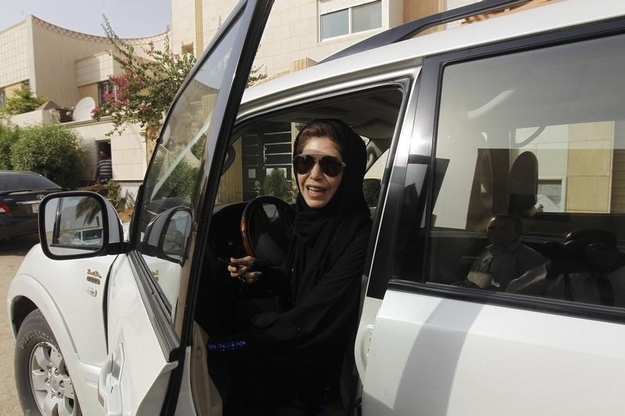 Saudi Arabian authorities have detained writer Tariq al-Mubarak after he publicly supported ending his country's ban on female driving, the Associated Press reported Wednesday.
Al-Mubarak was reportedly called into the capital city of Riyadh to be questioned about a stolen car, but was instead interrogated about his role in the campaign to reform women's right to drive. The Interior Ministry's Criminal Investigation Department then allegedly called al-Mubarak's friends to pick him up; when they arrived, they were detained and questioned for several hours.
A blogger and a schoolteacher, al-Mubarak was among a group of young Saudi activists demanding an end to the world's only ban on female driving.
On Oct. 6., al-Mubarak published an opinion piece on the pan-Arab website Asharq Al-Awsat called "Opinion: It's Time to Change Women's Place in the Arab World." He argued that extremists are intimidating people from exercising their rights, and specifically mentioned how the country treats women as legal minors in need of male supervision:
Women are viewed as a burden on men in many dealings with the government. They are unable to move around the cities in which they live unaccompanied by a man due to a lack of public transportation or restrictions on women driving cars. They sign up to a broken system of marriage—broken because of the values on which it was established and its authoritarian nature. And that is not to mention other issues, including divorce and child custody.

We need to reconsider some concepts of Islamic jurisprudence, keeping in mind the human dignity that has been endorsed by all religions.
Activists close to al-Mubarak say he remains detained. Human Rights Watch has called on Saudi authorities to immediately release the journalist, saying that, "Officials should also stop harassing and trying to intimidate activists and women who defied the ban by driving on October 26, 2013."
Human Rights Watch Deputy Middle East Director Joe Stork released a statement demanding Saudi authorities end the ban and stop harassing those who support women's rights:
Saudi authorities are retaliating against people who want a very basic right for women, the right to get behind the wheel and drive themselves where they want to go. The authorities should end the driving ban and stop harassing people for supporting women's rights.
Human Rights Watch did not immediately respond to BuzzFeed's interview request, and the spokesman for the Interior Ministry, Mansour al-Turki, could not be reached for comment.
The Associated Press reports that the activists behind the Oct. 26 female driving campaign will continue to fight for their right to drive, and have already received a number of videos of women filming themselves driving.
Agence France-Presse reported that at least 16 women were fined for driving on Oct. 26., and that many women and their "male guardian" were forced to sign a pledge to "respect the kingdom's laws." One Saudi woman, Samia El-Moslimany, said she received a $135 fine for driving, though she has a U.S. driver's license.
Many activists who drove on Oct. 26 say they have been followed for many days and are anticipating arrest. The AP reports that contingency plans are in place, and emergency numbers for journalists and human rights organizations are available to the activists in case others are detained.