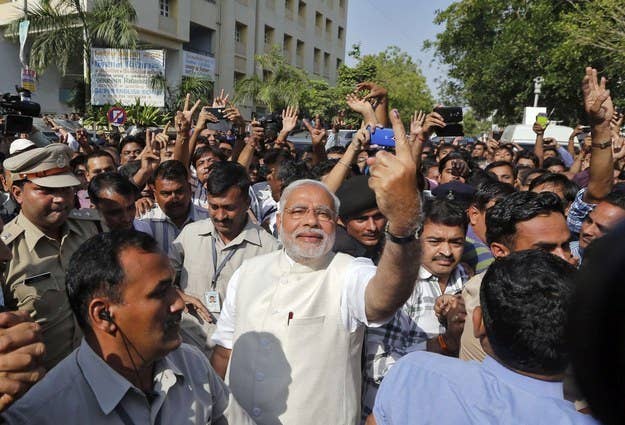 Only two days after a man in Goa was questioned for posting anti-Narendra Modi messages on Facebook, a 24-year-old student from Bhatkal has been allegedly arrested in Bangalore after police found an "objectionable" text message on his phone criticizing India's Prime Minister elect.
The Bangalore arrest was prompted after a police complaint was filed in Belgaum by activist Jayanth Tinekar, who said he received an anti-Modi message on WhatsApp on May 16. The text was allegedly sent by Syed Waqar, an MBA student who was studying in Bangalore with four friends, the Times Of India reported.
After police traced the message to Waqar's phone, they reportedly raided a flat in Hoysala Apartments, Vasantnagar, Bangalore, where Waqar was staying, and arrested him and his four roommates on Sunday morning. Waqar's roommates were eventually let go.
The commissioner of police, Hemanth Nimbalkar said, "We found the other four youths were not involved in sending the message, so we released them. We arrested only Waqar. We have handed him over to Belgaum police."
Waqar has been reportedly arrested under Section 505 of the Indian Penal Code for issuing statements that amount to "public mischief with intent to cause fear or alarm" and Section 66 of IT Act for "sending offensive messages through communication service."
It is unclear exactly what the message said, but the accused will reportedly go before a court in Khanapur, Belgaum district, on Monday.
Facebook, who owns WhatsApp, has not yet responded to BuzzFeed's request for comment.