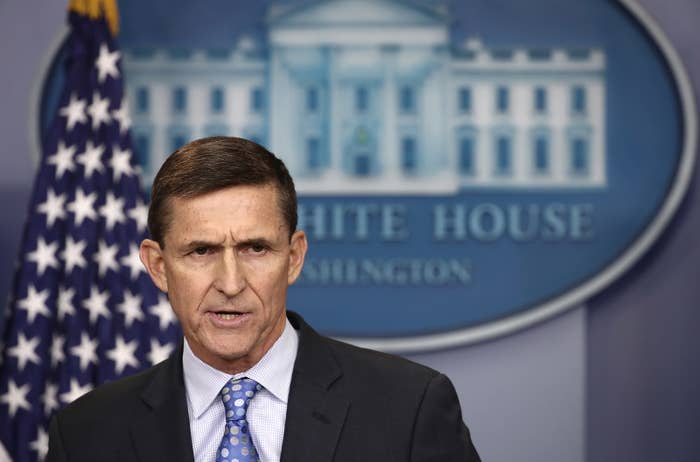 WASHINGTON — As retired Lt. Gen. Michael Flynn trudges away from the National Security Council, David Cattler's job gets a lot harder.
Cattler, according to two people with knowledge of the NSC, was hand-picked with Flynn's blessing to manage the Russia portfolio for the NSC, despite a lack of expertise on the Kremlin. With the departure of Flynn — who has made no secret of his affinity for Moscow, and has been thought to be one of the driving forces behind the Trump administration's approach to the Kremlin — where Trump and the NSC go on Russia is a glaring question mark.
Flynn spent the better part of the last month staffing up the NSC with intelligence hands like Cattler, who was announced as an NSC addition early this month. Whether Flynn's team will stay in place now that he's gone remains to be seen.
Being a "Flynn" person, one former military intelligence analyst said, could mean a whole host of things. "That could mean [Cattler] loves to fight terrorists, or that he could handle Flynn's horrible management," the analyst, who also now works in defense contracting, said.
"Dave is a very good and very capable intel guy. An A team talent," one former defense official who worked with Cattler said.
Cattler is a former hand at the Defense Intelligence Agency, where Flynn was head from 2012 until he was pushed out in 2014 after clashing with the Obama White House over its counter-terror strategies and his unique management style. Cattler has a decent enough reputation around Washington, though intelligence community chatter says his expertise is more Middle East issues than Moscow.
"Not sure what he's doing at the NSC," said a former DIA analyst who now works as a contractor in a written exchange with BuzzFeed News. "There's plenty of WAY more qualified people to work Russia issues."
Michael Anton, a spokesman for the National Security Council, told BuzzFeed News that Cattler would be staying on, and that his job as "regional coordinator" involved overseeing all of the "regional directorates, not just Russia" for the NSC.
Flynn resigned as National Security Advisor late Monday night, after reports emerged that the retired general had discussed sanctions with the Russian ambassador in late December, and then apparently mischaracterized those conversations to Vice President Mike Pence. Though the Trump White House was informed of the content of those conversations weeks ago, Flynn was kept on as National Security Advisor until the Washington Post first publicly revealed the conversations last week, then the Monday night revelation that the Justice Department had warned against Flynn's hiring.
Flynn infamously accepted an invitation from Russia Today to have dinner with Putin in Moscow last year, a trip that was warily approved by the intelligence community.
Russian lawmakers lamented Flynn's resignation on Tuesday, with one telling the Associated Press it was the result of "Russophobia."
Asked for thoughts on Flynn's resignation, a Russian foreign ministry source said, with uncharacteristic brevity: "This is an internal US matter."
But Flynn is hardly the only member of Trump's inner circle with unclear leanings towards Moscow. Several of Trump's top picks for the national security wheelhouse share some of Flynn's admiration for Putin.
KT McFarland, a former Reagan-era Pentagon official who was picked by Trump to serve as Flynn's NSC deputy, once wrote a column for Fox News saying that Putin "is the one that really deserves that Nobel Peace Prize" for helping Syria avoid a US strike after Damascus used chemical weapons. Secretary of State Rex Tillerson, the former CEO of Exxon Mobil, was awarded the "Order of Friendship," the highest honor bestowed by Moscow on a foreign citizen, by Putin himself.
And the US Intelligence Community continues to probe ties between Moscow and the Trump camp, including ties to Trump's one-time campaign surrogates.
That Flynn lasted less than a month in the White House was a surprise — many intelligence community hands that spoke with BuzzFeed News expected the controversial general would eventually be pushed out, but few expected it to happen so quickly. Hours after his appointment as National Security Advisor, the question of his exit was not a matter of if, but when — the ink on the White House announcement had hardly dried before officials started speculating when the general, whom many saw as a brilliant worker, but terrible leader, would go too far and be pushed out the door.
"He's a crazy son of a bitch," one US intelligence official said in the days following of Flynn's appointment.