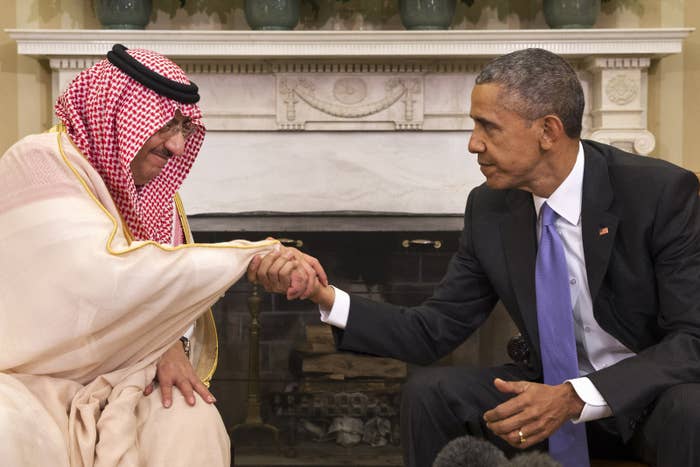 WASHINGTON -- Notions of a peaceful Middle East were pushed even further from Washington's mind this weekend as key regional ally Saudi Arabia severed diplomatic ties with Iran. But the episode — greeted with a collective shrug both publicly and privately among the capital's returning bureaucracy -- has officials more concerned with the status of their alliance with their Riyadh counterparts than newly-minted contacts in Tehran.
"I would say the general feeling is this is much more a Saudi story than an Iran story," one U.S. official said, requesting anonymity as they were not authorized to discuss the matter on record.
That story began this Saturday, when the Sunni Gulf kingdom executed a prominent Shiite cleric and 46 other prisoners, sparking a wave of fury in Shiite-led Iran that saw the Saudi embassy in Tehran torched in retribution. In protest, Riyadh announced a severing of diplomatic ties with Iran's government. That in turn ignited concerns that conflicts in Yemen and Syria -- widely considered proxy wars between Saudi Arabia and Iran -- would worsen, pushing U.S. goals of peace in the region further out of reach.
Across the branches of government, though, officials agreed that the diplomatic breakdown was not necessarily unexpected. "It's an issue where several sides share some of the blame," said one Senior Administration official. "We were certainly cognizant of the possibility that an event like this would happen."
A few theories floated around the capital after the weekend's excitement. Some who spoke to BuzzFeed News quietly hypothesized that the move could've been a show of force, a flexing of muscle from Saudi Arabia's newly-minted crown prince Mohammad bin Salman Al Saud, who took office just one year ago. Or it could've been a last-ditch effort to torpedo the long-awaited nuclear deal with Tehran.
Or, most agreed, it's probably just another installment in a decades long saga of escalation. Except this time, that escalation comes on the heels of an ever-so-slight thaw in relations between the U.S. and Saudi Arabia's longtime nemesis, Iran -- and Washington seems more annoyed at their allies in Riyadh.

"Oddly enough, rather than focusing on the really deep-seeded policy differences between Iran and the United States, which are unresolved…[the breakdown] seems to call attention to the tensions between Riyadh and Washington over how to pursue common aims," said Hussein Ibish, a senior resident scholar with the Arab Gulf States Institute in Washington. The two are in agreement over their goals, but at odds over how to pursue them, he continued.

The State Department said Monday that it had been in contact with Riyadh on Nimr's detention, but it remained unclear Tuesday if Washington had actively dissuaded the Saudis from executing him, a move that was sure to ignite fragile relations in the already conflict-ridden region. It also remained unclear whether the Saudi Arabian government had even given Washington a heads up that Nimr's and 46 other captives' executions were imminent.
Simmering tensions between the Sunni-majority Gulf states and Iran are nothing new. Riyadh and Tehran have a long history of diplomatic dissolutions, generally followed by eventual return to a fragile status quo. Underscoring this most recent debacle is the looming implementation of the deal on Iran's nuclear program, an accord that was greeted with trepidation and concern from the U.S.'s skeptical Gulf partners.
"[Many] worried that...some Arab states might get really angry at the deal," one senior GOP congressional staffer said. "I'm not terribly surprised this is happening."
Just a week before the situation escalated into a full-blown diplomatic crisis this weekend, the Congressional Research Service published a nearly 50-page report on the matter. Titled "Iran, Gulf Security, and U.S. Policy," the nearly 50-page report details the Obama Administration's policy options should tensions between the Gulf and Iran reach a fever pitch.