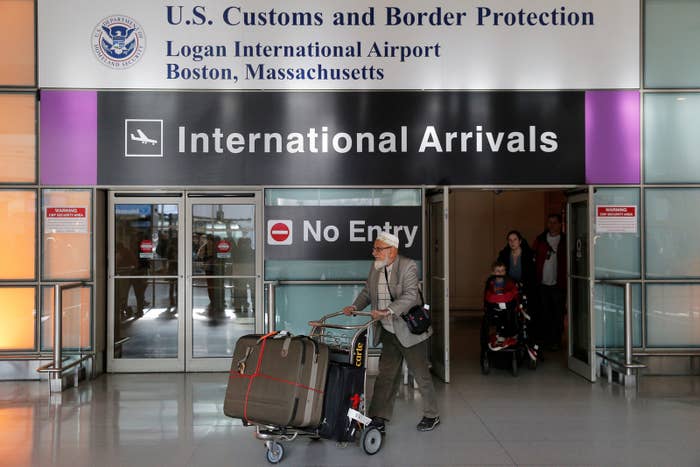 WASHINGTON — Intelligence officials are bracing for fallout from President Trump's controversial executive order barring travelers from seven Muslim-majority countries — including refugees and US military translators — that could hinder counter-terrorism partnerships and American spies overseas.
Officials in Washington worry the move could rattle amenable partners in those countries and create headaches for operatives on the ground. The ban, which includes Iraq, Syria, Somalia and Yemen where the US still runs covert counter-terror operations, has suddenly made fragile a range of nascent counter-terror agreements with those respective governments.
"I haven't had those conversations yet, but I expect they're coming," one US intelligence official said.
The concerns extend well beyond policy — several former case officers said the new order could hinder agents' ability to work on the ground and deter potential sources from cooperating with the US.
"Will it make life harder for intel professionals? Of course it will. Why would anyone risk their lives for officers who represent the state that will only exploit them?" said Glenn Carle, a former CIA case officer. "It isn't a partisan statement. It's a terrible thing that it's true."

The White House signed the order last Friday, which bans citizens from Iran, Iraq, Libya, Syria, Yemen, Somalia and Sudan from entering the US for three months, and halted refugee resettlements into the US for four months. The order also suspends any entrance into the US by Syrian refugees indefinitely.
Federal agencies were left scrambling on Saturday to implement and understand the vaguely-worded document. The rushed signing — combined with the fact that top national security officials were left in the dark — led to a whole rash of avoidable faux-pas, including the detention of green-card holders, young children and former US military translators who fled persecution.
But even as the Trump camp attempts to explain away the initial chaos surrounding the new policy, its core premise has made current and former intelligence officials uneasy.
The real hurdle, the intelligence official said, may be intelligence-sharing agreements with banned countries, particularly Iraq and Yemen, where the US has worked for more than a decade to establish functioning counter-terror cooperation, and where it continues to run military and intelligence operations against militant networks.
"It certainly put Iraq in a terrible position, empowers all the wrong actors," the intelligence official said. "There's concern on a lot of fronts, both [militarily] and intel."
Far below the policy level, former CIA agents say that life is about to get much more difficult for case officers on the ground in the affected countries, who will now be forced to explain the new policy to sources who often risk their lives to help the US.
"When I was overseas and Abu Ghraib became public, that hurt," said Evan McMullin, a former case officer for the agency and independent 2016 presidential candidate. "That made it difficult for me. Foreigners I was working with who were Muslim who were doing critical things for us on the war on terror, they were upset by what they saw. It made them question whether we were who we said we were."
Dozens of State Department employees, through an internal document known as a "dissent cable," prepared a stark objection to the order, and the Defense Department has scrambled to compile a list of former military translators who should be allowed to cross the borders. It does not appear the intelligence community has yet raised any such formal complaint with the White House.

The CIA declined to comment.
"Our number one obligation is to take care of our assets or interlocutors. You take care of their well-being, their needs, their safety," said Carle. "And anything that's constrained as a case officer that way, particularly when it is so clearly a reflexive measure that can endanger lives based upon religious qualification, will make the job dramatically harder to perform."