Torture Report Author Quietly Leaves The Senate
Friday is the last day on the Hill for Daniel Jones, the lead investigator of the Intelligence Committee's 6,800-page study into the CIA's now-defunct torture program.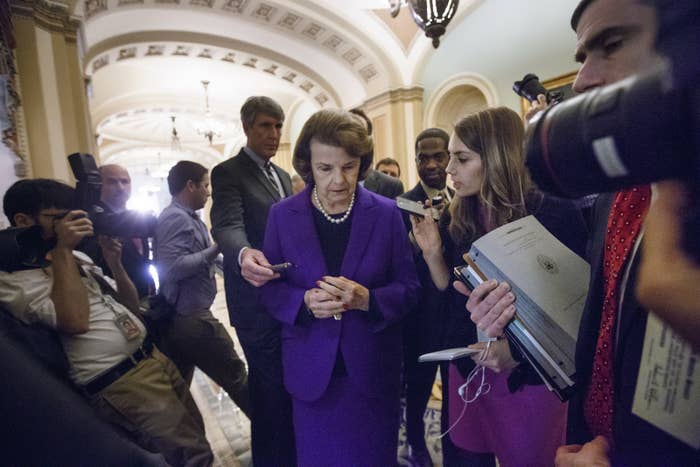 WASHINGTON — The lead author of the Senate Intelligence Committee's gruesome, 6,800-page torture report quietly left his Intelligence panel post on Friday, nearly a year to the day that the 500-page executive summary of the investigation was publicly released.
Daniel Jones, who staffed the Intelligence panel's democrats since 2007, spent the better part of his nearly nine years on the committee wading through millions of CIA documents on the agency's now-defunct torture program. He, along with former Intelligence Committee staffer and nominee to be general counsel for the U.S. Army Alissa Starzak, led the effort that would become the committee's damning study, which revealed widespread abuses and mismanagement of the CIA's Bush-era torture program.
Jones' departure was noted by intelligence Committee vice chair Dianne Feinstein in the congressional record on Thursday.
"After knowing Dan for 9 years, I can say that he is one of the few people working here on Capitol Hill who has helped make history. Without his indefatigable work on the Intelligence Committee staff, the Senate report on the CIA's Detention and Interrogation Program would not have been completed, nor would its executive summary have been released to the public, an effort that led to the recent passage of critically important and long overdue anti-torture legislation," Feinstein said.
The report Jones authored was championed by Feinstein during her time as chairman of the panel. The process saw an unprecedented breakdown in relations between Feinstein and the CIA, which fought vehemently to hide large swaths of its history from both the public record and its chief Senate overseers.
"To say that Dan worked diligently on this study is a gross understatement. He, along with other committee staff, worked day and night, often 7 days a week, from 2009 through December 2012," Feinstein said. "He became an expert in one of the most unfortunate activities in the history of our intelligence community, going through more than 6 million pages of materials produced for the study, as well as immersing himself in the anti-torture provisions in U.S. law, as well as human rights materials, and the background of other similar historic Senate investigations."
Feinstein did not specify where Jones was headed, but wished him luck in his future endeavors.
CORRECTION
Alissa Starzak is currently nominated to serve as U.S. Army general counsel. A previous version of this article gave her title as acting Army general council.