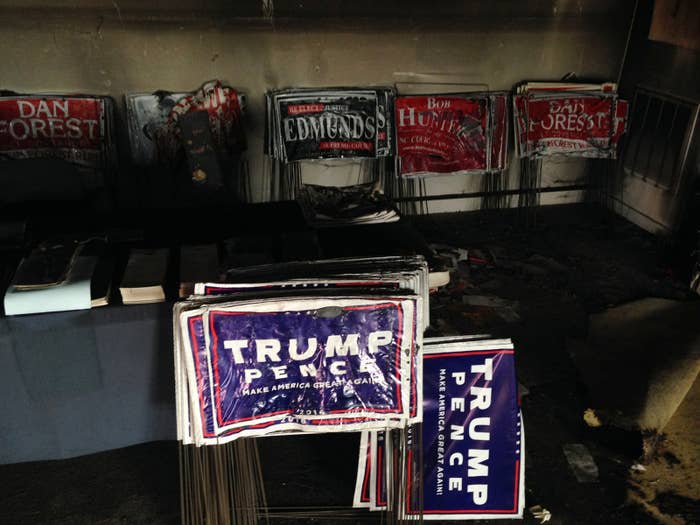 SAN DIEGO, California — Three weeks before the culmination of the most heated presidential campaign in modern US history, federal and local law enforcement officials across the country say they aren't worried about election-related violence.
"[The election] is definitely a big thing in our state, but we're not overly concerned," David Cumo, an officer with the Newcastle Police Department in western Pennsylvania, a deep red political hotbed in a battleground state, told BuzzFeed News. "Hopefully it stays that way."
Cumo was one of nearly a dozen domestic and federal law enforcement officials BuzzFeed News spoke with at the International Association of Chiefs of Police conference in San Diego, which brought thousands of law enforcement officials to southern California this week. The conference kicked off just as federal agents charged three Kansas men with plotting an election-week terror attack on Muslim-Americans. A day later, while officers celebrated the conference's official opening, a Republican political office in North Carolina was firebombed and vandalized.
Despite that, none of the law enforcement officers said their departments were worried about election-related incidents. Emotions are certainly higher than normal, they said, but none expected violence as their towns headed to the polls.
"There's more extreme views this year, it's very polarized," Kevin Mahoney, who works with the Methuen Police Department in Massachusetts, said. But his department wasn't taking any special precautions for the upcoming election. "We haven't had any real issues."
Most officers similarly shrugged when asked if they were concerned about Election Day. It may be of concern to other people in other areas, they said, but not us.
"Not [a concern] where I'm at, no," David Roarick, the chief of police in Hillsboro, New Hampshire, said.
This final push to Election Day has seen a spike in tensions in an increasingly devolving campaign. Journalists, who are frequently singled out by Republican presidential candidate Donald Trump, have raised growing concerns over their safety covering the candidate's rallies, where supporters frequently threaten and confront the press pool. And just last week, a Trump supporter ominously threatened on camera to "take out" Democratic presidential candidate Hillary Clinton if she wins the Oval Office.
But besides the headlines suggesting a country on the brink, officers said they're treating Election Day the way they treat any other day: Hope nothing happens, but be ready in case it does.
"If it happens, it happens. If it don't, it don't," said Bradley Kendrick, the chief of police for in Robertsdale, Alabama. "All we can do is be prepared."