WASHINGTON — Over the last month, Tuesday and Thursday afternoons in the Senate Intelligence Committee's normally quiet hallway have devolved into a blinding media circus. Dozens of TV reporters and cameras line up outside the committee's frosted glass doors, mobbing each of the panel's 15 lawmakers as they make their way to the secure hearing space. Microphones and spotlights in hand, the reporters shout questions on Russia and alleged connections to the Trump administration.
A month into its sweeping investigation into the Kremlin's efforts to undermine the US election, the Senate Intelligence Committee is expected to answer all those questions — publicly, coherently, and fast. As the days tick by, they're less and less sure they'll be able to.
Even some Democrats on the Intelligence Committee now quietly admit, after several briefings and preliminary inquiries, they don't expect to find evidence of active, informed collusion between the Trump campaign and known Russian intelligence operatives, though investigators have only just begun reviewing raw intelligence. Among the Intelligence Committee's rank and file, there's a tangible frustration over what one official called "wildly inflated" expectations surrounding the panel's fledgling investigation.
Since the probe was first announced in December — days after the FBI and CIA told Congress they believed the Kremlin had worked to elect Trump — political infighting has fundamentally shifted its mandate. Instead of a surgically precise examination of the raw intelligence that led US agencies to conclude the Kremlin attempted to tilt the election, the Intelligence Committee investigation has quickly become the catch-all for any politician's lingering questions related to Moscow. Now, several committee sources grudgingly say, it feels as though the investigation will be seen as a sham if the Senate doesn't find a silver bullet connecting Trump and Russian intelligence operatives.
"I don't think the conclusions are going to meet people's expectations," a second official said.
That take isn't universally held — a third official balked at that notion, and said "there's a lot of room to find something significant."
BuzzFeed News spoke with more than half a dozen officials involved with the committee's investigation, both Democrats and Republicans. All the officials requested anonymity to more openly discuss the sensitive investigation.
Just in the last month, the Senate Intelligence Committee has been called on to investigate former National Security Adviser Michael Flynn's phone calls with Russian Ambassador Sergey Kislyak, President Donald Trump's associates' alleged business ties to Russia, contacts between Trump's campaign surrogates and Russian officials, claims that Russian operatives possess salacious blackmail against the president, and the unfounded charge, tweeted by Trump, that the Obama administration wiretapped Trump Tower during the presidential campaign.
Further muddying the waters is the committee's own politics. Sen. Richard Burr, the panel's chairman, has done little to placate those concerns — not long after the investigation began, he yanked it into controversy when, at the behest of the White House, he called reporters to tamp down reporting on the Trump camp's alleged contacts with Russian operatives. Democrats, meanwhile, have consistently fueled the investigation's high expectations with suggestions that there may be clear connections between Trump and Russian intelligence operatives.
Perhaps not since the Watergate-era Church Committee — the Senate panel's predecessor — has a congressional investigation been tasked with such a high-profile and wide-ranging probe, targeting a sitting administration. But times have changed since Watergate. The Intelligence Committee's jurisdiction has narrowed, and it's not nearly as transparent as its Nixon-era counterpart. Today, its purview is, simply, to oversee the US intelligence community, a job it generally conducts behind tightly sealed doors. It's not positioned to compile evidence to support a criminal prosecution.
"If someone wants to surrender more jurisdiction to the Senate Intelligence Committee," a fourth official said wearily, "let's go."
Lost in the political shuffling is the fact — concluded by 17 US intelligence agencies — that the upper echelons of Russia's government directed an operation aimed at manipulating and disrupting the US election, and to a notable degree, succeeded. Short of an impeachable offense, officials are concerned the public is missing the forest for the trees.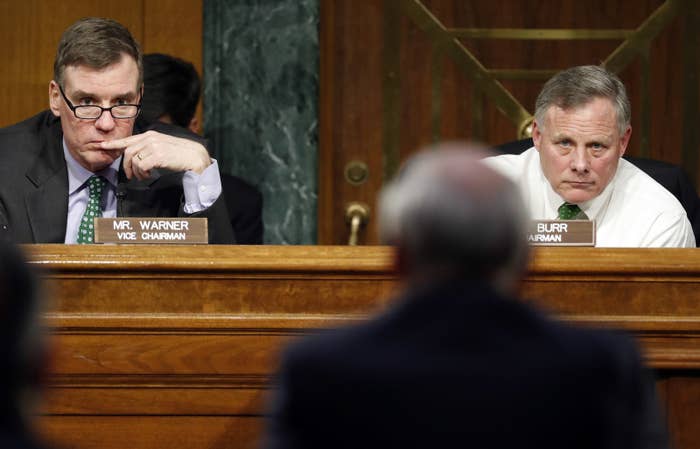 The threat of the Kremlin interfering in Western elections — through cyberattacks, propaganda, or a whole range of influence measures — remains very real. It may no longer be driving headlines, but there is such heightened concern from US and European governments that the US sent a team to Europe in late February, according to the second US official, to brief the French on the Kremlin's US operation and prepare them for their own upcoming elections — where Russia is widely believed to have a finger on the scales for nationalist candidate Marine Le Pen. The meeting, the official said, included sharing intelligence with the French on how Russia is waging a similar election operation there.
Those growing concerns have taken a backseat to the issue of whether enough evidence exists to threaten Trump's presidency. Nearly all of the officials BuzzFeed News spoke with said they aren't expecting to find that, and further, said they would be surprised if they're able to find anything concrete enough to prosecute any of Trump's advisers. "I don't think any of the contacts are going to be referred," the second official said, speaking about whether Trump's associates could be referred to the Justice Department for prosecution for their alleged contact with Russian officials. But, the official added, if any are, it's not likely to be campaign-related. Instead it could be "someone like Carter Page, [for] connections with a Russian businessman," the official said.
That's a possibility the committee is taking seriously. Ties between Moscow's business elite and its intelligence services are active — and Page told BuzzFeed News on Monday that he had been asked by the panel to preserve his campaign-era documents relating to Russia.
Despite jurisdictional issues, Senate investigators are getting unprecedented access to raw intelligence to conduct the investigation. Just last week, the intelligence community approved a small cohort of intelligence committee staff and 15 bipartisan members of the panel to have access to Gang of Eight intelligence — material normally reserved only for the president, vice president, and eight select members of congress. "[This has] never happened before," the third official said.
The House Intelligence Committee has also received assurances from the intelligence community that its investigators will be provided access to Gang of Eight documents, a House aide said. That commitment, the aide said, came from the director of national intelligence's office.
Though it took weeks to negotiate, that the intelligence community eventually approved such high-level access for congressional investigators is a good indicator of how seriously spooks are taking the committee's Russia probe.
Now, since getting that access approved, the Senate committee has been thrown into the middle of near constant political controversies, something that nearly every source BuzzFeed News spoke with said had taken critical time away from doing the actual investigating.
On Tuesday, another wave of reporters was in the hallway shouting questions, this time corralled behind a red velvet stanchion and forbidden from running after lawmakers (The unprecedented security step came after camera crews had nearly tripped Sen. Susan Collins — who, with a leg injury, is an unluckily slow and easy target — during her trod toward the committee space the week before). A month ago, there would maybe be two straggling beat reporters outside the secret hearings, if that.
Intelligence Committee staff, visibly frustrated with the constant press attention, hurried back to their secure office around the corner, carefully avoiding eye contact with the camera lenses. The newfound attention didn't show any signs of going away.
One official sighed audibly when asked how the committee planned on dealing with it. "We're going to do our job," the official said. "Without prejudice or favor."
Outside Your Bubble is a BuzzFeed News effort to bring you a diversity of thought and opinion from around the internet. If you don't see your viewpoint represented, contact the curator at bubble@buzzfeed.com. Click here for more on Outside Your Bubble.