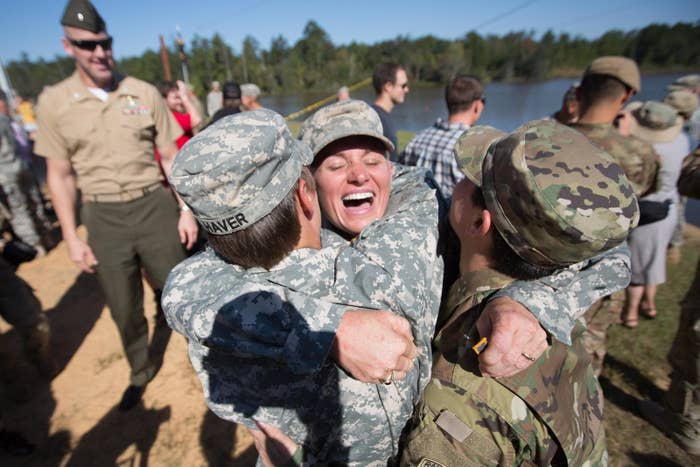 FORT BRAGG, North Carolina — A sweeping majority of U.S. special operations commandos say there's no way a woman could handle their job. Women aren't mentally tough enough, they said, according to a survey published last year, they're not strong enough, and they'd lower the standards of the military's most elite units.
But if you ask the deputy chief of the Army's special operations forces? He says bring it on.
"We already have women special operations troops employed in [aerial] combat and they're doing fantastic," Maj. Gen. Clay Hutmacher told BuzzFeed News in an interview at Fort Bragg, where the Army Special Operations Command is headquartered. He said he has often seen female combat pilots perform just as well as their male counterparts.
Hutmacher, who has been second in command at the Army Special Operations Command for 10 months now, was previously instrumental in integrating women into the ranks at his last post as commanding general of the Army's Special Operations Aviation Command.
"I didn't have to [change any standards]," Hutmacher said, and he doesn't intend to change them going forward. "We're going to provide a level playing field so [women] have the chance to succeed or fail like anyone else."
The pushback, Hutmacher said, is to be expected; racial integration in the military wasn't painless either. But now, "I can't imagine our service any other way," he said.
"In the rearview mirror, the integration of females will be seen the same way," he said.
Despite Hutmacher's take, women may face an uphill battle in trying to join some of the U.S. military's most specialized units. The Special Operations Command requested in January for an extension apart from the military's other branches to further explore how women could be integrated into their ranks. The deadline for Special Operations to begin implementing reforms Defense Secretary Ash Carter announced in December, declaring that all of the military's combat roles would be open to women, was April 1.
Elsewhere in the military, though, the integration of women into combat roles is moving forward. On Monday, the Army approved its first ever female infantry officer since the reforms were announced last year. Capt. Kristen Greis — one of only three women in history to earn the U.S. Army Ranger tab — passed the grueling course last year, and has since requested a transfer from her current branch to infantry. The Rangers fall under Hutmacher's command; they're headquartered in Fort Benning, Georgia.
"Capt. Greis applied for an exception to Army Policy to transfer from her branch of military police to infantry," said Bob Purtiman, an Army spokesman. "Her transfer was approved by the Department of the Army on Monday and she is now an infantry officer."
CORRECTION
Maj. General Clay Hutmacher is deputy commanding general of U.S. Army Special Operations. A previous version of this article referred to him as the commanding general.