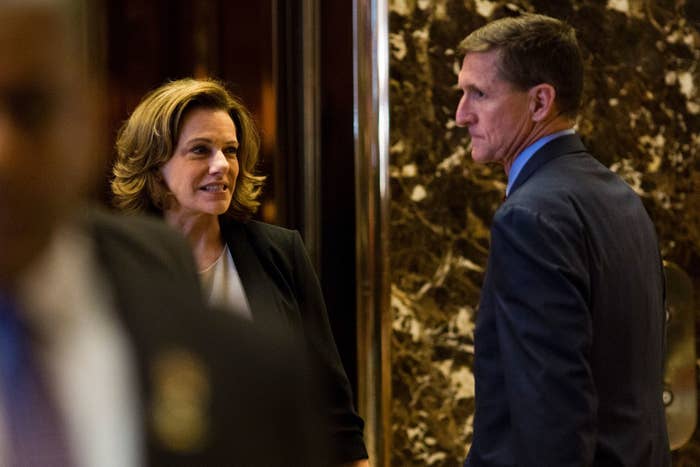 WASHINGTON — President-elect Donald Trump's pick for deputy national security advisor is a Reagan-era Pentagon official whose more recent history includes praising Russian President Vladimir Putin, advocating the use of torture on wartime prisoners, and encouraging the widespread profiling of Muslim Americans.

KT McFarland, a former Pentagon spokesperson and longtime Fox News national security analyst, will buttress retired Lt. Gen. Michael Flynn as two of President Trump's closest national security confidantes. A call to a number listed for McFarland's address was answered by her husband, who said McFarland is already working for Team Trump, both in Washington and New York, and is being assisted by her daughter, who holds a high-level security clearance with the US Navy.
After Trump's appointment of Flynn, who ended his military career embattled and has a penchant for conspiracy theories and a soft spot for Putin, many of his critics hoped his deputy would offer a counterpoint on the general's most controversial views.
They won't find it in McFarland. Rather than the yin to Flynn's yang, McFarland is one of a trio of top advisors who are likely to push the Trump administration to adopt hard-line positions to torture detainees and track Muslim-Americans.
McFarland's daughter and husband both referred BuzzFeed News to the Trump transition team for comment, which declined to make McFarland available.
In the week since McFarland accepted the position, she has all but erased her online presence, deleting her personal website and Twitter account.
McFarland has not held a government position in more than 30 years, when she left her position as Pentagon spokeswoman in 1984. The following year, she received the Pentagon's highest civilian honor, the Distinguished Service Award, but has not held a federal job since, despite a failed Republican bid for US Senate in 2006, failing to win the party's nomination to run against Hillary Clinton in New York.
During the 2006 election, McFarland famously claimed that her potential Democratic opponent was so worried about her that Clinton sent helicopters to fly over McFarland's home — a claim she later said was in jest.
The Deputy National Security Advisor position is a critical one, particularly with a president with no experience in the field. Though the position doesn't come with direct control of an agency, it's often regarded as one of the most powerful gigs in Washington's national security apparatus, with direct access and influence on presidential policies. For those who have held the position under Obama, it's proven a revolving door to some of the Administration's most consequential positions at the State Department, White House and CIA.
A longtime Fox News contributor, McFarland has hosted her own digital Fox News show, DEFCON 3, since 2015 — the Fox News website has videocasts dating back to December of last year, with the latest being posted just days before McFarland would accept Trump's appointment. A Fox News spokesperson told BuzzFeed News her contract with the network was terminated immediately after she accepted the position with the incoming Trump White House, per standard practice.
Though she's been out of government for three decades, she's deeply connected among conservative national security experts and her broadcast has showcased many of the operatives who now make up Trump's inner circle.
McFarland's new boss, Flynn, was a frequent guest, appearing five times over the last seven months to talk about several national security subjects, including the fight against ISIS, the FBI's investigation into Hillary Clinton's private email server and the US economy. The Heritage Foundation's James Carafano, who now heads Trump's diplomatic transition team, once appeared to discuss Russia. Former US Rep. Pete Hoekstra, who was once rumored to be a Trump pick to head CIA, has also appeared on the program.
It's on Fox's public forum that McFarland has laid bare, in no uncertain terms, some of her controversial viewpoints, many that will put her at odds with Democrats and, possibly, members of her own party.
In a 2013 column on the Fox News website, McFarland said Russian President Putin "is the one who really deserves the Nobel Peace Prize" over President Obama. Asked on Fox in 2012 if waterboarding qualified as torture, she went a step further than the president-elect has: "Even if it's torture, it's probably worth doing."
Taken by herself, McFarland receives mixed reviews from the national security community, and some corners of Washington's national security apparatus are optimistic that she'll be a salve to a reactionary commander-in-chief.
"She seems very thoughtful," said one defense contractor who works with both the Pentagon and the State Department. "Falls into the camp of don't fight unless you really have to, but if you have to then crush the enemy."
More concerning to Trump's critics is the emerging front between McFarland, Flynn, and now Trump's pick for CIA Director, Mike Pompeo. Among this triad is resounding support for torture, profiling of Muslim communities and other controversial and potentially illegal national security actions, practices many advocates fear the president-elect could easily be goaded into.
"Any support for torture from someone who will serve in a senior role in the White House is obviously incredibly concerning," said Raha Wala, the director for national security advocacy at Human Rights First. "I suspect that as KT transitions from her role as a news commentator to working with military and intelligence leaders and professional interrogators, she will quickly learn that torture should have no place in the government's response to terrorism...The concern is that, with the exception of General Mattis, most of the president-elect's nominees and appointees are either equivocal on torture, or supportive of it."
"Her and Flynn might be too similar in temperament," the defense contractor said.
But regardless of concerns, there's not much even McFarland's harshest critics can do about it. Her position is strictly presidentially-appointed — the only person who controls her role in the Trump White House is the incoming commander-in-chief.