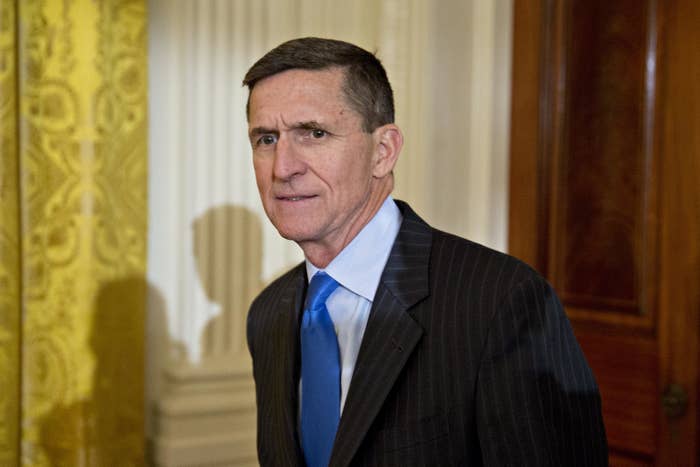 WASHINGTON — Key members of the intelligence community and Congress have been kept in the dark over counterintelligence investigations into Trump's inner circle, underscoring concern about a disconnect between Trump and his national security apparatus.
"I still don't know who got [those intercepts]," one high-ranking US intelligence official said, referring to reported transcripts of a call between ousted National Security Adviser Mike Flynn and the Russian ambassador to the US. The official said they weren't sure whether the intercepted phone call — where Flynn reportedly talked with the ambassador about sanctions — was based on FBI intelligence or NSA intercepts, or whether the call between Flynn and the Russian ambassador was collected under a FISA warrant.
Further, the official said, it was unclear whether the intercepted phone call was picked up as part of a formal counterintelligence investigation into Flynn, or through some other means of domestic or counterintelligence surveillance directed at the ambassador. Counterintelligence agents had reportedly been probing Flynn's contacts for ties to Russia.

Sens. Richard Burr and Mark Warner, the chair and vice chair of the Senate Intelligence Committee, respectively, both said Tuesday that their panel, which is running a sweeping probe into Russian activities surrounding Trump and the election, had not yet received the transcripts of Flynn's phone calls.
Rep. Adam Schiff, the top Democrat on the House's intelligence committee, said the Gang of Eight — the limited group of eight congressional leaders the White House informs of the most sensitive national security matters — had also not been briefed on the Flynn situation.
Since Flynn's ouster, some far corners of the left and right have speculated that he was a scapegoat, sunk by rogue intelligence officials driven by a new generation of Russophobia.
But intelligence officials don't seem quite sure of where the barrage of leaks on Flynn has been coming from, especially given that the Hill — which infamously leaks like a sieve — was apparently not read in. The US intelligence official said there's suspicion much of the information is coming from former Obama administration officials, though he stressed that was purely speculation.
Several intelligence officials BuzzFeed News spoke with lamented that their only windows into the administration lately have been through Twitter, or inquiring reporters.
That even top congressional officials have been kept in the dark on Flynn's transcripts almost defies reason. The New York Times reported Tuesday afternoon that Flynn had been interviewed by the FBI about his phone call with the Russian ambassador — something that could have met the threshold to be briefed to Congress, especially if the issue was considered a counterintelligence concern.
"We do get periodic briefings if, for example, there are counterintelligence investigations involving US persons," Schiff said at a press conference Tuesday. "I would expect this falls very much in that category."