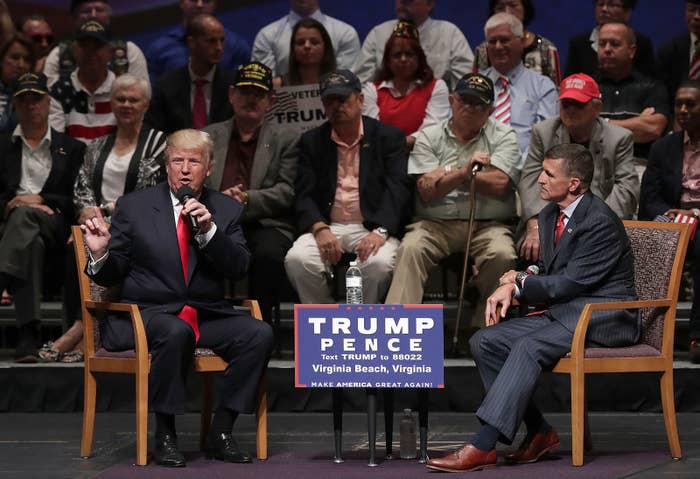 WASHINGTON — The prospect of a Donald Trump presidency — and all of its unknowns — is unsettling an otherwise stoic intelligence community after a sweeping upset Tuesday night.
"Holy shit," one US intelligence official said. Asked if they were dumbfounded, they said: "Find me someone who isn't."
Trump, who will start getting read-in to some of the nation's most closely held secrets and covert programs as early as Thursday, is a wild card for a national security establishment overrun by Washington insiders. He's publicly repudiated and contradicted his own briefings by intelligence officials, and has surrounded himself with a team of B-list national security ex-pats who have been largely exiled from an otherwise insular community.
It remained unclear Wednesday who Trump's current national security team transition includes, and whether any of them are properly cleared and vetted to start working on an in-depth transition.
His small group of congressional advisers — Mike McCaul and Jeff Sessions, of the House and Senate, respectively — would have clearances by virtue of their positions in Congress. The Defense Intelligence Agency maintains an active clearance for retired Lt. Gen. Michael Flynn, the former head of the agency and Trump's loose-cannon national security frontman, though his access to the agency had been limited since he openly began campaigning for Trump. But it remained unclear who else on Trump's rag-tag gang of national security advisers were even cleared to receive the highly classified information their candidate will soon be privy to, and a request to the Trump campaign for comment went unreturned.
For several national security officials BuzzFeed News spoke with — all of whom requested anonymity to discuss the upcoming election — this was the root of their Trump concern. His lack of national security experience was not what scared them, and even reminded them of a younger Barack Obama's when he took office in 2008.
"The preparation for [Trump] would be the same as preparing for our current president. He had no experience. He campaigned on issues that he didn't understand," said one defense contractor who does work for both the State Department and the Pentagon. "Then he took office and almost nothing changed."
The problem with Trump, several officials pointed out, is that no one knows who his team would be if he indeed took office. Obama, they said, at least had a deep bench.

"Obama himself may not have [known the issues], but he'd been being tutored an entire year by various people," said a former Bush Administration official involved in the Obama transition. "They were people who previously had security clearances, knew the issues. These were seasoned centrists, pretty much up-to-speed NatSec hands. On a Trump team, unlike the Obama people, none of us have any idea who might serve on a transition team."

With traditional presidential bids and administrative transitions, chatter would've bounced around the proverbial Washington gossip mill on who Trump's national security circle would be. Democratic nominee Hillary Clinton entered that fray in early 2016: Rumors had circulated for months on who she'd tap for top national security positions.
Even Wednesday, rumors were thin on who Trump might tap to lead his intelligence community. Reports swirled about possible cabinet appointments, but there was little to indicate who Trump would choose to fill key intelligence posts, including the Director of National intelligence, the Director of the CIA and the Director of the DIA.
As for the days ahead, there's optimism, the intelligence official said, that Trump's lack of experience may leave him open to guidance and advice, and allow more experience minds to "reign in" some of the president-elect's more extreme ideas.
"I think there's hope that we'll be able to sit down with him and be like, 'alright, here's the deal,'" the official said.