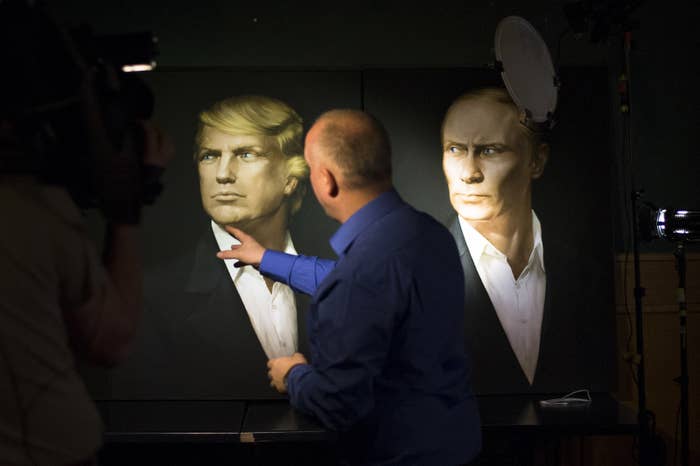 WASHINGTON — US intelligence officials believe Russia helped disseminate fake and propagandized news as part of a broader effort to influence and undermine the presidential election, two US intelligence sources told BuzzFeed News.
"They're doing this continuously, that's a known fact," one US intelligence official said, requesting anonymity to discuss the sensitive national security issue.
"This is beyond propaganda, that's my understanding," the second US intelligence official said. The official said they believed those efforts likely included the dissemination of completely fake news stories.
Neither official provided details of how they believed Russia was spreading fake news.
While they said the intelligence community was confident that Russia had engaged in spreading false or misleading information, both said the FBI had not opened a specific investigation into it.
"No one has looked into it specifically," one intelligence official said. "In the context, did Russia attempt to influence the US elections; the aperture is as wide as it can possibly be."
On Wednesday, seven members of the Senate Intelligence Committee released a letter calling on the White House to declassify "additional information" on how Russia attempted to influence the US election. The letter did not specify what these additional details address, citing classification.
The FBI said in July it was investigating the hack of the Democratic National Committee servers — something the White House blamed on Russia in a rare public statement issued in October. The subsequent leaking of DNC emails, via WikiLeaks starting on the eve of the DNC convention in July, shook the committee just days before it nominated Hillary Clinton to its ticket. (When asked about the investigation's status on Tuesday, the bureau refused to confirm it existed, and did not respond to a request to further clarify.)
The role of fake news — stories that are completely made up — and propaganda, like state-sponsored media outlets such as Russia Today or Sputnik, has proven more difficult to pin down.
The Washington Post said in a story published last week that independent researchers had found that a "sophisticated Russian propaganda campaign" was behind the flood of fake news published in the lead-up to the election. But the researchers' methods have been widely disputed.
"If we had a clear, black and white list of sites that were run by the Kremlin and publishing fake news that would be one thing," said a Defense Department official who works on cyber issues. "But that's not how it works, and anyone who claims that is naive or overly simplifying the issue to suit their position."
After a heyday during the Cold War, Russian influence efforts have seen a reincarnation in recent years with the start of media organizations like Russia Today, which launched in 2005, and Sputnik, which began in 2014. But there's a lack of consensus within the intelligence community over whether the Kremlin actively increased its propaganda efforts during the US campaign cycle, or if their suspected attempts to promote fake and slanted news just resonated more with jaded American voters over the last year.
"I'm not sure I can quantify it," the first intelligence official said. "The effectiveness has changed. Was it more highlighted than it ever has been? Sure."
The use of propaganda is by no means a new strategy, and its use is not limited to Russia. It's long been employed, including by the US, to help push and pull public opinion in foreign countries, and it's been a staple in Moscow's playbook for decades — in Cold War-era parlance, the tactic had its own term: "active measures." That term has been reincarnated in recent months by Washington's national security apparatus, whose officials seldom talk about Russia without mentioning "active influence measures," an umbrella term that encompasses all of Moscow's state-sponsored propaganda efforts, both domestic and international.
But while Cold War-era active measures were led primarily by the KGB, Moscow's modern active measures are more nuanced and fractured, making them a challenge for Western intelligence agencies to combat.
"How on earth can we expect intelligence agencies to deal with it? You can't track the activities of every single journalist, stringer, troll organizer, blogger, et cetera. On the whole, spies can't combat this. On the whole, spies don't do this," said Mark Galeotti, a senior researcher at the Institute of International Relations Prague and an expert on Russian intelligence and security. "The most significant aspect of today's Russian active measures is precisely thereabout undermining and fragmenting the West. They're not pushing an agenda. And that's a very different thing."
One of the intelligence officials who spoke to BuzzFeed News said the lack of clarity had proven to be a challenge in combating the propaganda efforts.
"The real unanswered question is, why did they do it?" the second US intelligence official said. "Is it because they love Donald Trump? Because they hated Hillary Clinton? Or just because they like undermining Western democracies?"
On this, the official said, there was no consensus.
It's unclear what agency within the US government should even handle this "active measures" problem.
"There's a debate about that right now. Is it an FBI thing? Is it DOJ? Is it CIA? Do you take active measures in response? And the answer is, none of them is a perfect fit," said James Lewis, a former State Department official and an expert on cybersecurity for the Council on Foreign Relations. "We are kind of hampered. Ultimately if this is a political thing, the guys who should respond are the White House."
The congressional Intelligence Authorization Act for this year, which could be passed through Congress as early as next week, mandates the revival of a Cold War-era panel known as the Active Measures Working Group, which would be a White House-appointed panel specifically tasked with unmasking and handling Russian influence efforts. That provision of the bill, initially proposed by Sen. Tom Cotton, has wide support from Democratic and Republican lawmakers on the Hill, but was met with some resistance from the Obama administration.
"I suspect that in addition to institutional reservations, there are some senior officials in the White House that don't like the idea of a group specifically dedicated to this Russian threat," Cotton told BuzzFeed News in an interview earlier this year.
But even if the intelligence authorization bill gets through Congress before it breaks for the Christmas holiday — something that is by no means a guarantee, given lawmakers' resistances to other parts of the funding bill — national security officials are wary of relying too heavily on one certain task force or group to disrupt the influence operations.
"There is no magic pill to stop Russia, or any other country, from spreading propaganda in the US," said one State Department official.
Sheera Frenkel contributed reporting.