Gitmo's Prosecutors Are Trying To Protect Their Ability To Censor The Past
Government prosecutors argued Monday that they — and they alone — should be allowed to decide what is and isn't public during the war court's open hearings.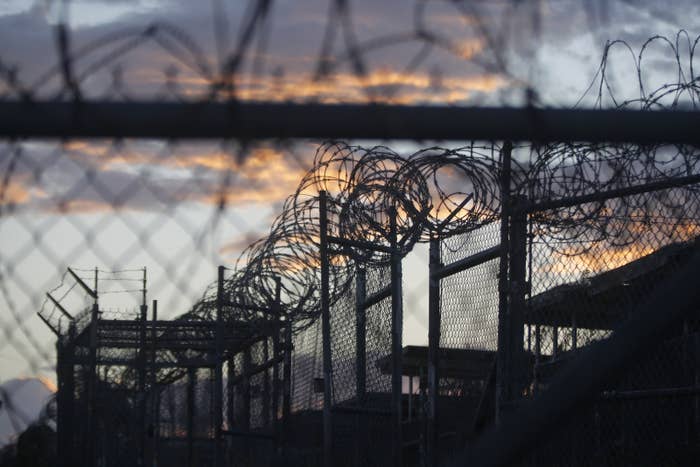 GUANTANAMO BAY NAVAL STATION, CUBA — Guantanamo Bay war court prosecutors refused to budge this week over what they claim is their right — without any judge's input — to censor once-public proceedings.
"You're not an original classification authority," chief prosecutor Mark Martins told Army judge James Pohl Monday at a hearing at the military base Monday. "You're wise and you're running these commissions pursuant to your authority, but you're not an [original classifying authority]."

The arguments came after more than a dozen media organizations, including BuzzFeed News, raised concerns over the government retroactively redacting a transcript from an open hearing of the war court's October sessions, effectively drawing once-public testimony behind a classified veil. The military commissions prosecution team has offered no explanation for these retroactive redactions — which dealt with testimony on female guards in Guantanamo's high-security Camp 7 detention facility — outside of a vague "national security concerns" qualifier. They have also declined to say what, if any, agency within the United States Government is in control of the redaction process.
Attorney Dave Schultz, representing the media litigants, argued that the Office of Military Commissions should not be able to yank back the public testimony without clearly qualifying its reasoning to Pohl.
The public and the press, Schultz argued, have a constitutional right to the transcript of the public sessions of the long-running war court.
"There can't be a procedure that says the government can rewrite history or seal things from the public after the fact in this case," said Schultz, who was strictly escorted in and out of the secure courtroom due to his lack of clearances.
Schultz represented BuzzFeed News and 14 other outlets — including the New York Times, AP and McClatchy newspapers — in challenging the retroactive redactions in a motion filed to the court earlier this year. All five of the alleged 9/11 conspirators' defense teams also argued in favor of the media's motion.
The transcript in question comes from an open hearing of the military commission's two-week October session in the case against alleged 9/11 mastermind Khalid Sheikh Mohammed and four alleged co-conspirators.
That session saw testimony on the use of female guards in the Guantanamo Bay facility's secret, maximum-security Camp 7, where Mohamed and 13 other high-value detainees are kept. One of the camp's military personnel, given the name "Jinx," spoke in open court for hours about her time assigned to the prison, including the use of a technique called "forced-cell extraction," in which teams of guards forcibly remove unwilling detainees from their cells.
That testimony — which was heard by non-cleared observers via video stream in both the courtroom's on-site observer and press galleries — was later redacted in the transcript posted by the Office of Military commissions, sparking confusion and outrage from non-governmental and media organizations.
Once challenged, the Office of Military Commissions posted a version of the transcript that did not have as many redactions as the first, but still scrubbed swaths of the previously public testimony.
The high-security courtroom, which sits on an abandoned airstrip at the naval base, is equipped with a button that, when pressed, will cut the feed to uncleared observers. The open court sessions are streamed to a courtroom gallery and a media center on a 40-second delay in an effort to keep any classified information from inadvertently slipping out of the sound-proof courtroom.
That button was not pressed, and the feed was not cut, during the October court session in question.
Brig. Gen. Mark Martins, the Commission's chief prosecutor, told reporters in December that, while the post-facto redactions were rare — never in his nearly five years in Guantanamo had he seen it happen — the government reserved the right to go back and scrub elements of information that could be sensitive if released. Martins would further not tell reporters whether the scrubbed information was actually classified, or just sensitive.
"I'm not going to confirm or deny what kind of information it was," Martins said in December. "It says in the rule, 'Classified or protected.' There are other categories of sensitive but unclassified information."
Pohl is expected to rule on the motion in the coming weeks. The pre-trial hearings of Mohammed and his four alleged co-conspirators are set to have another two-week session in April.