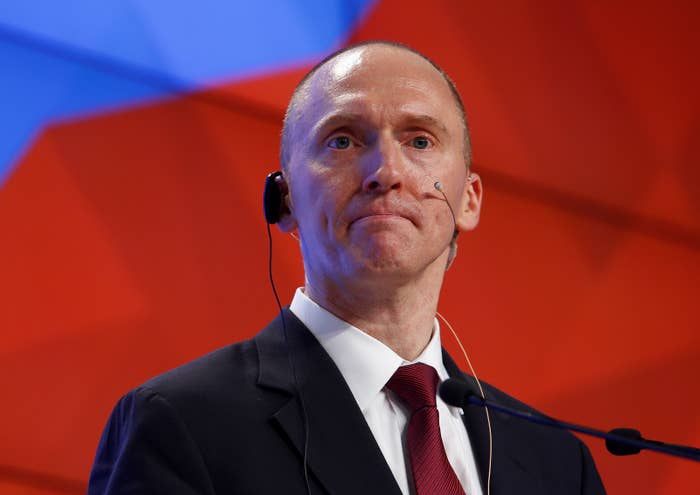 WASHINGTON — Former Trump campaign associate Carter Page is pressuring the Senate Intelligence Committee to investigate whether his "civil rights" were violated by the Clinton campaign and Obama administration during the 2016 election, according to a letter Page delivered to the committee and sent to BuzzFeed News.
In the letter, addressed to committee chair Senator Richard Burr and vice chair Senator Mark Warner, Page asks the panel to investigate his claims as part of their broader probe into Russian meddling in the US election. Page was seen hand-delivering a copy of the packet to the intelligence committee office on Capitol Hill Monday afternoon.
"In this regard, please bear in mind that recent news alleges that FISA warrants and other U.S. intelligence community assets had been leveraged as a political stunt, instigated in large part by the false evidence introduced by Clinton campaign associates against me," the letter says. "Thus, I wanted to immediately provide the Committee with some highly factual evidence along the lines of what Senator Burr alluded to, in stark contrast to the extensive false evidence illegally introduced by the Clinton campaign and associates previously."
The Clinton campaign did not respond to a request for comment.
Page, a former Marine officer and businessman, was listed by then-candidate Donald Trump as a foreign policy adviser to his campaign in the 2016 election. Page quickly emerged as one of Trump's most controversial allies — after months advising the Trump campaign, intelligence officials began probing his ties to Russia.
Just how Page came to be among the members of Trump's foreign policy advisory committee is still unclear. The campaign has sought to distance itself from him, claiming that after the election it began sending cease and desist letters to Page over his "misrepresenting his role in the campaign."
Page told BuzzFeed News that he was asked by the committee to preserve any of his campaign-era documents related to Russia.
The letter, dated March 8, came just days after Trump, without providing any evidence, accused the Obama administration of wiretapping Trump Tower during the election. Page made reference to Trump's claims in the note, and stressed that he himself may have been under surveillance by the Obama White House. He also says he spent a large amount of his time at Trump Tower, so Trump's claim, he says, is basically true.
"If prior media reports may be believed that surveillance was indeed undertaken against me and other Trump supporters, it should be essentially deemed as a proven fact that the American people's concerns that Trump Tower was under surveillance last year is entirely correct," Page's letter says.
Page says he spent a lot of time at the Trump Grill and the Starbucks in Trump Tower, and also often had lunch at the Trump Cafe. He asked former White House Homeland Security adviser Lisa Monaco about the alleged surveillance at a breakfast in January, he says, but she declined to answer, which Page tells the Senate Intelligence Committee is "perhaps related to a potential cover-up."
It's unclear what the "initial cooperation" is that Page referred to in his letter, or whether the intelligence committee is including Page's allegations in its probe. The committee has not engaged with Page beyond the preservation order it sent to him earlier this year.